When
Tue May 19th 2020, 4:00 pm to Tue May 19th 2020, 5:00 pm
Where
Developed and offered by OPDES in the Faculty of Health Sciences, Queen's University, Ontario, , Canada
Registration for this program has closed.
*This webinar will be recorded
Webinar connection details will be emailed to registrants on the AFTERNOON of Tuesday, May19th. Register before 12:00 p.m. on May 19th.
At the end of the webinar, participants will be able to:
Outline an approach to investigating and managing first seizure
Recommend appropriate investigations following a first seizure
Identify when patients require anticonvulsant therapy (ACD) and the rationale
Suggest appropriate ACD options
Illustrate with a few cases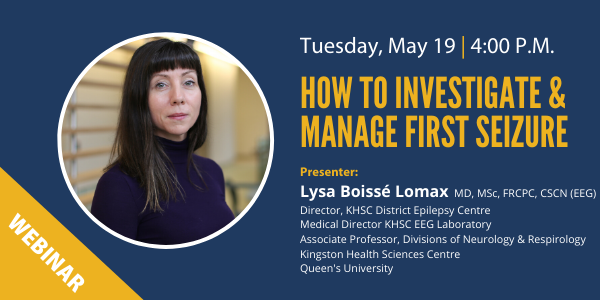 This webinar will be presented by:
Lysa Boissé Lomax MD MSc FRCPC CSCN (EEG)
Dr. Lomax is an Associate Professor of Medicine at Queen's University jointly appointed to the Division of Neurology and the Division of Respirology and the Director of the EEG Lab at Kingston Health Sciences Centre. She received the Royal College of Physicians and Surgeons Detweiler Travelling Fellowship and the Cecil Patience Reid Fellowship to pursue further training in Epilepsy and Genetics under the supervision of Professors Sam Berkovic and Ingrid Scheffer at the University of Melbourne in Australia. Upon returning to Queen's University, she pursued additional training in Sleep Medicine. She is certified to read EEG (CSCN diplomate) and polysomnography. She has an active clinical practice with multidisciplinary Sleep and Epilepsy clinics, as well as a Transition clinic that helps to guide children and their families as they transition from pediatrics into adult care. She has also served on national boards that created guidelines for driving in epilepsy, as well as the transition from pediatric to adult epilepsy care. Her research interests include the genetics of generalized epilepsy and epilepsy syndromes (such as North Sea Myoclonus Epilepsy), as well as cardiac arrhythmia in epilepsy.
This Group Learning webinar meets the certification criteria of the College of Family Physicians of Canada and has been certified by Queen's University for up to 1 Mainpro+ credit.
This event is an Accredited Group Learning Activity (Section 1) as defined by the Maintenance of Certification program of The Royal College of Physicians and Surgeons of Canada, and is approved by the Office of Continuing Professional Development, Queen's University. You may claim a maximum of 1 hour.
If you encounter any difficulties please email cpd.team@queensu.ca.
Wed Jun 29th 2022, 2:46 pm