When
Tue Mar 23rd 2021, 4:00 pm to Wed Mar 24th 2021, 5:35 pm
Where
Developed and offered by OPDES in the Faculty of Health Sciences, Queen's University, Ontario, , Canada
Fee: $112.50
(Base Price)
Registration for this program has closed.
Looking for the CPD pre-learning survey? CLICK HERE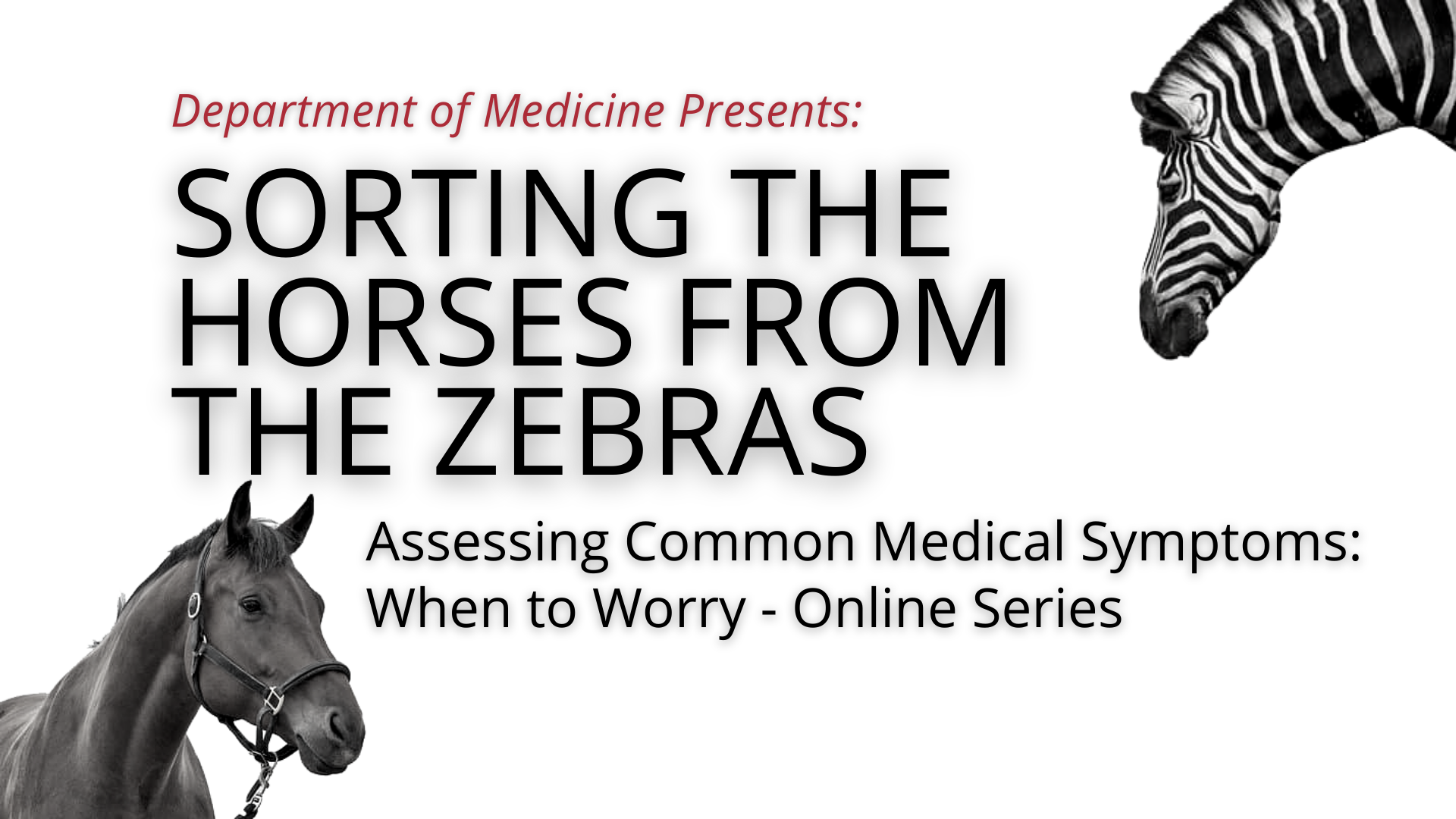 Patients often go to their family doctor with seemingly simple or common symptoms.  Sometimes the symptoms are benign and lead to a relatively benign diagnosis but in some cases they could be indicative of a more serious or rare diagnosis.  How do you sort the horses from the zebras during a busy day in the clinic? 
At the end of the program participants will have an enhanced understanding of how to assess common medical symptoms that may lead to a complicated and/or rare diagnosis.
Register for this program as part of the Winter/Spring CPD Subscription 
Session Recordings:
Online sessions included in this series will be made available a week after the online session is completed. 
You can find session recordings by logging into CPD Program Centre, selecting Department of Medicine Presents: Sorting the Horses from the Zebras – Online Series from your "Dashboard" & clicking on "Community".
**If you are registered for the CPD Subscription - you will find the session recordings by selecting CPD Subscription – Winter/Spring 2021 from your "Dashboard" and clicking "Community**
Individual Winter/Spring Zoom session recordings & modules will remain available in CPD Program Centre until January 1, 2022.
Credits:
This Group Learning program meets the certification criteria of the College of Family Physicians of Canada and has been certified by Queen's University for up to 7.25 Mainpro+ credits. This event is an Accredited Group Learning Activity (Section 1) as defined by the Maintenance of Certification program of The Royal College of Physicians and Surgeons of Canada, and is approved by the Office of Continuing Professional Development, Queen's University. You may claim a maximum of 7.25 hours.
Disclamer
Queen's University makes no warranty or representation whatsoever that the information contained or accessible within or from this website, including the captioning provided, is accurate or complete. Anyone using this information does so at their own risk. While Queen's University makes reasonable efforts to include up-to-date and accurate information on our site, the information you access through this site is provided "as is" and "as available". Queen's University assumes no liability and shall not be responsible for any damages whatsoever arising out of, or in connection with, the information contained herein.
This presentation is part of an initiative in continuing professional development. It aims to provide information and opinion which will assist health professionals in maintaining and enhancing their competence. It does not, however, represent any official position of Queen's University, nor does it attempt to set forth definitive practice standards or to provide medical advice. All content provided in this presentation is intended to be used thoughtfully - viewers of this presentation should rely on their own professional skill and judgment to assess the accuracy of the opinions and information expressed.
Wed Mar 24th 2021, 4:00 pm
Feb16 Session recording available in CPD Program Centre Community - Diagnosing and Managing Acute Pulmonary Embolism. A role for clinical evaluation
Philip Wells, MD, FRCPC, Professor, Chair and Chief, Department of Medicine, The Ottawa Hospital and University of Medicine, Department of Epidemiology and Community Medicine, Ottawa Hospital.
Wed Mar 24th 2021, 4:00 pm
Feb16 Session recording available in CPD Program Centre Community - Case Symptom: Acute Cough
Santiago Perez Patrigeon, MD, PhD, Assistant Professor, Division of Infectious Diseases, Queen's University
Wed Mar 24th 2021, 4:00 pm
Feb 23 Session recording available in CPD Program Centre Community - Keep Calm and Call The DOM: Cardiology/Respirology
Genevieve Digby, MD, FRCPC, Assistant Professor in the Division of Respirology, Department of Medicine, Queen's University
Paul Malik, MD, FRCPC, Assistant Professor, Department of Medicine, Division of Cardiology, Queen's University
Wed Mar 24th 2021, 4:00 pm
Feb 23 Session recording available in CPD Program Centre Community - Case Symptom: Hives
Anne Ellis, MD, FRCPC, Professor Departments of Medicine, (Chair) Division of Allergy and Immunology and of Biomedical and Molecular Sciences, Queen's University
Wed Mar 24th 2021, 4:00 pm
Feb 23 Session recording available in CPD Program Centre Community - Case Symptom: Chest Pain
Cathy McLellan, MD, FRCPC, Asst. Prof., Dept. of Medicine, Chair, Div. of Cardiology, Queens Univ., Cardiac Program Medical Director KHSC
Wed Mar 24th 2021, 4:00 pm
Feb 23 Session recording available in CPD Program Centre Community - Case Symptom: Moles
Sonja Molin, MD, Assoc., Prof. Dept. of Medicine, Chair, Div. of Dermatology, Queen's University
Wed Mar 24th 2021, 4:00 pm
Mar 2 Session recording available in CPD Program Centre Community - Keep Calm and Call The DOM: Endocrinology/Gastroenterology
Robert Bechara, MD, FRCPC, Assistant Professor, Department of Medicine, Division of Gastroenterology, Queen's University
Robyn Houlden, MD, FRCPC Prof., Dept. of Medicine, Div. of Endocrinology and Metabolism, Queen's University
Wed Mar 24th 2021, 4:00 pm
Mar 2 Session recording available in CPD Program Centre Community - Case Symptom: Opioid User with Fatigue
Sara Awad, MBBS, MHPE, FRCPC, Assistant Professor, Division of Endocrinology and Metabolism, Associate Program Director Internal Medicine Residency Program, Queen's University
Wed Mar 24th 2021, 4:00 pm
Mar 2 Session recording available in CPD Program Centre Community - Case Symptom: Acid Reflux
Lawrence Hookey, MD, FRCPC, Associate Professor, Department of Medicine, Division of Gastroenterology, Queen's University
Wed Mar 24th 2021, 4:00 pm
Mar 2 Session recording available in CPD Program Centre Community - Case Symptom: Sinus Pain/Headache
Chris Smith, BSc, MBBS, FACP, FRCPC, Associate Professor, Department of Medicine, Chair, Division of General Internal Medicine, Queen's University
Wed Mar 24th 2021, 4:00 pm
Mar 9 Session recording available in CPD Program Centre Community - Keep Calm and Call The DOM: Hematology/Neurology
Lysa Boissé Lomax, MD, MSc, FRCPC Assistant Professor, Department of Medicine, Division of Neurology and Division of Respirology & Sleep Medicine, Queen's University
Guillaume Richard-Carpentier, MD FRCPC Hematologist, Kingston Health Sciences Centre, Kingston General Hospital, Clinical Lead, Leukemia Program, Kingston Health Sciences Centre Assistant Professor, Department of Medicine, Division of Hematology, Queen's University
Wed Mar 24th 2021, 4:00 pm
Mar 9 Session recording available in CPD Program Centre Community - Case Symptom: Multiple Falls
Leah Nemiroff, MSc, MD, FRCPC, Assistant Professor, Division of Geriatric Medicine, Queen's University
Wed Mar 24th 2021, 4:00 pm
Mar 9 Session recording available in CPD Program Centre Community - Case Symptom: Heavy Menstrual Bleeding
Paula James, MD, FRCPC Assoc. Prof., Depts. of Medicine and of Pathology and Molecular Medicine, Queen's University
Wed Mar 24th 2021, 4:00 pm
Mar 9 Session recording available in CPD Program Centre Community - Case Symptom: Headaches
Stuart Reid, MD, FRCPC Asst. Prof., Dept. of Medicine, Div. of Neurology, Queen's University
Wed Mar 24th 2021, 4:00 pm
Mar 23 Session recording available in CPD Program Centre Community - Keep Calm and Call The DOM: Nephrology/Dermatology
Erin Dahlke, MD, MScCH, FRCPC, Dermatology, FACMS, Mohs Micrographic Surgery Assistant Professor, Adjunct, University of Toronto, Queen's University
David Holland, MD, FRCPC, Associate Professor, Department of Medicine, Division of Nephrology (Chair), Queen's University
Wed Mar 24th 2021, 4:00 pm
Mar 23 Session recording available in CPD Program Centre Community - Case Symptom: High Blood Pressure
David Holland, MD, FRCPC, Associate Professor, Department of Medicine, Division of Nephrology (Chair), Queen's University
Wed Mar 24th 2021, 4:00 pm
Mar 23 Session recording available in CPD Program Centre Community - Case Symptom: Incontinence
Majid Iqbal, MD, PhD, CCFP(PC), Assistant Professor, Division of Palliative Medicine, Departments of Medicine & Oncology, Queen's University
Wed Mar 24th 2021, 4:00 pm
Mar 23 Session recording available in CPD Program Centre Community - Case Symptom: Chronic Cough
Sophie Crinion, MBChB PhD, MRCP(UK), Assistant Professor of Medicine, Division of Respirology and Sleep Medicine, Queen's University
Wed Mar 24th 2021, 4:00 pm
Mar 23 Session recording available in CPD Program Centre Community - Case Symptom: Weak Legs
Marie Clements-Baker, MD, FRCPC, Assistant Professor, Department of Medicine, Division of Rheumatology, Queen's University