When
Tue May 26th 2020, 4:00 pm to Tue May 26th 2020, 6:00 pm
Where
Developed and offered by OPDES in the Faculty of Health Sciences, Queen's University, Ontario, , Canada
Registration for this program has closed.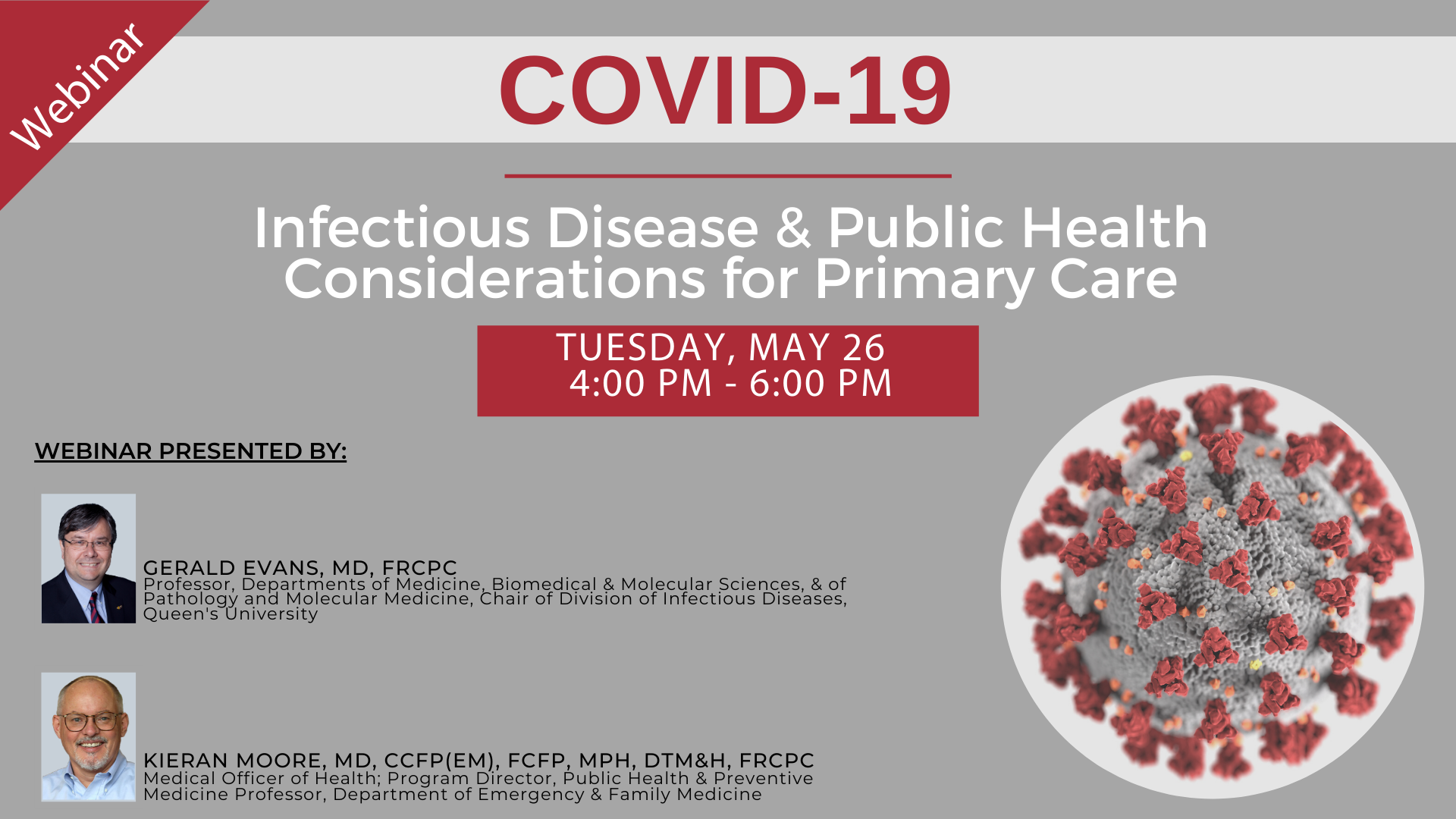 This webinar is free for healthcare professionals. At registration, you will be asked a few pre-session questions with a few post-session questions following the webinar.
Webinar connection details will be emailed to registrants on the AFTERNOON of Tuesday, May26th. Register before 3:00 p.m. on May 26th.
By the end of this presentation, attendees will be able to:
Discuss the latest public health guidelines for COVID-19 (e.g. patient screening, expanding the checklists, the second wave, and managing risk)
Assess the health implications of COVID-19's synchronicity with the flu
Evaluate the medical evidence of the past 6 months regarding COVID-19
Discuss the transmission dynamics and what we know and don't know about COVID-19 in the clinical setting
Discuss the upcoming vaccines and the future strategies available for confronting pandemics of this kind
This Group Learning webinar meets the certification criteria of the College of Family Physicians of Canada and has been certified by Queen's University for up to 2 Mainpro+ credits. This event is an Accredited Group Learning Activity (Section 1) as defined by the Maintenance of Certification program of The Royal College of Physicians and Surgeons of Canada, and is approved by the Office of Continuing Professional Development, Queen's University. You may claim a maximum of 2 hours.
*This webinar will be recorded capturing both audio and video.
If you encounter any difficulties please email kre1@queensu.ca.
Tue May 26th 2020, 4:00 pm
Public Health Considerations
Alexa Caturay, MOH at Hastings Prince Edward Public Health
Laurie Conway, IPAC, KFLA Public Health
Kieran Michael Moore, MD, CCFP(EM), FCFP, MPH, DTM&H, FRCPC Medical Officer of Health; Program Director, Public Health and Preventive Medicine Professor, Department of Emergency and Family Medicine
Tue May 26th 2020, 5:00 pm
Infectious Disease Considerations
Gerald Evans, MD, FRCPC, Professor, Departments of Medicine, Biomedical and Molecular Sciences, and of Pathology and Molecular Medicine, Chair of Division of Infectious Diseases, Queen's University