When
Thu Sep 13th 2018, 8:00 am to Fri Sep 14th 2018, 4:30 pm
Where
Delta Kingston Waterfront
1 Johnson St., Kingston, Ontario, K7L2V7, Canada
Fee: $1250.00
(Base Price)
Registration for this program has closed.
The capacity for this program has already been filled.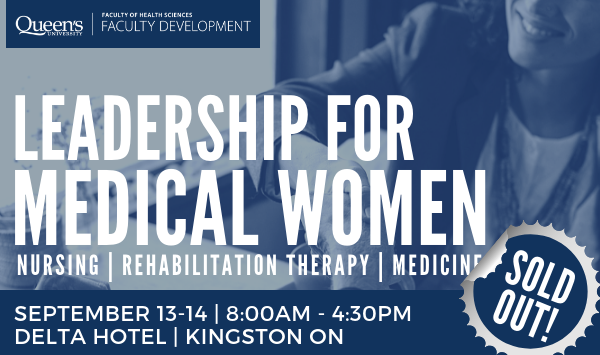 This program has reached maximum capacity.
To be notified should a position open up, or regarding future sessions, please add your name to our waitlist.
_______________________________________________________________________________________
Current research strongly suggests that today's leader succeeds by creating positive and productive relationships, which includes the ability to make strong connections, share a vision, and inspire others toward a common goal. Women physicians can leverage their natural abilities to exercise their leadership skills in a variety of venues, some of which may be in a male-dominated environment.
This workshop provides a rare opportunity for women in the health care sector to slow down, reflect and examine their current or future leadership roles. This course focuses on deepening self-awareness and self-knowledge, identifying and developing individual skills and strengths, and highlighting capabilities necessary to address and successfully meet challenges unique to women leaders in health care. Each participant will have the insights and tools to create a customized leadership development plan, and identify practical first steps.
At the end of this Physician Leadership Institute course, current or emerging female leaders will be able to:
Explore the leadership direction that resonates most strongly with them
Leverage their natural strengths to more effectively engage others and address factors that may be limiting their success
Identify what influences leadership and recognize both internal and external factors affecting the career progression of medical women today
Learn specific strategies to become more effective as a medical woman leader
Identify opportunities to drive and support female physician leadership in our current and emerging complex health care system
The draft agenda listed above outlines a typical schedule for the program. All topics will be address but order may vary.
Facilitators
Mamta Gautam, MD, MBA, FRCPC, CCPE
Mamta Gautam is a psychiatrist, executive coach, author, consultant, speaker, and President of PEAK MD, Inc., a company that specializes in Leadership Resilience, and keeping well professionals well. Her two main areas of expertise are Physician Health and Physician Leadership.
Dr. Gautam is a pioneer in the field of Physician Health and Wellbeing. An Assistant Professor at the University Of Ottawa Faculty Of Medicine, she has worked as a psychiatrist in Ottawa, Canada for over 25 years. Hailed as the "The Doctors' Doctor", physicians are the focus of her practice. Dr. Gautam founded the University of Ottawa's Faculty of Medicine Wellness Program, which served as the template for Canadian Medical Association Center for Physician Health and Wellbeing. In 2008, she founded the International Alliance on Physician Health, realizing her dream of bringing together experts worldwide to collaborate on work in this area. Currently, she serves on the University of Ottawa ePhysician Health Advisory Committee, and the RCPSC Physician Health Working Group. She is leading a new initiative to create a regional physician wellness program to serve all physicians working in the Champlain LHIN in Ontario.
Dr. Gautam is also a recognized leader in medicine in Canada. She is a Past-President of the Federation of Medical Women of Canada, and a past President of the Ontario Psychiatric Association. She is on the faculty on several Physician Leadership Development courses in Canada and the US, and serves as a coach for physician executives, assisting them with leadership development and career transitions. Dr. Gautam is an internationally renowned public speaker, and a sought-after keynote speaker at medical conferences throughout Canada, United States, Europe and Australia. She has created and conducted over 1000 innovative seminars, and is the recipient of numerous awards for her pioneering work in physician health and physician leadership development.
Monica Olsen, BScN, BA, MHRD
Monica is an organization effectiveness consultant and a long-standing member of the PMI faculty. Her expertise in management, facilitation, leadership development and workplace diversity has been tapped by many public and private organizations. She is qualified to administer both the Myers-Briggs Type Indicator® and the BarOn Emotional Quotient Inventory (EQ-i)® - and to facilitate Insights® Discovery and Personality Dimensions® workshops.
Monica brings insight, inspiration and humour to her consulting and training practice. She is recognized as a sensitive and effective facilitator, promoting self-awareness and personal change that can lead to enhanced working relationships.
Pricing
| | | |
| --- | --- | --- |
| External to Queen's | $1,250 | No code needed; price will be applied automatically |
| Individual Faculty | $750 | Use code PLI_Faculty when registering |
| Departments (2+ attendees) | $500/pp | Please contact Bryn Fraser at bryn.fraser@queensu.ca |
| Students/Residents | $500 | No code needed; discount will be applied upon registration with netID |
Cancellation Policy
If you cancel prior to August 20, 2018, you will receive a refund of your registration fee LESS $200.00. If you cancel after August 20, 2018 you will not receive a refund.
This program requires a minimum of 20 participants.
This program was made possible by support from The A. William, Austin & Amos Friend Memorial Visiting Professorship Endowment, the Dean of FHS, and the Faculty Development team at the Office of Professional Development and Educational Scholarship.
Thu Apr 22nd 2021, 9:44 am