When
Thu Mar 21st 2019, 8:30 am to Thu Mar 21st 2019, 4:00 pm
Where
421 Union St., Kingston, Ontario, K7L3N6, Canada
Fee: $210.00
(Base Price)
Registration for this program has closed.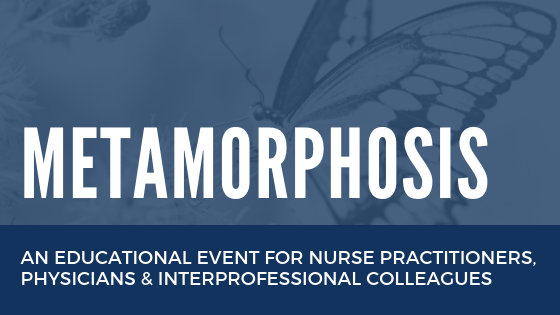 *Online registration is now closed. If you are interested in attending the Metamorphosis program you are welcome to register at the door on Thursday.
The Metamorphosis 2019 program tackles topics that keep you awake at night. From improving the lives of those livling with addictions to differentiating between the serious and non-serious causes of the red eye, shoulder issues and side effects of biologics, attendees will leave this program feeling better prepared to care for their patients.
CNPS experts will offer attendees the chance to critically evaluate situations which have developed into medical legal cases.
Credits:
This Group Learning program meets the certification criteria of the College of Family Physicians of Canada and has been certified by Queen's University for up to 5.25 Mainpro+ credits. This event is an Accredited Group Learning Activity (Section 1) as defined by the Maintenance of Certification program of The Royal College of Physicians and Surgeons of Canada, and is approved by the Office of Continuing Professional Development, Queen's University. You may claim a maximum of 5.25 hours.
*In an effort to switch to a "less paper" program, the presentations will be available online under the program in your Program Centre account rather than being printed.
Thu Mar 21st 2019, 8:30 am
Registration & Breakfast
Thu Mar 21st 2019, 9:00 am
Demystifying the Shoulder--adolescent/adult/elderly
Kristi Wood, MD, MSc, FRCSC, Assistant Professor, Dept. of Surgery (Orthopedic Surgery), Queen's University
Thu Mar 21st 2019, 9:40 am
Concussion in the Pediatric Patient
R. Garth Smith, MBBS, (UWI), FRCPC, Associate Professor, Department of Pediatrics, Queen's University; Medical Director, Developmental Pediatrician, Child Development Centre, Hotel Dieu Hospital, Kingston, ON
Thu Mar 21st 2019, 10:20 am
Recreational Cannabis: Safer than alcohol?
Marco L.A. Sivilotti, MD, MSc, FRCPC, FACMT, FAACT, Professor of Emergency Medicine, and of Biomedical & Molecular Sciences
Thu Mar 21st 2019, 10:40 am
Nutrition Break & Networking
Thu Mar 21st 2019, 11:10 am
The Red Eye: When to Treat and When to Refer
Stephanie Baxter, BSc, MD, FRCSC Associate Professor, Department of Ophthalmology, Queen University
Thu Mar 21st 2019, 11:50 am
A Bluffer's Guide to Biologics
Henry Averns, MB, ChB, FRCP (UK), FRCPC, Assistant Professor, Department of Family Medicine, Queen's University; Consultant Rheumatologist, Kingston
Thu Mar 21st 2019, 12:30 pm
Lunch & Networking
Thu Mar 21st 2019, 1:30 pm
Rapid Access Addiction Medicine (RAAM) Clinic
Carol Lynch, NP, Nurse Practitioner, Street Health Centre (A part of Kingston Community Health Centre)
Cindy Ocampo, RN (EC), Nurse Practitioner (Primary Care) and Opioid Substitution Therapy (OST), Street Health, Kingston, On
Melissa Wickett, Opioid Case Manager, Street Health, Kingston
Thu Mar 21st 2019, 2:10 pm
How to Catch a Unicorn: A Primary Care Guide to an Appropriate Dermatological Referral
Yuka Asai, MD, FRCPC, MSc, DABD, Assistant Professor, Department of Medicine, Division of Dermatology, Queen's University
Thu Mar 21st 2019, 2:50 pm
Nutrition Break & Networking
Thu Mar 21st 2019, 3:00 pm
Top Five Medical Legal Situations to Avoid in Your Practice
Elaine Borg, Legal Counsel, Canadian Nurses Protective Society, Ottawa, On
Thu Mar 21st 2019, 4:00 pm
Program Close