When
to
Where
Britton Smith Lecture Theatre Room 132A (SOM)
15 Arch Street, Kingston, Ontario, K7M3N6, Canada
Registration for this program has closed.
Registration is not required for this event.
4:30 pm - Reception
5:00 - 6:00 pm - Public Lecture
The Queen's University Aesculapian Medical Undergraduate Society invites you to a special presentation:
Beyond Earth – A Cautionary Tale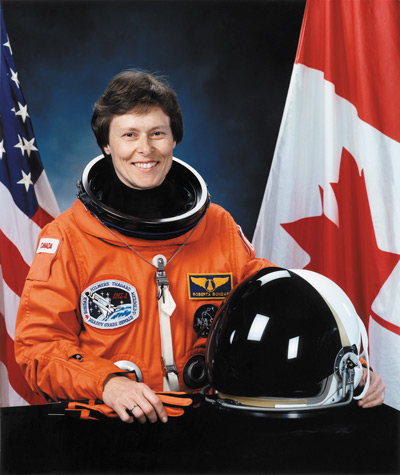 Dr. Roberta Bondar
Astronaut | Physician | Scientist | Photographer
Dr. Roberta Bondar was the first Canadian woman to fly in space on the Discovery shuttle in 1992.
For more than a decade at NASA, Dr. Bondar headed an international research team, continuing to find new connections between astronauts recovering from the microgravity of space and neurological illnesses on earth, such as stroke and Parkinson's disease. Her techniques have been used in clinical studies at the B. I. Deaconess Medical Center, a teaching hospital of Harvard Medical School and at the University of New Mexico.
Dr. Bondar holds a BSc in Zoology and Agriculture, an MSc in Experimental Pathology, a PhD in Neurobiology, an MD, and is a Board Certified Neurologist, Royal College of Physicians and Surgeons of Canada. She sub-specialized in Neuro-ophthalmology at Tufts New England Medical Center in Boston and at Toronto Western Hospital.
She is Co-Founder and President of The Roberta Bondar Foundation, created to inspire all ages and to view and to engage our natural environment in a positive light through the lens of photography.
Among the many honors and awards, Dr. Bondar has been recognized with the NASA Spaceflight Medal, inducted into the Canadian Medical Hall of Fame and into the International Women's Forum Hall of Fame for her pioneering research in space medicine. Dr. Bondar is an Officer of the Order of Canada and has been appointed to the Order of Ontario and as a Fellow of the Royal Society of Canada. She has received 24 honorary doctorates from Canadian and American universities.
About the H. Garfield Kelly Visiting Lectureship
The H. Garfield Kelly Visiting Lectureship supports visits from distinguished members of society renowned for their contribution to medical or biological science, ethics and other fields related to medical education and practice. The lectureship was established in honour of Dr. H.G. Kelly, a distinguished graduate of Queen's Medicine 1940.
After service in the RCAF and postgraduate training, Dr. Kelly joined the Queen's Department of Medicine in 1949. Until his retirement in 1983 as Vice-Principal of Health Sciences and Professor of Medicine, Dr. Kelly served Queen's, the teaching hospitals and the Kingston community with distinction, loyalty and devotion to excellence as a teacher, physician, researcher and administrator. Dr. Kelly died in 1994. He is missed by his family, his colleagues, his patients and his Alma Mater.