When
Wed May 29th 2019, 8:00 am to Wed May 29th 2019, 3:30 pm
Where
285 King St., E., Kingston, Ontario, K7L3B1, Canada
Fee: $225.00
(Base Price)
Registration for this program has closed.
*Online registration is now closed.
If you are interested in attending the 6th Annual Department of Medicine Day program you are welcome to register at the door on Wednesday.
You asked, we listened!
The Department of Medicine Day has totally been revamped & we can't wait to show you our new "face lift"!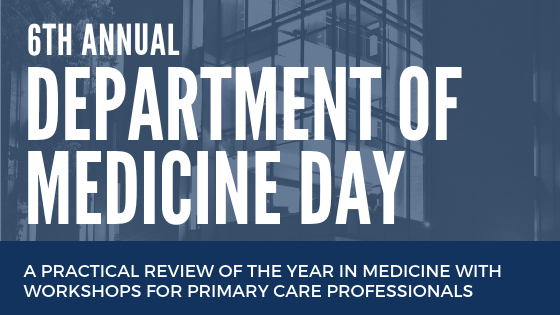 Build your own CME day by selecting two of four different *streams of medicine and join our specialists as they present practical cases based on the most common consult requests they receive from primary healthcare practitioners. Learn what steps you can take to assist your patients' needs while waiting for the consult or a referral appt. Also, be among the first in our medical community to hear about new and exciting technologies, procedures and programs… and don't miss the opportunity to "grill" our specialists during lunch! Looking forward to welcoming you all to our 2019 Department of Medicine Day.
Parking passes will be made available for those who park at the Four Points underground parking.
*The streams are the 4 different informational workshops given by faculty members in the following specialities: Gastroenterology, Palliative Care, Neurology, Dermatology, in which they will discuss 2 common consults they received from primary care professionals. They will go over the case and provide practical information on how to manage the patient and their symptoms prior to requesting a referral or while they wait for the referral. The sessions will be offered in the morning and then repeated in the afternoon, allowing for the attendees to attend two of the four speciality streams. Spaces are limited in each session.
Round Table Lunch Topics and Faculty Members

Division

Faculty Members

Allergy & Immunology

Dr. Anne Ellis

Cardiology

Dr. Zardasht Jaff

Dermatology

Dr. Sonja Molin & Dr. Thomas Herzinger

Endocrinology & Metabolism

Dr. Robyn Houlden & Dr. Bikram Sidhu

Gastroenterology

Dr. Lawrence Hookey & Dr. Jennifer Flemming

General Internal Medicine

Dr. Lisa Nguyen

Geriatric Medicine

Dr. John Puxty & Dr. Chris Frank

Hematology

Dr. Annette Hay

Infectious Diseases

Dr. Gerald Evans & Dr. Evan Wilson

Neurology

Dr. Lysa Lomax & Dr. Shirin Jalini

Nephrology

Dr. David Holland

Palliative Care

Dr. Leonie Herx & Dr. Danielle Kain

Respirology & Sleep Medicine

Dr. Geneviève Digby

Rheumatology

Dr. Marie Clements-Baker
Credits:
This Group Learning program meets the certification criteria of the College of Family Physicians of Canada and has been certified by Queen's University for up to 6.5 Mainpro+ credits. This event is an Accredited Group Learning Activity (Section 1) as defined by the Maintenance of Certification program of The Royal College of Physicians and Surgeons of Canada, and is approved by the Office of Continuing Professional Development, Queen's University. You may claim a maximum of 6.5 hours.
*In an effort to switch to a "less paper" program, the presentations will be available online under the program in your Program Centre account rather than being printed.
Wed May 29th 2019, 8:00 am
Registration & Breakfast
Wed May 29th 2019, 8:30 am
Opening Remarks & Introductions of New Faculty
Stephen Archer, MD, FRCPC, Professor and Head, Department of Medicine, Division of Cardiology, Queen's University
Wed May 29th 2019, 8:40 am
Innovations in Medicine Introduction
Stephen Vanner, MD, FRCPC, Professor, Departments of Medicine, Division of Gastroenterology and of Biomedical and Molecular Sciences, Queen's University
Wed May 29th 2019, 8:45 am
Home Virtual Visits (E-visit) for Out-Patient Care
Ramana Appireddy,
Wed May 29th 2019, 9:00 am
Live Donor Kidney Transplants
David Holland, MD, FRCPC, Associate Professor, Department of Medicine, Division of Nephrology (Chair), Queen's University
Wed May 29th 2019, 9:15 am
Advances in Diabetes Technologies
Robyn Houlden, MD, FRCPC Prof., Dept. of Medicine, Div. of Endocrinology and Metabolism, Queen's University
Wed May 29th 2019, 9:30 am
Is E-Consult Right for your Practice? Improving Access to Specialist Care One Question at a Time
Danielle Claus, Executive Director, Southeastern Ontario Academic Medical Organization (SEAMO)
Wed May 29th 2019, 10:00 am
Break & Networking
Wed May 29th 2019, 10:15 am
Consults Gone Live Streams - First Rotation
Wed May 29th 2019, 10:15 am
Stream: Gastroenterology Cases: Iron Deficiency & Fatty Liver Disease
Jennifer Flemming, MD, FRCPC, Associate Professor, Department of Medicine, Division of Gastroenterology, Queen's University
Lawrence Hookey, MD, FRCPC, Associate Professor, Department of Medicine, Division of Gastroenterology, Queen's University
Wed May 29th 2019, 10:15 am
Stream: Dermatology Cases: Acne/Rosacea & The 5 W's of Contact Dermatitis
Thomas Herzinger, MD, Professor, Division of Dermatology, Queen's University
Sonja Molin, MD, Assoc., Prof. Dept. of Medicine, Chair, Div. of Dermatology, Queen's University
Wed May 29th 2019, 10:15 am
Stream: Neurology Cases:The Evidence for Medical Marijuana in Epilepsy & Patent Foramen Ovale and Stroke
Lysa Boissé Lomax, MD, MSc, FRCPC Assistant Professor, Department of Medicine, Division of Neurology and Division of Respirology & Sleep Medicine, Queen's University
Shirin Jalini, MSc., MD, Assistant Professor, Division of Neurology, Queen's University
Wed May 29th 2019, 10:15 am
Stream: Palliative Care Cases: Mrs. Simpson's Suffering: a case of pain, nausea & emesis in a woman with metastatic ovarian cancer
Leonie Herx, MD, PhD, FCFP(PC), Associate Professor, Division Chair and Connell Chair, Division of Palliative Medicine, Department of Medicine, Queen's University
Danielle Kain, MA, MD, CCFP (PC), Assistant Professor, Division of Palliative Medicine, Departments of Medicine & Oncology, Queen's University
Wed May 29th 2019, 11:45 am
Round Table Lunch & Networking
Wed May 29th 2019, 1:00 pm
Quality Improvement in the DOM: Impacts on Patient Care at KHSC and Beyond
Genevieve Digby, MD, FRCPC, Assistant Professor in the Division of Respirology, Department of Medicine, Queen's University
Wed May 29th 2019, 2:00 pm
Consults Gone Live Streams - Second Rotation
Wed May 29th 2019, 2:00 pm
Stream: Gastroenterology Cases: Iron Deficiency & Fatty Liver Disease
Jennifer Flemming, MD, FRCPC, Associate Professor, Department of Medicine, Division of Gastroenterology, Queen's University
Lawrence Hookey, MD, FRCPC, Associate Professor, Department of Medicine, Division of Gastroenterology, Queen's University
Wed May 29th 2019, 2:00 pm
Stream: Dermatology Cases: Acne/Rosacea & The 5 W's of Contact Dermatitis
Thomas Herzinger, MD, Professor, Division of Dermatology, Queen's University
Sonja Molin, MD, Assoc., Prof. Dept. of Medicine, Chair, Div. of Dermatology, Queen's University
Wed May 29th 2019, 2:00 pm
Stream: Neurology Cases:The Evidence for Medical Marijuana in Epilepsy & Patent Foramen Ovale and Stroke
Lysa Boissé Lomax, MD, MSc, FRCPC Assistant Professor, Department of Medicine, Division of Neurology and Division of Respirology & Sleep Medicine, Queen's University
Shirin Jalini, MSc., MD, Assistant Professor, Division of Neurology, Queen's University
Wed May 29th 2019, 2:00 pm
Stream: Palliative Care Cases: Mrs. Simpson's Suffering: a case of pain, nausea & emesis in a woman with metastatic ovarian cancer
Leonie Herx, MD, PhD, FCFP(PC), Associate Professor, Division Chair and Connell Chair, Division of Palliative Medicine, Department of Medicine, Queen's University
Danielle Kain, MA, MD, CCFP (PC), Assistant Professor, Division of Palliative Medicine, Departments of Medicine & Oncology, Queen's University
Wed May 29th 2019, 3:30 pm
Program Close