When
Wed Aug 26th 2020, 4:00 pm to Thu Dec 3rd 2020, 5:00 pm
Where
Developed and offered by OPDES in the Faculty of Health Sciences, Queen's University, Ontario, , Canada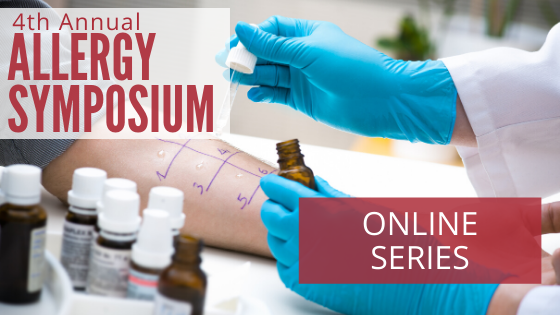 Join us for the 4th Annual Allergy Symposium - Online Series. This series is made up of five (5), 1-hour sessions of the most relevant allergy topics presented by the local allergy specialists. #GetYourCPD
Register before August 14th to receive "Early Bird" pricing.
The connection details for each session will be emailed to registrants before 1:00 p.m. on the day of the respective session.
Credits:
This Group Learning program meets the certification criteria of the College of Family Physicians of Canada and has been certified by Queen's University for up to 5.5 Mainpro+ credits. This event is an Accredited Group Learning Activity (Section 1) as defined by the Maintenance of Certification program of The Royal College of Physicians and Surgeons of Canada, and is approved by the Office of Continuing Professional Development, Queen's University. You may claim a maximum of 5.5 hours.
Non-refundable program​
Wed Aug 26th 2020, 4:00 pm
It's only hay fever, you don't need to see a specialist for that!
Anne Ellis, MD, FRCPC Prof., Depts. of Medicine, (Chair) Div. of Allergy and Immunology and of Biomedical and Molecular Sciences, Queen's University
Mon Sep 21st 2020, 4:00 pm
Spacer Devices for Inhalers Are Unnecessary in Adults for Asthma (and other common misconceptions about asthma management)
Rozita Borici-Mazi, MD, FRCPC, Associate Professor, Departments of Medicine, Division of Allergy and Immunology and Pediatrics, Queen's University
Thu Oct 15th 2020, 4:00 pm
The size of the skin test predicts the severity of a reaction (and other diagnostic misconceptions)
Willa Liao, MD, FRCPC, Allergist and Immunologist, Kingston, Adjunct Professor, Department of Pediatrics, Queen's University
Wed Nov 18th 2020, 4:00 pm
Epinephrine should be saved for when a patient's reaction is severe (and other myths about anaphylaxis)
Emily Kay, MD, FRCPC, Adjunct Professor, Department of Pediatrics, Queen's University; Allergist and Immunologist, Greenwood Medical Centre
Thu Dec 3rd 2020, 4:00 pm
Peanut allergic patients can have anaphylaxis from the smell of peanut (and other myths about food allergy)
Ellie Tsai, MD, FRCPC, Allergist and Immunologist, Adjunct Professor Queen's University, Department of Internal Medicine