Welcome to The Harbour, QHS's new EDIIA podcast
The Harbour is Queen's Health Sciences (QHS) new destination for conversations on issues related to Equity, Diversity, Inclusion, Indigeneity, and Accessibility (EDIIA).  
The innovative podcast series highlights conversations between QHS learners, staff, and faculty that will prompt listeners to reflect on their own personal biases and provide them with ways to practice critical allyship.
Hosted by Celina Caesar-Chavannes, Senior Advisor, Equity, Diversity, and Inclusivity (EDI) Initiatives, the podcast features a variety of guests – from student leaders to EDIIA researchers to faculty leaders like Dean Jane Philpott and Colleen Davison, Associate Dean, Equity and Social Accountability.
Links to The Harbour's first six episodes are available below the following Q&A, as well as via subscription to these podcast streaming services: Apple Podcasts, Spotify, iHeartRadio, Stitcher and Deezer. Individual episodes will also be promoted on QHS's social and digital media channels for the next six weeks.
Learn more about the series in this interview with host Caesar-Chavannes:
Q: What is the vision behind The Harbour podcast?
A: I think this is a leadership moment for the university, and this podcast is one of the ways in which 
we've leveraged that leadership moment to show other institutions how and who can be impacted by accountable, sustainable change. Especially in the journey to democratizing justice, I think Queen's has an opportunity based on its legacy, and the demographics of Kingston, to really do things differently… and to disrupt systems that are traditional – especially at academic institutions.  
Q: Talk about the early episodes you have recorded. What can listeners expect? And what are some of the general themes you are exploring.
A: The people who are listening can expect to hear some challenging statements – especially from learners in early episodes who are challenging the way the university does things. Nobody held back. There wasn't a sense of, 'Oh, I'm afraid to sort of say what I need to say to challenge the administration.' And so, it was a really liberating exercise for a lot of people. We want people who want to find solutions to changing systems. 
Q: What kind of impact do you hope the podcast has?
The podcast is a catalyst for action and change. If you're not planning to act, don't listen to it. Maybe that should be the title: 'If you don't plan on acting, don't listen to this podcast.' 
Institutions need to start to be paying more attention, right? Learners actually have the on the ground experience. They are the ones that are paying for a service and not getting exactly what they are hoping for. I don't really like using the words equity and diversity and inclusion anymore. I like to talk about justice because; I think that's the goal. And the students are offering these very tangible, real things that are easy to do. Stories are sticky. It's like, 'I'm going to tell this story. It's going to stick to you, and I'm now going to give you the opportunity to do something about it.' 
Q: Talk broadly about the types of guests you have had on the show, and would like to have on in the future? 
Well, we've had learners from across the spectrum, administration, deans, professors, people from the LGBTQ+ community, and people from communities outside of Queen's. We are trying to get as diverse a range of people throughout the podcast. The aim is to have this collective energy.  Let's have a group of people who normally do not get together to have these kinds of conversations have the conversations that are required. if we want to democratize justice, we need to do it in different ways. But we need to do it in ways that we are collectively engaging people.    
Q: What topics would you like to cover in the future?
I don't really bring any topics forward. We like to hear from the Queen's community on the things that they want to talk about. So, there were a number of topics that came up during the early episodes that we all said we need to cover in the future. The topics come from students. They come from what's happening out in our world on issues like immigration and inclusivity. I think that a lot of topics will be trending on a day-to-day basis and we will shift accordingly. We don't want to set ourselves up to being very prescriptive and having topics that are no longer relevant.
Q: What are some of your favourite moments during recordings so far?
I'm recalling a story from a Muslim student who was not given a chance to be able to change her exam schedule for Ramadan and displayed creativity and innovation by thinking, 'How can we still disrupt when we cannot have this accommodation in place?' It was a challenging conversation, but it was one that we were not afraid to have – and one that we weren't afraid to have with the Dean of Queen's Health Sciences present. That story made me cry. Literally. And the episode on 'Empathy' was really challenging. Because you go in thinking it's going to be all fun, and smooth and gushy, and the episode turns into this surprising thing where we're like, 'Do we really need empathy or do we need something else?' I'm learning so much from these conversations.
See the following for a synopsis and links to the first six episodes.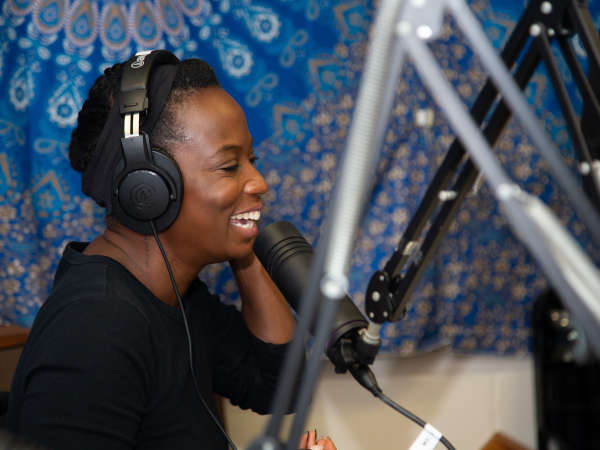 Episode 1 - Holidays
Certain statutory holidays in Canada align Christian religious days of observation.  Christmas. Good Friday. Caesar-Chavannes, medical student Suffia Malik, and Dean Philpott discuss how our growingly diverse community at Queen's can be better supported to observe religious and cultural dates that are often overlooked. (Recorded June 9, 2022) 
https://podcast.cfrc.ca/2023/03/episode-1-holidays/ 
Episode 2 - Generational Gap  
Generation Z is holding us accountable for an equitable and inclusive cultural transformation.  Caesar-Chavannes sits down with Medicine students' Samriddhi Mishra and Candice Martin to converse about the generational gap and how a new generation of students are pushing for change in the health sciences. (Recorded November 11, 2022) 
https://podcast.cfrc.ca/2023/03/episode-2-generational-gap/  
Episode 3 - Empathy/Compassion  
There has been a shift in health sciences to lead with empathy and compassion amongst health professionals and leadership.  Caesar-Chavannes, Stephanie Nixon (Vice Dean and Director of the School of Rehabilitation Therapy), and EDIIA student researcher Ben Carroll (Nursing) engage in an insightful dialogue on how to engage in the practice of empathy and compassion.    (Recorded November 11, 2022) 
https://podcast.cfrc.ca/2023/03/episode-3-empathy-compassion/  
Episode 4 - Food Security  
Food Security has become a heightened issue with the rise of food prices and climate change as well as the need to acknowledge Indigenous food sovereignty and relationship to land.  Caesar-Chavannes, Sarah Funnell (Director of Indigenous Health, Department of Family Medicine), Ayla Fenton (Loving Spoonful), and Colleen Davison (Associate Dean, Equity and Social Accountability) share their thoughts on the landscape of food (in)security issues and the changes required to address food (in)security. (Recorded December 2, 2022) 
https://podcast.cfrc.ca/2023/03/episode-4-food-security/ 
Episode 5 - Cancel Culture  
What is deemed an (un)acceptable act?  Who gets to decide what is an (un)acceptable act?  How do we respond to cancel culture and social accountability?  Caesar-Chavannes, Public Health Sciences student Ishana Maini, and Terry Soleas, Director of Continuing Professional Development (Office of Professional Development & Educational Scholarship), have a vulnerable conversation on the ties between accountability and cancel culture as well as the consequences of cancel culture. (Recorded December 2, 2022) 
https://podcast.cfrc.ca/2023/03/episode-5-cancel-culture/ 
Episode 6 - Labels  
We have a need to categorize and group people into specific labels based on self-identified and imposed identities.  Caesar-Chavannes, Medical student Ryan Truong (QHS Outreach and Summer Program coordinator) and accessibility researcher Mahadeo Sukhai (Department of Ophthalmology), unpack the labelling of individuals and groups and how we navigate through power structures with these identities. (Recorded December 2, 2022) 
https://podcast.cfrc.ca/2023/03/episode-6-labels/  
Related topics