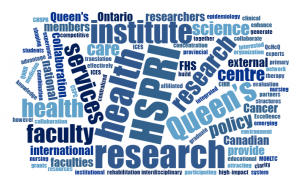 Queen's Health Services and Policy Research Institute (HSPRI)* is a Faculty Institute in the Faculty of Health Sciences (FHS) at Queenís University. The institute aims to support faculty as they generate high-impact research and evaluation of the Canadian health care system. Although based in the FHS and funded by external research grants, HSPRI welcomes faculty across all Queenís University departments and faculties, as well as researchers external to Queenís who wish to collaborate with or serve as experts to HSPRI.
As a centralizing entity, HSPRI will bring together the Centre for Health Services and Policy Research (CHSPR), the Institute for Clinical Evaluative Sciences (ICES) Queenís, Queen's Collaboration for Health Care Quality / a Joanna Briggs Institute Centre of Excellence (QcHcQ), and the members of Queen's Nursing and Health Research (QNHR). HSPRI will provide a home to affiliated researchers/emerging groups.
Through this combination and concentration, HSPRI will play a broader and more integrated role in shaping the health services and policy research at the provincial, national, and international levels. HSPRI will provide centralized resources that will enable participating researchers to respond effectively and promptly to requests for health services and policy research. The co- located and better-networked faculty provides HSPRI with a competitive advantage in attracting funding from the Canadian Institute for Health Research (CIHR) and the Ministry of Health and Long-term Care (MOHTLC).
HSPRI will build on (i) existing interdisciplinary health services and policy research collaboration, and knowledge translation across all three schools within the Faculty of Health Sciences (medicine, nursing, and rehabilitation therapy); (ii) collaborations with faculty members from departments and faculties across Queenís University; and (iii) national and international institutional partners. HSPRI will enhance the educational environment and experience of graduate students interested in health services and policy research.
* Formerly the Centre for Health Services and Policy Research (CHSPR)