Changing the face of health sciences – The Next 25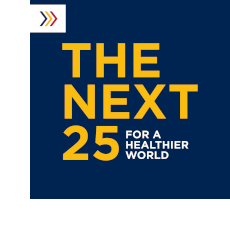 This story is part of #TheNext25, an ongoing series exploring how Queen's Health Sciences is reimagining health education, research, and patient care. 
The driving force behind Queen's Health Sciences' (QHS) strategic plan is the idea of radical collaboration. That can only be successful when everyone at the table is represented and supported in a deliberate way and ensuring that Equity, Diversity, Inclusion, Indigeneity and Accessibility (EDIIA) is infused in every corner of the faculty. A new action plan, renewed commitment and a focused team are now in place to help take this work to the next stage.  
"We are going to collaborate in ways we've never done before and are making sure that in everything we do we draw upon a wide swath of voices to deliver education, research, and care in the best possible way," says Dr. Jane Philpott, QHS Dean and Director, School of Medicine. "We want this to be a place where people thrive when they feel welcome and included." 
The vision is to transform internal structures at QHS for accessibility, inclusivity and belonging while embedding equity, inclusion and anti-racism into education, research, and care. Big picture, it's about developing health scientists who ensure equity and inclusion are front-and-centre in the diverse work they do across the health sector. For example, front line practitioners providing equitable, culturally-safe care, and scientists who do research that is informed by EDIIA principles to enable better care and outcomes for all. 
A key target is to see the profile of QHS students, staff, and faculty match that of the greater population by 2026—no small feat. "It's an aspirational and complex goal and one that forces us to think about what we want to achieve and where we're going," says Dr. Colleen Davison, who in January 2022 was the first person appointed as Associate Dean, Equity and Social Accountability at QHS.   
At the second Dean's Action Table for Equity, Diversity and Inclusion Forum held earlier this month, a comprehensive EDIIA Action Plan was launched outlining 25 overall EDIIA goals and 127 recommended actions spanning nine pillars ranging from admissions to outreach, recruitment and retention, to mentorship, curriculum, research, and culture.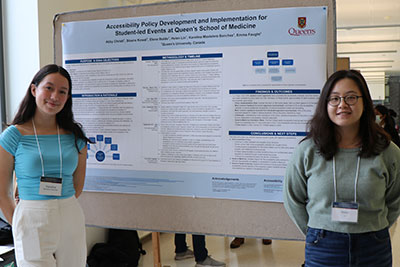 "The work to date has been enormous and the fact that we are at this point, where we now have a comprehensive plan is a big success for us," says Dr. Davison. Behind the plan is the work of more than 160 people, multiple working groups, extensive research, and consultation. "If this was just a top-down activity it would be harder to get behind," she adds. "It is a scaffold for the actions that have come from within and across the community that is well supported by evidence and in conversation with community."  
One cornerstone goal in the Action Plan is the implementation of an Inclusive Curriculum Model which is a principles-based guide that provides resources to faculty members to apply diverse knowledge and perspectives in teaching and learning. At the end of the day, creating a just and equitable society and more diverse healthcare system starts in the classroom.  
That's also why students are also playing a crucial role in the faculty's transformation. Case in point, annual EDIIA Studentship Projects, learner-led initiatives that are reimagining the way we learn, teach, research, collaborate, recruit and mentor. Current projects are examining a wide-range of issues, from how to improve Indigenous student admissions to enhancing 2SLGBTQ+ representation in Queen's MD pre-clerkship curriculum. 
"Because of this opportunity, we have a real say over our own education," says first-year student Stephanie Grantham, one of the leads on the 2SLGBTQ+ project. "We have been given a phenomenal chance to build the advocacy skills we will one day need to speak up for our patients and enact policy changes for all equity-deserving Canadians." 
Learners have a front-row perspective on what needs to change. Recently, medical students studying dermatology questioned why so many teaching photos showed dermatologic diseases mainly on white-skinned patients. From there, the students surveyed the entire dermatology curriculum and found this narrow view a detriment to their learning which resulted in a larger library of images showing skin conditions and diseases across a range of skin colours. 
Another important component is the creation of resources to guide the delivery of equitable and culturally-safe care—from QHS researchers playing a lead role in the creation of a Sexual Orientation and Gender Diversity Nursing Website and Toolkit to a new Indigenous healthcare and teaching guide.  
Looking ahead, the next big milestone will be the appointments of an Associate Dean, Indigenous Health and Chair of Indigenous Health to further advance Indigeneity across the faculty and help drive the culture change necessary to educate the next generation of health professionals and researchers. These searches are currently underway. Once those roles are filled, Dr. Davison will have more time to focus on the social accountability part of her mandate so there is adequate monitoring, evaluation and flow of data and reporting to identify gaps, find resources, and celebrate successes.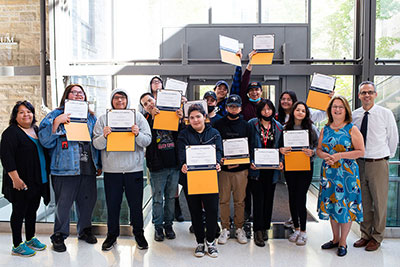 On November 3, 2022, the new QHS EDIIA Initiatives office will officially open on the fourth floor (402) of the School of Medicine Building at 15 Arch Street. Otherwise known as 'The Nest', it is a place to nurture ideas and projects, and a welcoming and safe space for QHS students and community members to come together to work in fellowship.  
A lot of work lies ahead in putting everything together—the plan, the action items and the drive for change. Davison is inspired by recent successful initiatives tackling the lack of diversity in health sciences classrooms. The WAHA Summer Program, which focused on outreach to Indigenous youth from the western James Bay coast, and the Outreach and Summer Program, which engaged local youth from equity-deserving communities.   
"We are looking to inspire," said the latter program's coordinator Ryan Truong, a first-year Queen's medical student. "We're doing this to create a generation of diverse thinking and empathetic health care workers, researchers, and technologists." 
That sentiment is at the heart of the faculty's ongoing transformation, and Dr. Davison is enthusiastic about the road ahead. "I feel that if someone left QHS today and came back in 10 years, they are going to see, feel and experience a different culture than what we have today." 
Make your gift to the Queen's Health Sciences Equity, Diversity and Inclusion Fund today.  
Related topics