Partnering to create opportunities for northern youth — The Next 25
This story is part of #TheNext25, an ongoing series exploring how Queen's Health Sciences is reimagining health education, research, and patient care. 
Breaking down the barriers to education for Indigenous youth: it's the vision at the heart of a new Queen's Health Sciences (QHS) summer program for high school students from the western James Bay coast. 
The immersive camp also marks the next phase of an evolving partnership between QHS and the Weeneebayko Area Health Authority (WAHA), a healthcare network in Northeastern Ontario. 
"This is the beginning stage of a vision for building programs and education opportunities that will be built in-community and led in-community," says Dr. David Taylor, Senior Advisor, Queen's-WAHA Partnership and Associate Professor, Department of Medicine.  
"The WAHA Summer Program began with thinking about the barriers that Indigenous youth, particularly those from rural communities, face in accessing and attaining post-secondary education and training in health sciences," he adds.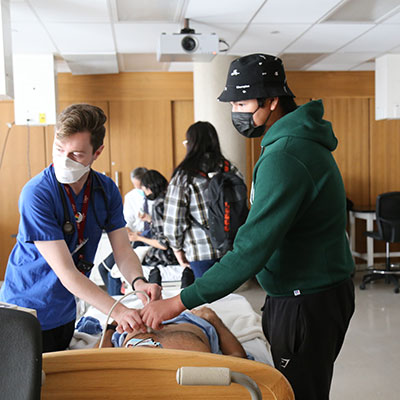 Those challenges can include everything from geographic isolation and institutional racism to financial inequities and lack of access to prerequisite courses in high school. Students also need to see what possibilities exist and feel comfortable and confident in applying to attend post-secondaries far away from home. 
The summer camp aimed to give youth a glimpse into a future learning and working in health sciences.  
"In order to expand yourself, you need to take chances," says Tierra Isaac, a 12th-grade student from Moose Factory, noting she enjoyed the hands-on, experiential activities offered in the program. For example, simulations allowed campers to experience what it's like to give a patient everything from chest compressions to medical injections. They also had a chance to meet faculty and current QHS students to get a better understanding of university life. 
Inspired and encouraged by her grandparents who work as health care professionals, Tierra came to the summer program already knowing that she wanted to pursue her education in health sciences, but that wasn't always the case. Growing up in an isolated community, Tierra describes how many young people, including herself, struggle with partying and substance abuse at a very early age. "It's astoundingly difficult to pull yourself out of these habits when it's all the recreation you have access to," she explains. "People back home don't often see school as a possibility. But I knew I was smart and capable of doing better for myself and my community. When I got serious about my own wellbeing, I also became passionate about that of my community members." Tierra is now planning to apply to the Queen's University's Accelerated Route to Medical School (QuARMS) program and to eventually bring her medical knowledge and skills back to Moose Factory. 
One key to the inaugural camp's success was creating a sense of belonging and connection to Queen's campus. One highlight of the week saw students sharing their experiences around a fire, with Bannock—a traditional Indigenous bread—in the teepee at Four Directions Indigenous Student Centre. Here they had the chance to meet and talk with Indigenous faculty, staff, and a current Nursing student from Moose Factory.   
This summer program is part of QHS's larger efforts to reimagine health sciences education and practice. The QHS Outreach and Summer Program, which targets Kingston-based high school students is creating opportunities for young people who face systemic barriers to post-secondary education. Both programs have been driven by the faculty's commitment to Equity, Diversity, Inclusion, Indigeneity and Accessibility (EDIIA), which includes fostering diversity among staff, faculty, and students. 
In WAHA's communities, the summer program offers a first step towards engaging youth to become healthcare professionals and could potentially help address the isolated region's healthcare needs—from community-based services to local access to clinicians. The initiative builds on a nearly six-decade relationship between Queen's and WAHA that is anchored in training, frontline care, and research. The next phase of the collaboration will expand mentorship and increase access to the supports and prerequisites required to pursue university programs in health sciences.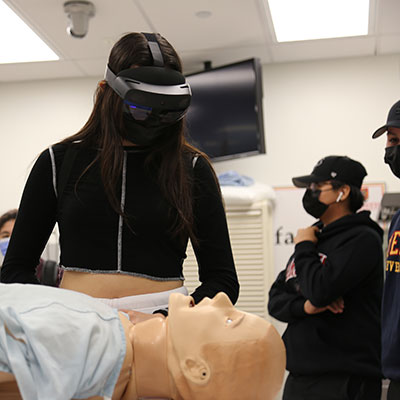 Looking ahead, Dr. Taylor is hopeful the summer program can expand beyond simply sparking a vision in the minds of Indigenous youth to building relationships that support youth through the application process and in transitioning into a successful post-secondary career. "This is about planting that vision—that excitement—having experiences that will stick with them and encourage them as they move through what is a long process of application and training," he says. "It's also about building relationships. I know all these students now by name when I go into their community." 
At the end of the day, it's all about helping students create a vision for their future and equipping them to pursue it, he explains. 
Case in point, Tierra's vision for succeeding at medical school and achieving her goals have been bolstered by the newfound knowledge and confidence she gained on Queen's campus. And she is keen to see that other youth in her community follow her path. "I want to be an inspiration to younger people in Moose Factory and show them that it's possible to go after what you want—to graduate—and help your community." 
Related topics