A call to disrupt racism in health sciences education
Last week at Queen's, we hosted Dr. Barry Lavallee, who is a member of Manitoba First Nation and Métis communities and a specialist in Indigenous health and northern practice. Dr. Lavallee stayed with us for three days and provided a series of events aimed at raising our awareness of the ways in which Indigenous people in Canada experience the health care system. I cannot thank Dr. Lavallee enough for agreeing to travel from Manitoba to speak with us, and for offering us such an important perspective that we all need to hear.
During the public lecture he delivered on Wednesday, he gave the audience an overview of the ways in which racism affects Indigenous health. Among other disturbing factors, Dr. Lavallee says that Indigenous people do not receive the care they need because the severity of their problems is ignored by practitioners. Dr. Lavallee illustrated this for us by drawing on the story of Brian Sinclair, a 45-year-old Indigenous man in Winnipeg who died in the waiting room of the emergency department while waiting 34 hours to be seen.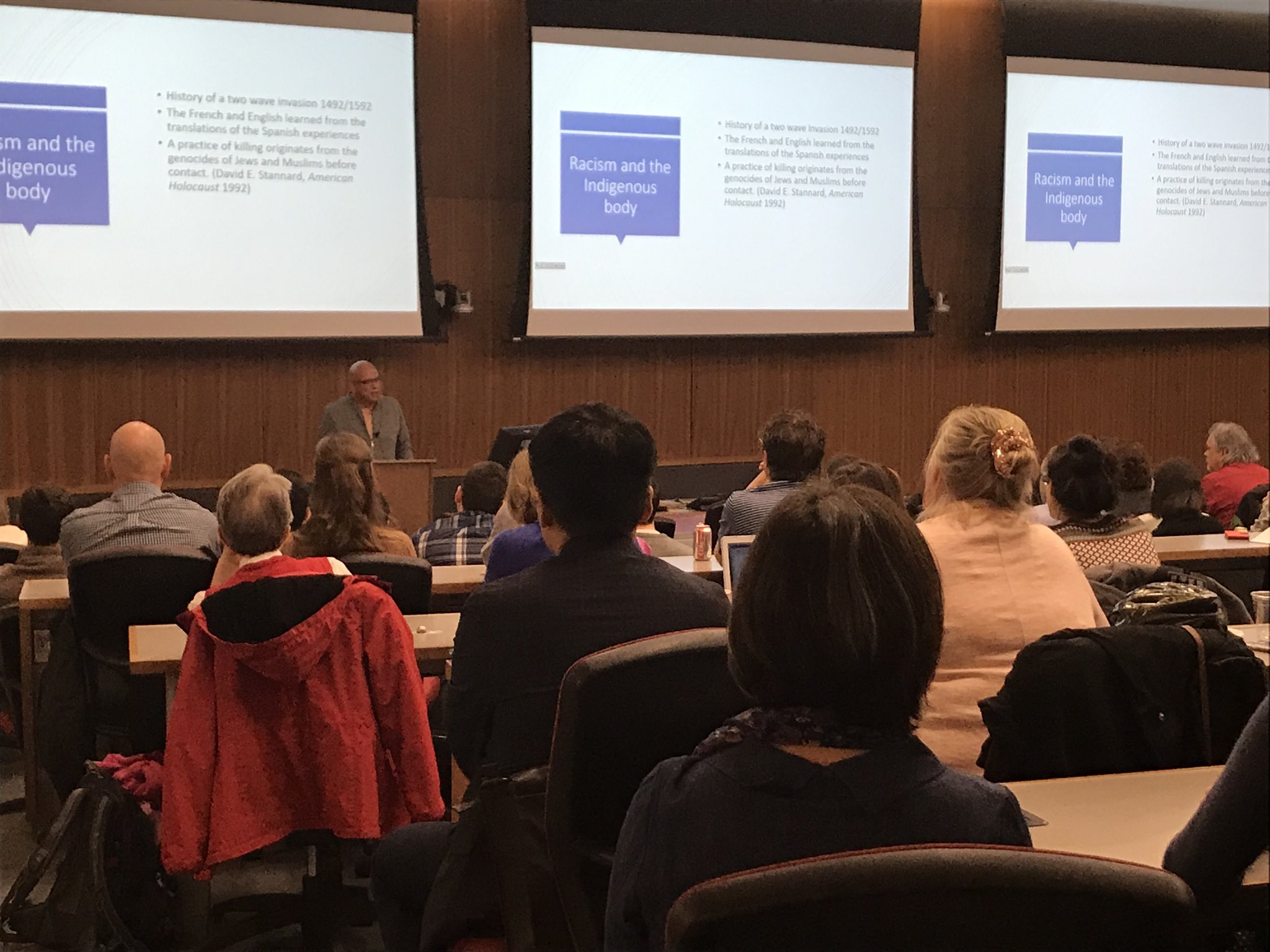 Dr. Lavallee explained that sometimes Indigenous people do not even bother seeking out Western professional care because their experiences with the health system have been so negative. In a particularly chilling anecdote, Dr. Lavallee described how one of his Indigenous patients was once violently attacked but chose to try to treat herself at home rather than go to the emergency room and potentially experience racism.
One of the biggest takeaways from Dr. Lavallee's talk for me is the fact that our medical education system in Canada still needs to do a better job of training future physicians not to make decisions about patients based on stereotypes.
As Dr. Lavallee explains, our students, starting in their clerkship years, frequently encounter unconscious biases towards Indigenous patients that can result in inequities of care. This does not mean that clinical professors set out to teach their students to think of Indigenous patients in a negative light. But rather that students learn to adopt these attitudes from the behaviours of their teachers. Often, these behaviours are subtle or unconscious, such as signs of irritation or off-hand remarks, but Dr. Lavallee stresses that the smallest acts can have large impacts on our learners.
With this context in mind, I was particularly grateful to Dr. Lavallee for holding a Faculty Development Workshop last Thursday on the subject of "Teaching Methods for Addressing Cultural Safety: Promoting Indigenous Health." In this workshop, he taught participants how to disrupt the negative "coaching" of medical students by practising how to identify racism and question it in a productive way. 
Dr. Leslie Flynn, our Vice-Dean, Education in the Faculty of Health Sciences, has been a leading figure in our work to respond to the calls to action of the Truth and Reconciliation Commission, and she was instrumental in bringing Dr. Lavallee to campus. I reached out to her to reflect on his visit.
"Dr. Lavallee gave a very challenging lecture that I think was necessary to hear," Dr. Flynn says. "As we continue with our work of answering the calls to action of the Truth and Reconciliation Commission, I think we should all keep in mind the ways in which he provoked us to examine our own position within the legacy of colonialism. I am very grateful to Dr. Lavallee for everything he taught us, and I feel that he has energized the faculty to pursue truth and reconciliation with a renewed sense of purpose."
I wholeheartedly agree with Dr. Flynn. As we make progress on truth and reconciliation in medical education, we need the expertise of people like Dr. Lavallee. His visit pointed out the many challenges we still need to face, but he also gave us inspiration to tackle them head on.
If you have any thoughts on Dr. Lavallee's visit, please leave them in the comments below. Or better yet, please stop by the Macklem House: my door is always open.
--Richard
Thank you to Andrew Willson for his assistance in preparing this blog.