Celebrating the impact of health research: Cinq à Sept Research Talks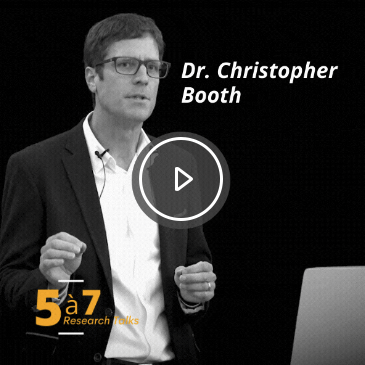 Hear the personal stories behind groundbreaking health research at Queen's.
Queen's Health Sciences (QHS) has launched a digital collection of its Cinq à Sept Research Talks – creating an online home for the powerful, compelling stories behind the extraordinary health research happening at Queen's University.
The series spotlights innovative research with engaging, TED-style talks in front of an audience of students, staff, faculty, alumni and community members. Talented researchers headline each Cinq à Sept, offering a unique, intimate view into the passions and goals that drive their work.
The inaugural Cinq à Sept Research Talks featured two dynamic speakers: Dr. Chris Booth, Canada Research Chair in Population Cancer Care presents cancer care's three biggest challenges and three solutions in a talk titled "The Emperor Has No Clothes: Finding Our Way Again in Cancer Care."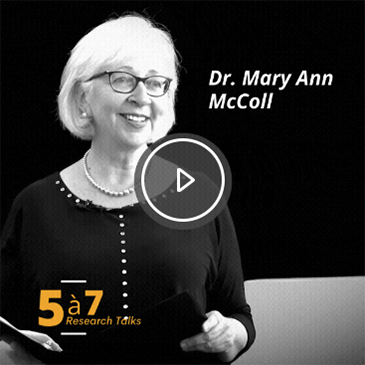 Dr. Mary Ann McColl, Associate Director, Health Services Research and Policy Institute, reveals the secrets behind the ten stories that older persons tell over-and-over again. Caregivers may lament them, but her research affirms that there is power and purpose in these tales – and there really are just 10 stories on each person's list.
Cinq à Sept is inspired by the French tradition of gathering at the end of the workday. A reception following each Research Talk sparks connection and collaboration – an integral component of the new strategic plan for Queen's Health Sciences: Radical Collaboration for a Healthier World.
---
Tickets:
The Cinq à Sept Research Talks run from 5pm to 7pm, and are held close to campus to allow for participants to shift from work or the classroom to the event before going home. Tickets for the events, while limited, are free and available to QHS students, staff and faculty as well as Queen's alumni and members of the Kingston community, on a first come first served basis.
To request a ticket, please add your name to the wait list here.
Apply to give a Research Talk:
Faculty members in Queen's Health Sciences are invited to apply to speak at a future Cinq à Sept Research Talk. More information can be found here.
Upcoming Cinq à Sept Research Talks:
January 27, 2022 featuring Drs. Mohammad Auais and Annette Hay
February 24, 2022 featuring Drs. Danielle Macdonald and Stephen Scott
April 14, 2022
May 26, 2022
June 23, 2022
Related topics