Canada Excellence Research Chair for Queen's Health Sciences
This story originally appeared in The Gazette.
The Government of Canada has announced $248 million to support the appointment of 34 new Canada Excellence Research Chairs (CERC) at 18 post-secondary institutions across the country, including Queen's. Paul Kubes will join Queen's Health Sciences and the Queen's Cancer Research Institute as the Canada Excellence Research Chair in Immunophysiology and Immunotherapy. Dr. Kubes is among the CERC's receiving $8 million over eight years to support his research, as announced today by the Honourable Terry Beech, Minister of Citizens' Services on behalf of Minister François-Philippe Champagne of Innovation, Science and Industry, at Simon Fraser University.
Launched in 2008, the CERC program is a tri-agency initiative that supports universities in their efforts to build on Canada's growing reputation as a global leader in research and innovation. The program awards world-renowned researchers and their teams either $8 million or $4 million to establish research programs at Canadian universities. These awards are among the most prestigious available globally.
"Queen's Health Sciences is proud to welcome its first Canada Excellence Research Chair," says QHS Dean Jane Philpott. "Dr. Paul Kubes is a world-renowned researcher who joins us to continue his crucial, groundbreaking work on the biological mechanisms of cancer and chronic disease."
An internationally leading expert in immunology, Dr. Kubes previously held the Canada Research Chair in Leukocyte Recruitment in Inflammatory Disease. He was also the Founding Director of the Snyder Institute for Chronic Diseases at the University of Calgary and is a Queen's alumnus.
Dr. Kubes' research program is at the forefront of real-time imaging of the immune system. Changes in a person's immune cell biology can alter the stability of the body's chemical and physical state leading to disease. Understanding how and why these changes occur to our stable state can help to decipher the complex immune pathways involved in cancer, infection, and chronic disease.
"Dr. Paul Kubes brings a dynamic track record of research excellence to Queen's Health Sciences and the Queen's Cancer Research Institute," says Dr. Stephen Scott, Vice-Dean Research, QHS. "Dr. Kubes will help us build on our research strengths in cancer biology, tissue regeneration, inflammation and immunotherapy – working to make a difference in the lives of patients." 
At QHS, Dr. Kubes will also be part of two Research Excellence Clusters: Tissue Inflammation & Regeneration, and Cancer Immunology & Immunotherapy.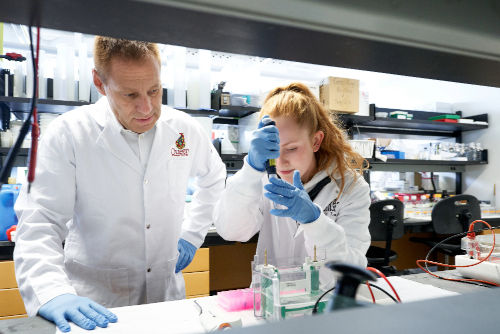 "We're proud to have secured another Canada Excellence Research Chair and thrilled to be welcoming Dr. Kubes to Queen's," says Nancy Ross, Queen's Vice Principal (Research). "His world-class research program will complement and bolster existing research strengths at the university, focused on solving global human health challenges."
Kubes' work is interdisciplinary in nature. His approach is to combine physiology and immunology to build synergies amongst clinician scientists, physiologists, cancer biologists, and immunologists to advance immune-based therapies from a holistic perspective.
"It is an unbelievable honour to have received a CERC and be part of this incredibly important program that allows researchers to explore the biggest challenges facing humans," says Dr. Kubes. "With Queen's longstanding expertise and talented researchers in cancer biology and clinical trials, inflammation, and immunotherapy, I know there will be exciting opportunities to make a real difference in the lives of patients."
Dr. Kubes will begin his term at Queen's in Spring 2024. To learn more about Dr. Kubes' research, read his interview with the Queen's Gazette, and visit the Tri-Agencies website to learn more about the recently appointed CERCs.
"Science and research are the driving forces of innovation," says Minister Champagne. "Today's investments in elite researchers and their innovations will have lasting impacts across our academic sector, economy, and society, all while building the foundation for a more sustainable and competitive Canada. These new Canada Excellence Research chairs will work with our postsecondary institutions to tackle some of the world's most complex challenges and make Canada a leader on the global stage."
Related topics