A vision for Indigenous Health at Queen's
Photo: A collage of Indigenous art created for the Indigenous Healthcare Education and Practice digital resource. 
September 1, 2023, will mark a new era in Indigenous health transformation at Queen's Health Sciences (QHS).
Dr. Sarah Funnell will join the faculty as its inaugural Associate Dean, Indigenous Health and Chair, Indigenous Health. Dr. Funnell will lead efforts to incorporate Indigenous health and cultural perspectives into health education, administration, research, and clinical practice. The following is an edited conversation about her new role:
Why were you interested in this role?
When I talk to people who don't know Queen's, I describe it as something more meaningful than an ancient, colonial academic institution. It's really the people who make it—and there are many justice-minded people here. I was interviewed for The Harbour podcast and it was so great, and I enjoyed meeting the people from our Equity, Diversity, Inclusion, Indigeneity, and Accessibility team involved in making it. It made me think that, if these are the types of conversations that are happening here, then this role is a real opportunity to build on those conversations and successes to help shape Queen's into a place where First Nation, Inuit and Métis Peoples can find an academic home and where everyone feels they belong.
My youngest daughter really loves Spiderman. And so, we're always talking about "with great power comes great responsibility." Being an advisor to the Dean and playing a key role in the decanal structure is important to ensure diverse voices at those conversations. It is a powerful position, and it comes with great responsibility. I will have an incredible opportunity to influence the culture of belonging to show that Indigenous people belong in QHS.
What are your initial plans for the role?
I want to spend time listening, getting to know people, and starting to understand the culture (and what needs to change). As public health physicians, we are trained to use the science of public health to create interventions or programs that have very clear goals. However, in this role, I'm not exactly sure what the goals are yet as I believe they will need to be shaped with the Indigenous Peoples at Queen's, in Health Sciences, as well as our Indigenous communities and partners. I imagine that my role will be to shape Queen's be a place where all Indigenous learners, faculty, and staff feel a sense of belonging. There are educational goals as well, so that the health professionals who leave Queen's to go out into the world are practicing culturally-safe, anti-racist, trauma- and violence-informed and healing-centred care. I will also need to make an assessment of where we are now to create a solid plan of what we need to do.
What should health care practitioners know about Indigenous health?
When I speak to medical learners early on in their careers, they do know some very clear health inequities that Indigenous people face, like higher rates of diabetes or lower life expectancy. Then I take them through unpacking that: asking questions like, 'why would that be?' And now I'm finding more and more people are getting to the root cause faster than they used to. The causes of the causes of health inequities are First Nations, Inuit and Métis Peoples originate from racism, colonialism, forced dislocation from traditional lands and erasure of self-determination.
What does that have to do with medicine or physiotherapy or nursing or occupational therapy? It means that you're going to understand your patient better and understand yourself better. It's important to think about this and ask these questions about, 'what has brought this patient to me?' Not to blame the individual for the situation that they're in, but to see that there are forces at play that are root causes of health problems, and then giving people the skills and tools to address those issues.
I recognize we are all on a learning journey to better understand how culture and traditions of First Nations, Inuit and Métis Peoples are strengths and medicine in of themselves.
What should people know about teaching Indigenous health?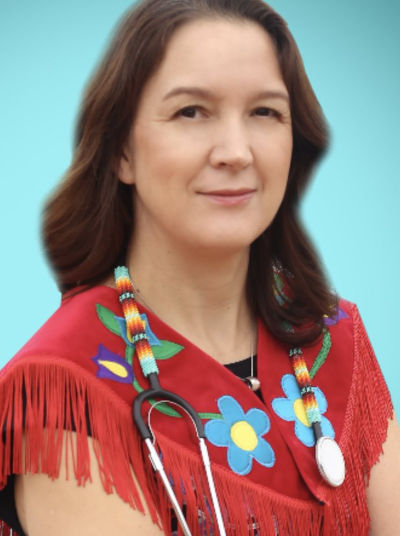 I've worked with the Medical Council of Canada on building the learning objectives for understanding Indigenous health and equity. When we did this (in March 2020, right before the pandemic), I could already see that Queen's was making progress. I'm not going to say we've got it perfect, but what I saw was that more time was added to the undergraduate medical curriculum for teaching Indigenous health. It's really tough to get more curriculum time on any particular topic, so this is a signal that we believe this is important.
I am on the Indigenous Health Committee at the College of Family Physicians of Canada and one of my colleagues said he doesn't do all the teaching now as an Indigenous physician. He used to be the only person who was teaching about Indigenous health and now he is teaching his colleagues how to teach Indigenous health. It made me realize that this is what we must do—create a diffusion across the nation where we share what we know so others feel comfortable teaching and transforming the way we provide healthcare. It is so important that all doctors and health care providers understand the root causes of Indigenous health inequity, how to address the system failings and provide the best care. It makes me think about what we can do at QHS to find those champions who have the courage—including non-Indigenous people—to teach these heavy topics.
Your background includes academic, administrative, and teaching roles at two universities. You're also a practicing physician, a researcher, and have extensive volunteer experience. Tell me about your career path up to this point.
It's been an interesting journey. I think the reason why my CV looks the way it does is that I was trying to prove to myself that I can do all these things. And now, I'm a mother of three Indigenous young women, and feel that my work is more than just about me showing the world that I can do these things. It's about my kids and other young people and helping create the best environment possible so that if they find themselves in an academic setting like Queen's that they will feel like they belong.
Learn about the inspiring $1M donation that helped create the new Chair in Indigenous Health.
Related topics