Preparing future health scientists and professionals through summer opportunities
Training the next generation of health scientists starts with inspiring them to see a future for themselves as a doctor, a nursing professional, a rehabilitation therapist, or health researcher and igniting the drive to achieve it. That is especially important for young people from equity-deserving groups who can experience significant barriers to pursuing post-secondary education. Two separate programs were held this past summer that gave deserving young people a chance to experience life as a Queen's Health Sciences student and showed them how to take the first steps to reach their dreams. 
Both programs had the students experience hands-on activities in various simulation labs, practicing suturing and ultrasound techniques, visiting the anatomy lab and other teaching labs, and experiencing a bit of 'life on campus'. 
From Kingston to James Bay – the Queen's Weeneebayko Health Education Program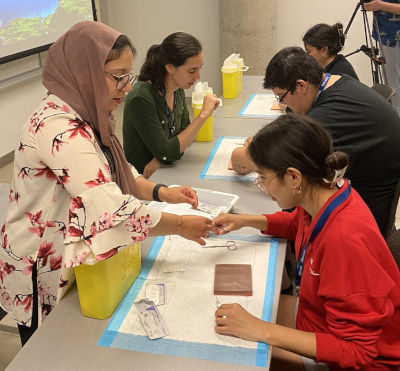 The Queen's Weeneebayko Health Education Program saw 15 high school students from First Nations along the western James Bay coast (Moose Factory, Moosonee, Kaschechewan, Fort Albany, Attawapiskat) come to Kingston for an immersive week on campus and living in residence. Besides the introduction to health education curriculum they received, the students became familiar with the Queen's Indigenous community through events at Four Directions and got to experience some Kingston excursions including a shopping trip and visit to the Memorial Centre water park.  
For 16-year old Darlene Louttit from Attiwapiskat, the summer visit helped her prepare for her future career goal of being a surgeon. "I've wanted to be a surgeon since I was in second grade," she says, "I just want to help people." The campus experience is part of the program's Pathways initiative, which aims to provide career counselling, resources, mentorship, and application support to Indigenous high school students. Ultimately, the program hopes to establish the Queen's-Weeneebayko Health Education Campus to create a new home for post-secondary training in the Western James Bay region. Enrollment could start as early as 2025, which will give young Indigenous people in the region the opportunity to learn and practice in their home communities as they pursue careers as health professionals.  
Watch this clip from APTN that featured the program in action.  
The road to post-secondary education and beyond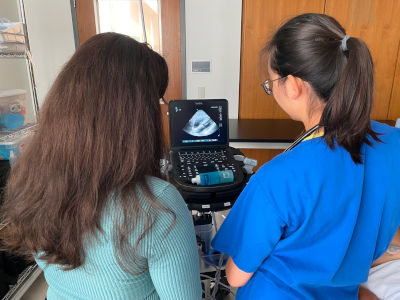 The Health Sciences Summer and Outreach Program aims to introduce health sciences programs and training to equity-deserving youth in the Kingston area. Working with Pathways to Education, KEYS Employment Centre and local school boards, participants are matched with Queen's health sciences students for mentoring throughout the year. The group of students meet monthly to take part in health sciences workshops and academic activities that will help prepare them for the process for applying for post-secondary studies. At the week-long camp this past summer, the students explored career options in health sciences including visits to the Ophthalmology labs and completed two days of First-Aid/CPR training. To celebrate successfully completing the program, the students received a laptop computer (donated by CDW Canada Computers). Participant Abdul Kareem Mohammad is now in Grade 12 and feels more confident about applying for post-secondary school. "I took part in the program because I needed help to see my future opportunities and wanted to see what interests me. Medicine is an option, but I'd like to do health sciences, computer science, or maybe even engineering," says Mohammad who also credits his mentor with helping him realize that post-secondary education can be in his future. "He has given me so much advice and help."  
Both programs are important foundational pieces that will help build the next generations of health scientists and professionals and encourage more diversity across the Faculty and in healthcare overall.  
Learn more in this Global TV story. 
Related topics