Solutions to the healthcare crisis and vision for The Next 25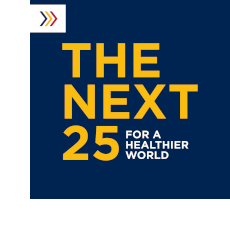 In the next 25 years, Queen's Health Sciences (QHS) will continue its mandate to build a healthier world – and we want you to be part of that journey. 
As we mark our 25th anniversary as a united faculty – Medicine, Nursing, Rehabilitation together as one – we celebrate our future, The Next 25. Working together, we are leading a revolution in health education, research, and patient care.  
You can explore The Next 25 through stories, videos, and events in the coming months that highlight the groundbreaking work of our faculty, staff, students, alumni, and donors. 
First up, our alumni, faculty, staff, and students are invited to a special virtual event on Tuesday, Sept. 27 at 7 pm. Join me for The Future of Healthcare in Canada: Solutions to the Current Crisis. Vice-Deans Erna Snelgrove-Clarke, the Director of the School of Nursing, and Stephanie Nixon, Director of the School of Rehabilitation Therapy, will join me in an important discussion on how to improve our system, and how QHS is positioned to play a leading role in that transformation. You can register here. 
The Next 25 includes launching a crucial fundraising campaign which will help us reinvent health sciences education, shape the health systems of tomorrow, and build better health outcomes for patients. 
Of course, the next few months are only the beginning of our story. The book has yet to be written on where QHS will take us over The Next 25. 
I eagerly await what lies ahead: our researchers' discoveries that help cure diseases… our nurses, therapists, and doctors serving as health care changemakers on the frontlines… the new models of care we will help build… for a healthier world to come.  
Sincerely,
Jane Philpott,
Dean, Queen's Health Sciences 
The Next 25 isn't possible without your support - make your gift to Queen's Health Sciences today.
Related topics