Educating health professionals in the north
When you fly from Kingston, Ontario to Moosonee, Ontario on a cold winter day, you realize that Canada is a very big country. This was the journey taken in late February 2023 by a team from Queen's University and Mastercard Foundation. Though the flight path crosses just a small neck of land in the big map of Canada, we flew over miles and miles of open territory with very few signs of human habitation.
From the plane, you could look down and see winding river paths standing out from the green-black forests in their stark white, snow-covered natural beauty. As you approach Moosonee you can see the straight cut of the ice road connecting the James Bay coast communities to the Trans Canada Highway.
We've been waiting for this moment for over two years. It was soon after I started as dean of Queen's Health Sciences, in September 2020, that I was approached by Jennifer Brennan, Director of Canada Programs at the Foundation. She wanted some ideas about how the large philanthropic agency could help in the post-secondary education of Indigenous youth.
My mind immediately went to the potential for expanding on the nearly six-decade relationship between Queen's and Weeneebayko Area health facilities anchored in training, frontline care, and research. Since the mid-1960s, Queen's faculty and learners have regularly spent time at Moose Factory's hospital, which is now under the Weeneebayko Area Health Authority (WAHA). Meanwhile, patients from the James Bay coastal communities (including Moose Factory, Moosonee, Fort Albany, Kashechewan, Attawapiskat and Peawanuck) have been coming to Kingston to receive specialist medical care at the Kingston Health Sciences Centre.
Thankfully, I already had a relationship with Lynne Innes, the brilliant and hard-working CEO and President of WAHA. She is a member of Moose Cree First Nation who grew up in the community, trained to be a nurse practitioner and has now been the chief executive of WAHA since 2017. I also knew that under Lynne's leadership, the community would finally see the implementation of a plan to build a new hospital in Moosonee funded by both the federal and provincial governments. I first met Lynne when I was federal Minister of Health and then Minister of Indigenous Services. I remember that her vision for the new hospital site was that it would also be a health education campus.
At Queen's Health Sciences, we have been working on recruiting more Indigenous students to our programs in medicine, nursing, and rehabilitation therapy. But I suspected that our chances of recruiting young people from the Weeneebayko region would be limited due to the geographic and cultural distance.
Instead, what if we brought programs to the James Bay coast with a primary training location at the new WAHA hospital? This was our question to Lynne and her team when we met in November 2020. The answer was enthusiastically positive. In fact, they had an even broader vision of what is both needed and possible. They wanted to see post-secondary training not only in medicine, nursing, occupational therapy, and physiotherapy. They wanted to add in programs in midwifery and paramedicine, knowing that these are critical roles in their communities.
Thus, began a two-year journey in co-creating a plan that would become the Queen's Weeneebayko Health Education Partnership. Mastercard Foundation stepped in with a gift of over $31 million to support the work.
I was one of a group of visitors who traveled to Moosonee to co-announce the plan. Our delegation spent two wonderful days in the community, hosted by WAHA, as we celebrated the work that is already underway.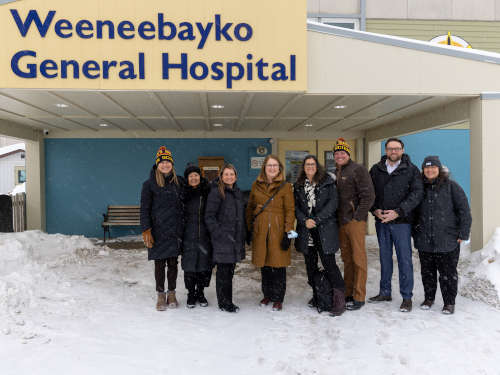 We made the big announcement on the morning of February 28. The joy felt by the people gathered for the press conference that day was visibly displayed through the smiling faces and the warm embraces as each of the people in the room imagined the potential of this educational partnership.
Afterwards, we drove over to Moose Factory's Weeneebayko General Hospital for a tour led by Dr. Elaine Innes, Chief of Staff at the hospital, and Lynne's aunt. Elaine is a little-known Canadian hero. She started working at the hospital there when she was 13 years old in housekeeping. Eventually she became a health care aide, then a nurse, nurse practitioner, and eventually a family doctor. She leads an amazing group of medical staff who have to overcome extraordinary logistical hurdles to deliver patient care at this remote island hospital that serves all the communities along the western side of the James Bay coast, and even one Hudson Bay community.
Elaine proudly showed us the first CT scanner that had arrived two years ago, as well as the portable MRI machine (the second one in Canada),which have meant dozens of patients each week can get medical imaging done in the community, avoiding a long trip to Timmins or further. She also showed us the incredible remote-controlled slit lamp that had just arrived. It allows ophthalmologists in Kingston to perform detailed exams of the eye, once again saving a trip for patients, and offering immediate access to tertiary care.
As we toured the hospital, we imagined the results of the announcement we'd made that morning. The goal is to start delivering university courses in nursing and health sciences starting in 2025. Eventually, we are aiming for a class size of 60 students per year across the various health professions programs. We began to dream of what it will be like when young people from local communities are training to be nurses, doctors, OTs, PTs, midwives, and paramedics, without having to leave home. This will be a home-grown health workforce who understand the culture and the language of their patients.
One of the best parts of the plan is that the curricula for these training programs will be co-created and deeply informed by First Nations' knowledge and cultural teachings. This will impact not only the content of what is taught, making it richer and more appropriate, but it will influence the way that programs are taught – for example by adapting courses to be taught "on the land" according to the practices of First Nations' elders and knowledge keepers.
We also paid a visit to two area high schools, which are a critical part of the pathways component of the Queen's Weeneebayko Health Education Program. This involves providing local youth with resources, mentorship, and pre-requisite course options that encourage and enable the pursuit of post-secondary health sciences programs.
Our country has a long way to go to ensure access to high-quality health care for all, and to build the health workforce that will make this possible. It is an honour and privilege for Queen's University to participate in this important partnership that will be part of the path to building a healthier nation. We are deeply grateful to the Mastercard Foundation and other donors who have and will step up to help.
I am already dreaming of the day I can return to Moosonee to celebrate the first students who will graduate from university there.
Continue the discussion on Twitter
Related topics