Student orientation launches Queen's-Lakeridge Health MD Family Medicine Program
Queen's satellite campus at Lakeridge Health has welcomed the inaugural class of 20 medical school students for orientation as part of a new, unique program to train family doctors.  
The Queen's-Lakeridge Health MD Family Medicine Program is the first-of-its kind in Canada.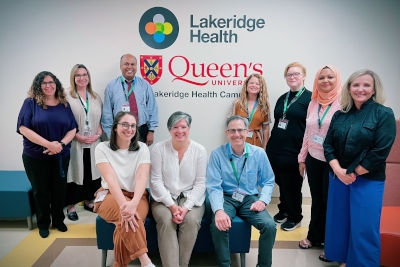 "We are delighted to introduce this innovative model of medical education as one of the potential solutions to the family doctor shortage," said Dr. Jane Philpott, Dean, Queen's Health Sciences. "It will train and graduate practice-ready, community-focused physicians able to work as part of interdisciplinary teams."  
According to recent data from the Ontario College of Family Physicians, it is estimated that approximately 2.2 million Ontario adults have neither a family doctor nor a primary care nurse practitioner. In Durham Region, close to 44,000 people are without a primary care doctor – a number that has grown by 11,000 in just two years. The groundbreaking Queen's-Lakeridge Health MD Family Medicine Program aims to address the critical shortage of family doctors in Durham Region and beyond.  
"Today's orientation event is a tremendous milestone for Lakeridge Health and our Queen's University partners," said Dr. Joel Kennedy, Chief and Medical Director, Family and Community Medicine, Lakeridge Health. "Both organizations recognized a need and when we received the provincial government's support for the new medical school seats, our collective efforts focused on creating a curriculum focused on the comprehensive skills and knowledge that primary care doctors need."  
Through the integration of classroom and workplace learning, students will begin to build relationships with the community from the start and will engage in urban centres and small communities across the Region. Within six years, the program will graduate well-trained, comprehensive family physicians ready to make an immediate impact.
This innovative program has already attracted the attention of others across the province, country and even globally. The Queen's-Lakeridge Health team acknowledges the trailblazing nature of this work and recognizes that the program has become a blueprint for a new way to educate future doctors and health-care professionals.  
Collaboration is crucial to the new approach to education. The new program significantly expands on the Queen's Department of Family Medicine teaching site established in 2012 at Lakeridge Health's Oshawa Hospital.   
"This program builds on the longstanding partnership between Queen's and Lakeridge Health," said Dr. Allan Grill, Assistant Dean, Queen's-Lakeridge Health Campus. "We look forward to our faculty and students playing a greater role at the Oshawa Hospital and local community-based family practice offices while making an impact across the Region as they prepare for careers in family medicine." 
"Our collective goal is to graduate more family doctors in Ontario, and we want to provide a customized experience to prepare these future physicians for where they're needed the most: in our communities," said Dr. Nadia Ismiil, Deputy Chief of Staff, Chief, Academic Affairs and Research, and Interim Chief and Medical Director, Laboratory Medicine. "Through this program, we're creating an innovative approach to education that supports healthier populations. No doubt, graduates of this program will play a crucial role in the health of the Durham Region population for years to come. We're focused on inspiring our students and we hope to inspire others to join in the journey."  
Learn more about the Queen's-Lakeridge Health MD Family Medicine Program.
Related topics