How QHS graduates plan to build a healthier world
They represent the next generation of health scientists – recent Queen's Health Sciences alumni already effecting change in their fields and new graduates beginning their career journeys.
Three graduating classes, dozens of programs, and hundreds of new health care professionals. This week, QHS is welcoming back the majority of graduates from the classes of 2020, 2021, and Spring 2022 to celebrate their successes by walking across the stage at their convocation ceremonies. (Medicine 2022 grads were honoured earlier on May 27).
From their focus on community care and innovative research to their dedication to health-service equity, QHS graduates truly embody the priorities found in our strategic plan, Radical Collaboration. Continue below to hear from a handful of our recent graduates. Learn about what they accomplished during their time at Queen's, and what their goals are as they forge careers in healthcare.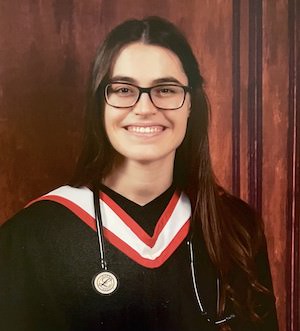 Amy Rowe – Bachelor of Nursing Science (BScN), 2022
Amy is a 2022 graduate from the BScN program, and the first student to complete the SickKids Advanced Paediatric Cardiology Program through the University of Toronto. She has spent her time facilitating medical American Sign Language workshops to 33 medical and nursing schools across Canada.
"I hope that I will be able to improve the accessibility of healthcare for marginalized communities, specifically the Deaf and Hard of Hearing community. I hope to continue expanding medical ASL and Deaf Culture training throughout nursing schools in Canada and the United States. As I start my new graduate RN position in paediatrics at the Hospital for Sick Children in Toronto, I aim to provide inclusive and comprehensive health care to children and families. My long-term career goal is to become a Primary Health Care Nurse Practitioner (PHC-NP) and to advance nursing practice by creating NP run clinics across Canada."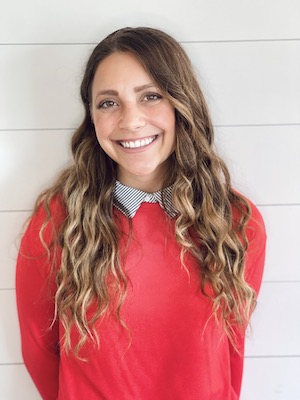 Samantha Noyek – Rehabilitation Science PhD, 2021
In 2021, Samantha graduated from the Rehabilitation Science, PhD program. While conducting research at Queen's, Samantha strived to bring awareness to children with motor and communication disabilities, a group which is often misunderstood and overlooked.
"Currently, I am completing a postdoctoral fellowship at the University of Calgary, conducting research related to pain and mental health of children and families. In my career I hope to advocate for children and youth with complex communication needs, to help their voices and personhood be understood by others. I am passionate about illuminating the lived experiences of groups who are often overlooked, something I will accomplish through appropriately implementing patient-engagement in my work, collaborating with multi-stakeholder groups, and disseminating knowledge in meaningful ways with guidance from patient and family partners."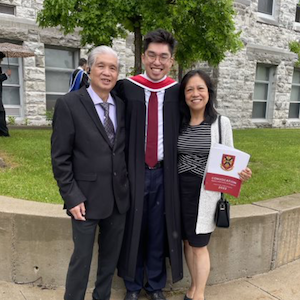 Andrew Lee – Medical School (MD), 2022
Andrew is a 2022 Medical School graduate. While at Queen's, Andrew demonstrated his passion for advocacy work, resulting in him being named the 2020 recipient of the Canadian Medical Hall of Fame (CMHF) Award for Medical Students.
"I am privileged to begin a career in psychiatry, a burgeoning field filled with exciting discoveries every day. I hope to have a long clinical career listening to the stories of my patients and providing compassionate, evidence-based care. Additionally, I am developing a growing interest in public policy and bioethics, which will provide me with tools to tackle health problems upstream and downstream."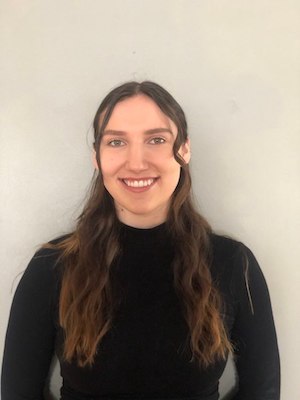 Bronwen Barter – Life Sciences, 2022
Bronwen is a 2022 graduate from the Life Sciences Program. During her time at Queen's, Bronwen studied novel protein interactions and signals that could contribute to human cancer, the success of which led her to co-author an upcoming manuscript on cancer signals.
"I hope to inspire future generations to follow a career path dedicated not to wealth or success but to service. Studying health sciences, you develop a goal that is spirited by your passion for science and your desire to improve the lives of others and the healthcare system. I hope to create lasting and systemic change that benefits not only the present generations but the future generations as well. I also hope to one day leave as profound an impact on the scientific community as my female professors have and to inspire the future generation of female scientists."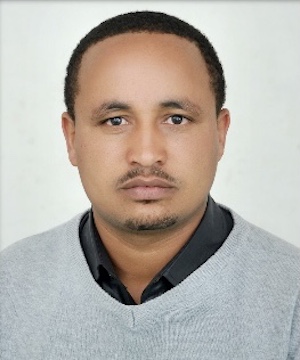 Molalign Adugna – Rehabilitation Science PhD, 2021
In 2021, Molalign became the second person to graduate from Queen's Rehabilitation Science PhD program through the Mastercard Foundation Scholars Program a partnership between Queen's Health Sciences and the University of Gondar in Ethiopia. His PhD research focused on improving inclusion for children with physical disabilities in Ethiopia. He is a professor at the University of Gondar.
"Since I have returned to Ethiopia in January 2022, I have been supporting local and national efforts to engage, educate, and empower persons with disabilities (PwDs). I envision working with others to ensure the inclusion of PwDs in their homes, communities, schools, workplaces, and social gatherings. I pledged to conduct more research and deliver the findings to enhance functioning (i.e., physical, and psychosocial), and genuine participation of PwDs in life situations to improve their quality of life. In doing so, my work will inform relevant education, social, and healthcare policy and practice in Ethiopia."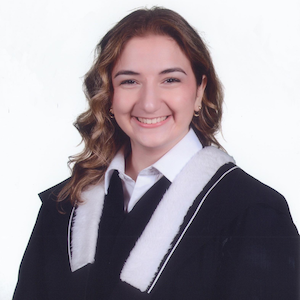 Robin Tonbazian – Master of Public Health, 2021
In 2021, Robin earned a Master of Science (MSc) in Public Health. While at Queen's, Robin was the Co-President of the Public Health Sciences Student Association (PHSSA). She currently works at Youth Research and Evaluation eXchange (YouthREX), a provincially funded program based out of York University, which supports and amplifies the voices of youth.
"My passion in public health is developing research and program planning directed at supporting opportunities for well-being, play, and learning for youth in the Greater Toronto Area. Working out of community centers as a recreation supervisor, I've seen the magic that happens when youth participate in two-week specialized camps or recreation programs, and I'd like to give young girls a 'specialized community center' of sorts to connect outside of school on a long-term basis. Overall, I hope the impact of my career in program planning and evaluation contributes to healthier communities filled with supports and connectivity."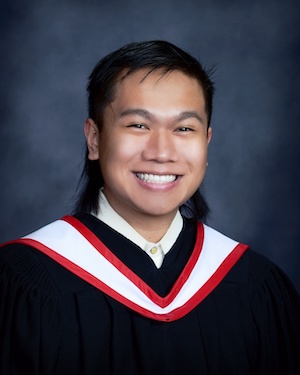 Nathaniel Gumapac – Bachelor of Nursing Science (BScN), 2022
Nathaniel is a 2022 graduate from the BScN program. During his time at Queen's he helped co-create CHARMs, a virtual simulation educational module which aims to promote cultural safety in nursing education. In 2021, the project received funding from eCampusOntario.
"Throughout my undergraduate career, I have always been an advocate for my peers and for mental health. Even though I have a general plan for where I want my career to go, I honestly have no idea where I'll end up in one, five, 10, or 25 years. Wherever I end up, I won't stop speaking up against injustices and being an advocate for others, whether it be my peers or my patients. We know all about what's happening in the healthcare field, and put simply, I want to be that change, that positive force in nursing, and help others find their voice."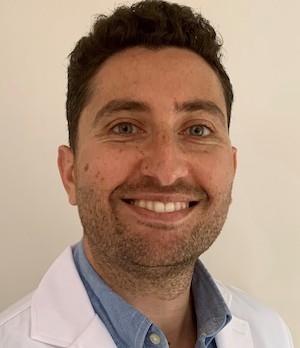 Nader Hanna – Master of Science, Epidemiology (MSc), 2021
In 2021, Nader earned a Master of Science (MSc) in Epidemiology during a General Surgery Residency he will complete in 2023. During his time at Queen's, Nader published nine papers and was awarded three research grants.
"After a thoracic surgery fellowship, which I will begin at McMaster University next year, I plan to secure a position as a surgeon-scientist. My goal is to continue health services research focusing on cancer. I hope to work towards understanding inequities in access to care, identifying possible solutions, and ultimately increase the number of patients receiving appropriate and timely cancer treatment."
This is the first in a two-part series. A second feature on QHS graduates will publish Wednesday, June 22.
Related topics