Dr. Robert Connelly Reappointed as Head of the Department of Pediatrics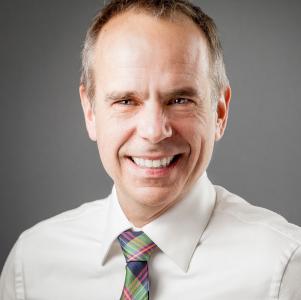 Acting Dean Chris Simpson is pleased to announce that Teri Shearer, Acting Provost and Vice-Principal (Academic) at Queen's University has reappointed Dr. Robert Connelly as Head of the Department of Pediatrics for the Faculty of Health Sciences. The appointment will begin on July 1, 2018 and end on June 30, 2023. Dr. Connelly will be entering his second term in the position, which he has held since 2013.
Dr. Connelly earned his MD from the University of Toronto and then completed his residency training in Pediatrics at Dalhousie University. Following his training, he came to Queen's in 1999 as an Assistant Professor in the Department of Pediatrics. In 2013, he was promoted to the rank of Associate Professor. Before taking on the role of Department Head, Dr. Connelly provided leadership as the Medical Director of the Neonatal Intensive Care Unit at Kingston General Hospital from 2005-2013. Currently, he is the Program Medical Director of the Pediatrics Program at Kingston General Hospital/Hotel Dieu Hospital, a role he has held since 2013.
A committed leader, Dr. Connelly has strengthened his abilities in this area through continuing education. Through the Canadian Medical Association's Physician Manager Institute, for instance, he has taken a range of courses about health care leadership. He has also pursued training outside of medicine, earning an MBA from the Smith School of Business at Queen's in 2012.
Known as a highly skilled educator, Dr. Connelly has won several awards and honours for his teaching. He has won the Aesculapian Society Lectureship Award from the Queen's University School of Medicine five times. In recognition of his versatility as a teacher, he won the Queen's Faculty of Health Sciences Education Award in 2002. Dr. Connelly has also been commended for his teaching by the Canadian Association of Medical Education, which awarded him its Certificate of Merit in 2014. He has also made his teaching accessible to the greater public by publishing the "The Newborn eTextbook" and advising the "Reads for Paeds" project, which is a student-led initiative.
Dr. Connelly is also an accomplished researcher who has recently studied competency-based resident assessment and structured patient handoff tools. To fund his research, he has received grants from both the SEAMO Educational Innovation and Research Fund and the SEAMO Endowed Scholarship and Education Fund.
Outside of Queen's, Dr. Connelly has been an active leader in various regional, provincial, and national organizations. Among other roles at the national level, he is currently the Vice-Chair of the Specialty Committee of Neonatal-Perinatal Medicine and the President of the Paediatric Chairs of Canada. His provincial leadership roles include serving on the Ontario Paediatric Specialized Services Advisory Committee for the Ontario Ministry of Health and Long-Term Care and sitting on two different committees for the Provincial Council for Maternal and Child Health.
Please join Dr. Simpson in congratulating Dr. Connelly on his reappointment.