Queen's micro-credentials address knowledge gaps in burgeoning neurotech industry
UPDATE (June, 2023): The NeuroTech Micro-Credential Program has launched! Registration is open to students in Canada and around the world. Learners can explore Neurotechnology, an emerging growth industry that applies brain sensing, imaging or modulating technologies to solve real world problems, such as diagnosing and treating brain disorders, understanding and modifying brain states, and even interfacing the brain with machines.
Original story published Nov. 17, 2022
A new program at Queen's University will offer a unique training opportunity designed to address gaps in knowledge in the expanding neurotech sector, a field gaining increasing prominence with initiatives such as Elon Musk's Neuralink and Meta (formerly Facebook) Reality Lab's use of neural signals to enhance virtual reality applications. 
The NeuroTech Micro-Credential Program – the first of its kind in Canada – will provide individuals already working in the industry, and those transitioning or beginning a career in neurotech, the opportunity to upscale their skills and, in particular, improve their understanding of foundational neuroscience and ethics.  
The program received significant funding from the Ontario Micro-Credential Challenge Fund ($300,000), including its Community Impact Award (nearly $1 million), which supports the creation of micro-credentials throughout the province. Queen's will partner with Western University through its Western Institute for Neuroscience, York, and Nipissing Universities to deliver an in-person capstone project course designed to foster hands-on skills using a variety of neurotechnologies.
"Ontario is proud to fund the incredibly innovative NeuroTech Micro-Credential Program at Queen's University," says Jill Dunlop, Minister of Colleges and Universities. "This cutting-edge program is designed to help develop and foster talent in this burgeoning field and will be the result of a collaboration with employers, postsecondary institutions, and industry leaders. It also advances our government's goal to train Ontarians for in-demand jobs that meet labour market needs, while providing people with flexible learning opportunities."  
Neurotechnology is an emerging field that has potential for great benefit to the health and well-being of Canadians. It can be employed to better understand the brain, visualise its processes and influence or improve brain function.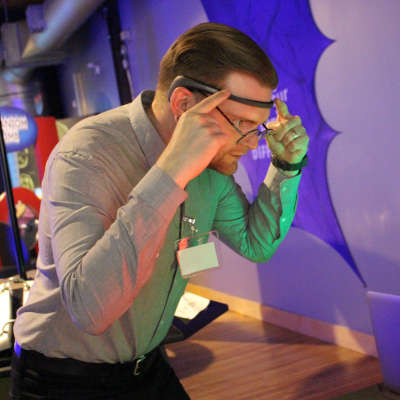 "Learners will graduate from our program with a better understanding of the neuroscientific bases of these technologies and how think about their impact on society," says Susan Boehnke, Director of the NeuroTech Micro-Credential Program and Assistant Professor in the Centre for Neuroscience Studies at Queen's University. "We hope to provide industry with a curated pool of versatile employees with hands-on skills to innovate ethically." 
The NeuroTech Micro-Credential Program is a partnership between the Queen's Centre for Neuroscience Studies and Canada-based NeuroTechX, the leading non-profit organization for neurotech enthusiasts worldwide, which also hosts the most active neurotech-focused job board. The program is also supported by an Industry Advisory Board including the Ontario Brain Institute and a growing list of established neurotechnology companies, including the Ontario-based Kinarm Labs (Kingston) and InteraXon Muse® (Toronto). 
"Our international community of neurotechnology enthusiasts are eager to develop industry-leading skills informed by the latest neuroscientific and engineering principles, packaged in an interactive, accessible format," says Bryan Jenkins, Executive Director, NeuroTechX. "NeuroTechX is proud to partner with Queen's University to launch this microcredential program to outfit current and future neurotechnologists with the knowledge and skills required for this emerging, but revolutionary, industry."
The neurotech industry requires an interdisciplinary mix of specialised skill sets, such as hardware and software development for sensing and modulating brain signals. Potential beneficial applications include therapies e.g., deep brain stimulation for Parkinson's, Alzheimer's, and major depression, health monitoring (sleep tracking, mental state monitoring), and optimization of advertising (neuromarketing). Furthermore, this technology is enabling breakthroughs in fundamental neuroscience such as how information is processed in the brain. 
Within the industry, engineers and computer scientists generally have the required computational and programming skills, but lack neuroscience knowledge – while the reverse is true for biomedical and social science students. Business students have industry skills and entrepreneurial spirit but lack foundational skills about the brain. Most groups of learners know little about neuroethical and regulatory frameworks. The training offered through the NeuroTech Micro-Credential Program will ensure a skilled neurotech workforce with broad perspectives on how to responsibly develop and innovate with neuroscience-related technologies. Students in the program will also have ample opportunity to network and connect with industry partners through NeuroTechX. 
"The Ontario Brain Institute is a proud to support the NeuroTech Micro-Credentials Program, which aligns with our goal to unite the province's neurotech community to help train the next generation of industry entrepreneurs, raise their awareness of neuroethics, and support the continued growth of the sector in Canada," says Garth Smith, Vice President, Business Development & Partnerships, Ontario Brain Institute.
The suite of online micro-credentials focuses on foundational neuroscience; measurement, processing, and modulation of brain signals; visualization of brain structure and function using imaging; behavioural assessment techniques; ethical, legal, and regulatory frameworks relevant to neurotechnology. The final capstone neurotech project course includes in-person, hands-on training in cutting-edge neurotechnology labs- funded by the Ontario government - that will be made available at the Queen's Centre for Neuroscience Studies and partner institutions.   
Applications are now open for the NeuroTech Micro-Credential Program, with online courses becoming available starting January 2023.
Related topics