Celebrating the impact of health research: October Cinq à Sept Research Talks
Queen's Health Sciences (QHS) has added two 'can't miss' research talks to the Cinq à Sept digital collection. These fascinating new talks, sponsored by The City of Kingston, explore the health and wellbeing of family caregivers, and how tailoring medicine to each unique individual creates better outcomes for people in need of critical care.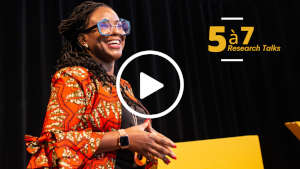 Dr. Afolasade Fakolade (Assistant Professor, School of Rehabilitation Therapy) believes that caregivers are worthy of care. That message is at the heart of her research and urgent call for us to support these unsung heroes. In her talk, "Why Family Caregivers are Unsung Heroes (Where the Shoe Pinches)," she examines how caregivers don't receive nearly enough recognition and display extraordinary courage to provide ongoing, unpaid care that is critical to our overall health system. Her work is helping people who live with MS and their family caregivers build resilience, improve health, and achieve a better quality of life. The implications for all caregivers, and our health and social systems, are profound. Dr. Fakolade knows what it feels like to be standing in the shoes of a family caregiver and brings that empathy and warmth to her prescription for change.  
Every patient is unique. What if every treatment was too? Dr. David Maslove (Associate Professor, Departments of Medicine and Critical Care Medicine) takes us to the ICU of the future as he explores the tremendous potential benefits of precision medicine. In his talk, "Critical Care, Precisely Delivered," he discusses how this new, radical approach is transforming critical care at the individual patient level. Along with a precise diagnosis, tailoring treatment specific to the patient helps improve outcomes and saves more lives. Dr. Maslove's research applies physiologic and genomic data to advance precision medicine, and is helping usher in a new era of customized critical care.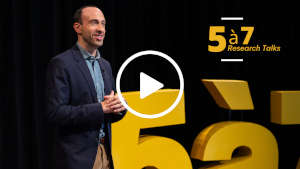 Cinq à Sept Research Talks are inspired by the French tradition of gathering at the end of the workday. Talented researchers headline each Cinq à Sept, which delivers engaging, TED-style talks in front of an audience of students, staff, faculty, alumni, and community members. A reception following each Research Talk sparks connection and collaboration—an integral component of the new strategic plan for Queen's Health Sciences: Radical Collaboration for a Healthier World. 
Tickets 
The Cinq à Sept Research Talks run from 5 to 7 p.m. and are held close to campus to allow participants to shift from work or the classroom to the event before going home. Tickets for the events, while limited, are free and available to QHS students, staff, and faculty—as well as Queen's alumni and members of the Kingston community—on a first come first served basis. To request a ticket, please add your name to the wait list. 
Apply to give a Research Talk 
Faculty members in Queen's Health Sciences are invited to apply to speak at a future Cinq à Sept Research Talk. 
Upcoming Cinq à Sept Research Talks  
November 17, 2022 - Dr. Katie Goldie (School of Nursing) & Dr. David Lillicrap (Department of Pathology and Molecular Medicine) 
Related topics