Celebrating the impact of health research: June Cinq à Sept Research Talks
From pioneering work on inherited bleeding disorders to the medical secrets unlocked by the discovery of our genetic code, Cinq à Sept Research Talks are back with more personal stories behind the extraordinary health research happening at Queen's University. 
Queen's Health Sciences (QHS) has added two compelling, new talks to the Cinq à Sept digital collection sponsored by the Davies Charitable Foundation .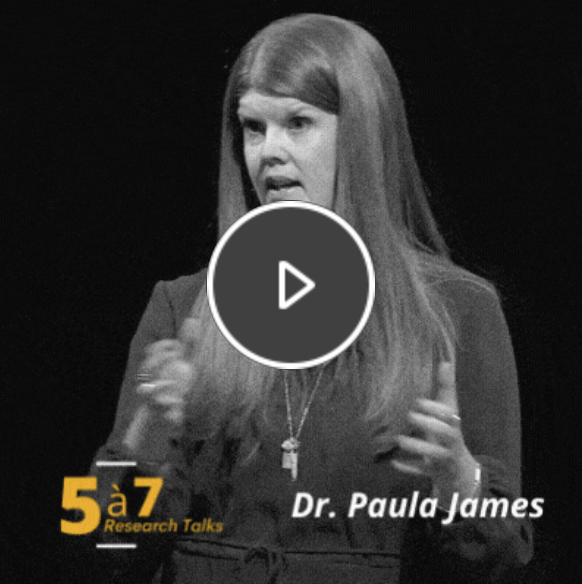 Dr. Paula James (Professor, Department of Medicine; cross-appointed to the Departments of Pathology and Molecular Medicine and Pediatrics) is an expert on bleeding who believes we all need to talk. Period. She delves into her groundbreaking research on inherited bleeding disorders – identifying the red flag symptoms, and the barriers women face in getting an accurate, timely diagnosis and care. In her Research Talk, "Let's Talk Period," Dr. James examines her work as a clinician-scientist and her incredibly successful Let's Talk Period initiative, which features a self-assessment tool and resources that have helped tens of thousands of people around the world. 
Dr. Charlie Hindmarch (Assistant Professor, Department of Medicine;
Scientific Operations Director, Translational Institute of Medicine; Genomics Core Director, Queen's Cardiopulmonary Unit) is our resident genetics genie who specializes in the neurological basis of cardiovascular diseases, blood volume control, and hydromineral homeostasis. His riveting Research Talk, "Reading the Book of Life: Turning the Page for Discovery Science," explores the past, present, and future of genetics. What has the deciphering of the human genome – our genetic code – brought to researchers? Time travel with Dr. Hindmarch as he journeys from a little-known, 19th-century monk – who just happens to be the "father of genetics" – to how our understanding of genetics has assisted in the fight against COVID-19, and more. Discover how this exciting field helps us to understand the human body and diseases, and how we can leverage the two to find treatments and cures that we never thought were possible.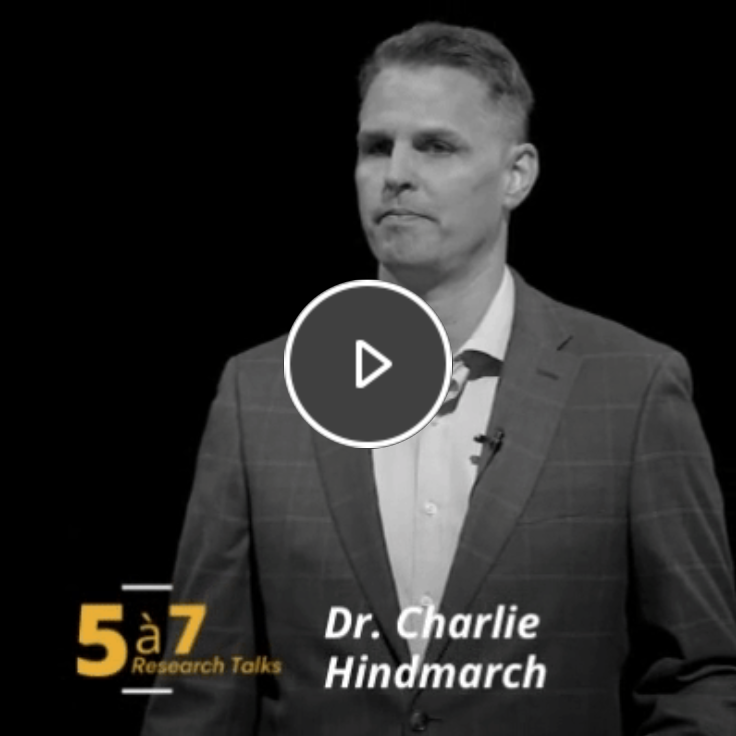 Cinq à Sept Research Talks are inspired by the French tradition of gathering at the end of the workday. Talented researchers headline each Cinq à Sept, which delivers engaging, TED-style talks in front of an audience of students, staff, faculty, alumni, and community members. A reception following each Research Talk sparks connection and collaboration – an integral component of the new strategic plan for Queen's Health Sciences: Radical Collaboration for a Healthier World. 
Tickets
The Cinq à Sept Research Talks run from 5pm to 7pm and are held close to campus to allow participants to shift from work or the classroom to the event before going home. Tickets for the events, while limited, are free and available to QHS students, staff, and faculty – as well as Queen's alumni and members of the Kingston community – on a first come first served basis. To request a ticket, please add your name to the wait list.
Apply to give a Research Talk
Faculty members in Queen's Health Sciences are invited to apply to speak at a future Cinq à Sept Research Talk.
Upcoming Cinq à Sept Research Talks: 
October 2022 - Drs. Afolasade Fakolade (School of Rehabilitation Therapy) & David Maslove (Department of Medicine) 
November 2022 - Drs. Katie Goldie (School of Nursing) & David Lillicrap (Department of Pathology and Molecular Medicine) 
Related topics