Celebrating the impact of health research: February Cinq à Sept Research Talks
From a classroom cure for ageism to a revolutionary cancer treatment, Cinq à Sept Research Talks are back with more personal stories behind the extraordinary health research happening at Queen's University.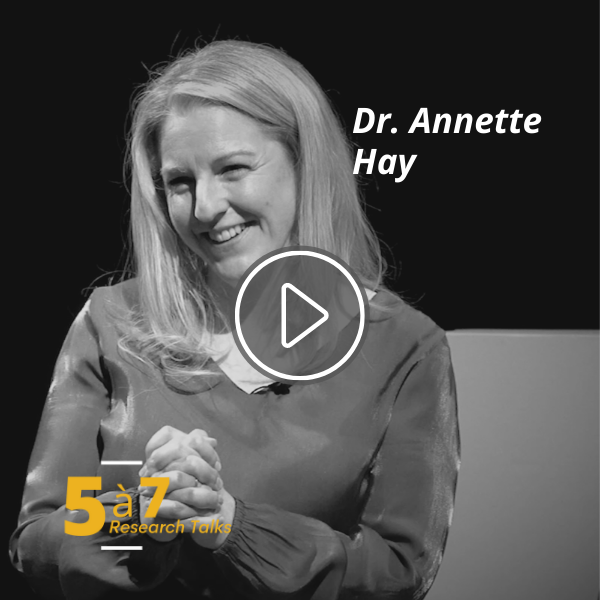 Two compelling, new talks have been added to the Cinq à Sept digital collection.
Dr. Annette Hay (Senior Investigator with the Canadian Cancer Trials Group; Assistant Professor, Department of Medicine) has us imagine a world where cancer can be cured by a person's own immune system. Instead of chemotherapy, radiation, or surgery, the work is done by a patient's own immune blood cells – removed, engineered to recognize cancer, and returned to the body. Her talk, "On Gratitude, Impatience, and Cell Therapy," explores a groundbreaking approach to treating cancer.
Dr. Mohammad Auais (Assistant Professor, School of Rehabilitation Therapy) delves into his research project that examined whether storytelling can motivate students to care for older patients. His talk, "The Power of Stories: Using Podcasts to Treat Ageism," takes us to the place where the patient experience truly begins to take shape: in students' hearts and minds. Discover how changing their attitudes may hold the key to improving the health of older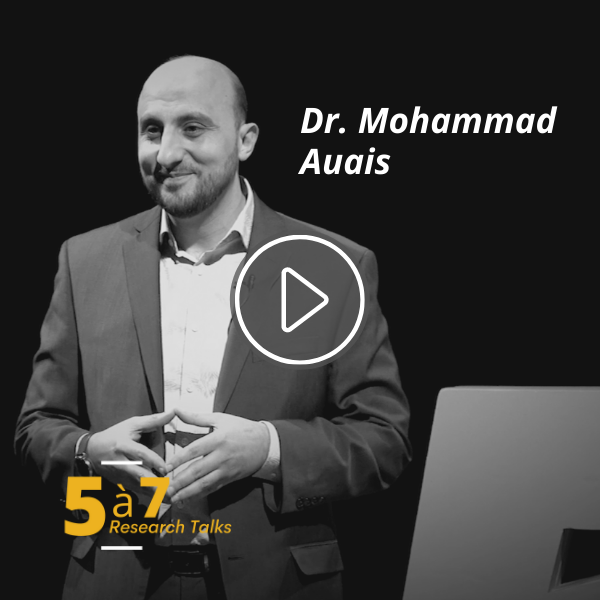 patients.
Created by Queen's Health Sciences, Cinq à Sept Research Talks are inspired by the French tradition of gathering at the end of the workday. Talented researchers headline each Cinq à Sept, which delivers engaging, TED-style talks in front of an audience of students, staff, faculty, alumni, and community members. A reception following each Research Talk sparks connection and collaboration – an integral component of the new strategic plan for Queen's Health Sciences: Radical Collaboration for a Healthier World.
---
Tickets:
The Cinq à Sept Research Talks run from 5pm to 7pm and are held close to campus to allow for participants to shift from work or the classroom to the event before going home. Tickets for the events, while limited, are free and available to QHS students, staff, and faculty – as well as Queen's alumni and members of the Kingston community – on a first come first served basis. To request a ticket, please add your name to the wait list here.
Apply to give a Research Talk:
Faculty members in Queen's Health Sciences are invited to apply to speak at a future Cinq à Sept Research Talk. More information can be found here.
Upcoming Cinq à Sept Research Talks:
April 14, 2022 - Drs. Danielle Macdonald and Stephen Scott

Spring & Fall 2022 dates TBA
Related topics