Year in review: 2022 Cinq à Sept Research Talks
From the complexities of the brain and life-changing therapies, to the trials of childbirth, to finding a better way to approach death and dying, the Cinq à Sept Research Talks of 2022 highlighted the groundbreaking health research happening at Queen's Health Sciences (QHS).
"What has been remarkable about these talks is the tremendous community that has grown around them. People have met each other, learned new things, and started new research collaborations as a result of getting together to hear our researchers talk about their work," says Dr. Jane Philpott, Dean, Queen's Health Sciences. "It's really wonderful and I can't wait to bring our next series of speakers to the QHS community in 2023."
If you missed some of these talks over the past year, start 2023 with some inspiration and knowledge by watching and sharing some of these captivating videos and exploring some of their reoccurring themes (and, if you want to attend a Cinq à Sept event in 2023, request a ticket).
Patient Diagnosis & Treatment
This group of talks explored new ways of diagnosing serious diseases and disorders, and how new therapies are being developed to help people live healthier lives and achieve better quality of life.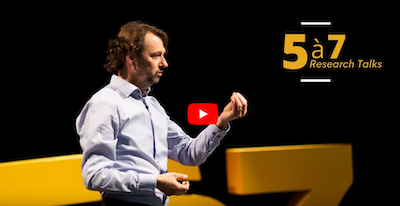 Dr. Scott stars in the role of researcher – and inventor – while talking about how his robot, Kinarm, is changing the way we understand the brain. This groundbreaking invention helps researchers assess multiple brain functions including motor skills, perception, memory, and decision-making.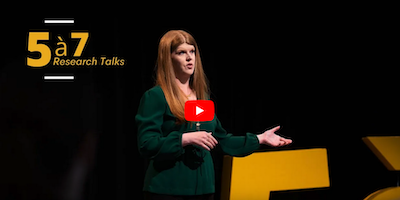 Dr. James' groundbreaking research helps diagnose inherited bleeding disorders. She has created solutions to enable better diagnosis and treatment, and resources that have helped thousands of people through the incredibly successful Let's Talk Period initiative.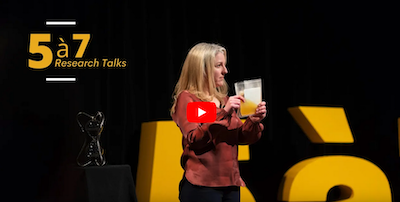 In her talk, Dr. Hay has us imagine a world where cancer can be cured by a person's own immune system. Instead of chemotherapy, radiation, or surgery, the work is done by a patient's immune blood cells – removed, engineered to recognize cancer, and returned to the body.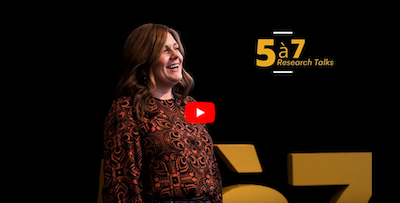 Dr. Goldie's research reveals why Canadians need universal and equitable access to palliative care. As you will hear in her engaging and at times deeply personal talk, palliative care not only provides compassionate, end-of-life care but can sometimes help people live longer and better.
Humanity in Healthcare
These talks explored ways to better connect health sciences' practitioners with their patients and colleagues and build stronger systems of patient support.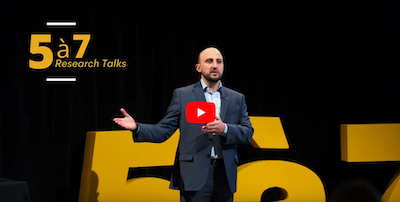 Dr. Auais understands how common ageism is in our health system and society and also firmly believes that better healthcare starts with better health education. In his talk, he shares how his storytelling podcast, GeroCast, is helping students and rehab therapists care for older patients.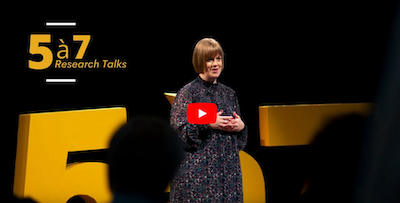 The humanity of birth – and the power of collaboration between nurses and midwives – is front and centre in Dr. Macdonald's research and this talk as she takes us on a journey through the experiences of global birthing care, midwifery, nursing, parents, and their families.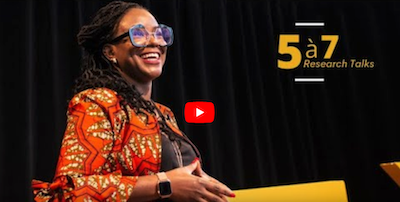 Caregivers are worthy of care. This message is at the heart of Dr. Dr. Fakolade's research and her urgent call for us to support these unsung heroes who display extraordinary courage to provide ongoing, unpaid care that is critical to our overall health system.
Discovery Science
These talks explored the ground-breaking scientific research happening within QHS that is helping create a healthier world.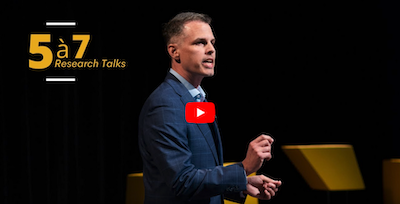 A gifted scientist and storyteller, Dr. Hindmarch takes you on a journey from a little-known, 19th-century monk – the "father of genetics" – to how our understanding of the science has assisted in the fight against COVID-19, and to finding cures we never thought were possible.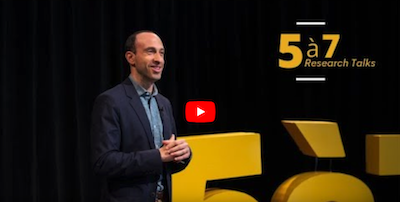 Dr. Maslove takes us to the ICU of the future as he explores the tremendous potential of precision medicine and how it is transforming critical care for each individual patient. His research applies physiologic and genomic data to usher in a new era of customized critical care.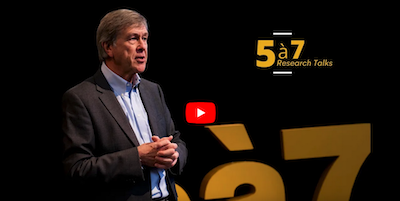 For decades, Dr. Lillicrap has been at the forefront of precision medicine working to develop life-changing therapies for people with inherited blood diseases. Hear about his research journey and how he is getting closer to this miracle with the help of genomics and a pack of dogs.
Related topics