How understanding breast cancer drugs can prevent recurrence
When it comes to her research, Dr. Marie-Lynne Postovit's end goal is simple: helping women with breast and ovarian cancer live longer, healthier lives. Over the course of her career, Dr. Postovit has focused on studying what she describes as "the very worst kinds of cancer" because of the fact that they are so efficient at spreading, and at resisting therapeutic treatments. An authority on these forms of cancer, Dr. Postovit's current research is focused on cellular plasticity, or the ways in which cancer cells change and adapt, as well as the role a primitive embryonic protein, called Nodal, plays in that process.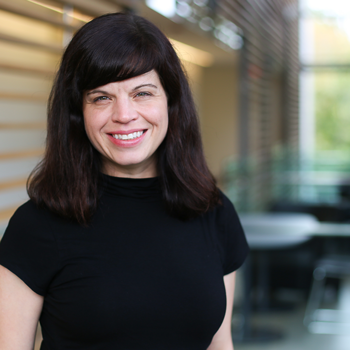 "Nodal is a protein that is made by cancer cells," says Dr. Postovit, who was appointed as Head of the Department of Biomedical and Molecular Sciences at Queen's in October 2019 for a five-year term. "It helps them to survive better, to spread more and to resist therapy. It lets cancer cells change how they interact with the cells around them, reprograming them."
It was while running her own research program at Western University that Dr. Postovit and her team discovered the role Nodal played in aggressive breast cancer and melanoma cells, along with the fact that the protein, which can be detected in the blood, could be targeted with medication in the fight to contain these cells.
Later as an Associate Professor at the University of Alberta and co-director of the Cancer Research Institute of Northern Alberta, Dr. Postovit worked in collaboration with other researchers to understand the role Nodal plays when cancer cells develop resistance to drug therapies.
"We now have drugs to move into clinical trials that prevent plasticity and progression," she says, explaining that if a drug can block Nodal in cancer cells, it could make treatments like chemotherapy more effective. Indeed, early animal trials have modeled that this approach helped to inhibit the progression of ovarian cancer.
Dr. Postovit, who earned both her Bachelor of Science (Honours) and her PhD in Anatomy and Cell Biology at Queen's, says that while early detection is still critical when it comes to cancer, her research is helping prolong patient's lives.
"When the cancer hasn't spread, we can still cut those cells out," she says. "The cure rate with breast cancer is now 95 per cent – in some cases, it's even up to 97 or 98 per cent. But even when cancer cells have spread throughout the body, we are now able to extend the life of the patient. Even 15 years ago, patients often didn't live more than a few years after being diagnosed (with cancer). Now they can live 10 to 15 years with targeted therapies, even though they will still eventually develop resistance."
She says treating advanced ovarian cancer and metastatic breast cancers can be particularly tricky, however, because by the time it the disease is diagnosed, it has usually already spread.
Dr. Postovit, who has published more than 60 papers in peer-reviewed journals, says she believes that discovery research remains key to advancing the future of healthcare.
"Clinical trials are at the end of the pipeline," she says. "If we don't keep having new ideas, that pipeline will get stagnant. We can't just do applied research – we must do discovery as well. Discovery research is how we tackle what to do next."
For Dr. Postovit, who maintains her lab at University of Alberta, as well as one at Queen's, marvels at how much has been discovered in the last 20 years, and at the critical role that universities have played in moving that needle forward.
"We are always generating new knowledge – it's how humanity moves forward. We might not know what it's good for, but it might be the missing piece for someone on the other side of the world who is doing research," she says, explaining that the mRNA vaccines currently being used to help fight to COVID-19 pandemic, for example, was technology first developed to treat cancers. "A lot of things had to come together to make that work."
As far as her own research goes, Dr. Postovit knows that her research has already made a difference for women living with cancer. As early clinical trials related to her Nodal research proceed, she remains hopeful that the results will lead to better treatments in the years to come.
"When you are towing the edge of knowledge, you have no idea what is ahead of you," she says, "but if we can improve the outcomes for women with breast and ovarian cancers, that is cool."
Related topics