Mary Ann McColl
PhD, MHSc, MTS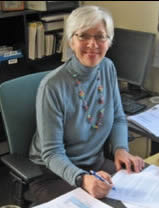 Position(s)
Associate Director, Centre for Health Services and Policy Research
Professor, School of Rehabilitation Therapy
Contact Info
Centre for Health Services and Policy Research
21 Arch Street, Room 315 Abramsky Hall, Queen's University Kingston, ON K7L 3N6
Tel: (613) 533-6000 x 36319
Fax: (613) 533-6353
---
Dr. Mary Ann McColl is a Professor in the Department of Public Health Sciences, and the School of Rehabilitation Therapy at Queen's University. She received a PhD in Preventive Medicine and Biostatistics from the University of Toronto in 1991, a MHSc in Community Health and Epidemiology in 1983, and an MTS in 2007. 
Dr. McColl came to Queen's as Head of Occupational Therapy (1992 to 1998). Prior to that, she was Director of Research at Lyndhurst Spinal Cord Centre. From 1983 to 1992 she was Assistant Professor at the University of Toronto, Occupational Therapy Department.
 
Her primary research interests are: health services and policy for people with disabilities; community integration and social support for people with disabilities; and measurement issues in disability and rehabilitation.