Welcome to The Nest: the new home of EDIIA at Queen's Health Sciences
High above the campus treetops, a new office space for Queen's Health Sciences (QHS) has nestled on the fourth floor of the School of Medicine (SOM) building. It's called "The Nest," the new space for all things related to Equity, Diversity, Inclusion, Indigeneity and Accessibility (EDIIA). It is a nurturing, welcoming and safe gathering space for QHS students, employees, and community members to come together to work and connect in fellowship. 
"The Nest is the place where we are nurturing people, ideas and projects so there is support felt in QHS and so our community members can go out into the world as leaders for EDIIA," says Dr. Colleen Davison, Associate Dean, Equity and Social Accountability. "I am so happy we have this space that supports a culture of equity, diversity, inclusivity, Indigeneity, and accessibility across QHS." The new space is the home for the Office of Equity and Social Accountability and the Office of Indigenous Health. A search is currently underway for a Chair, Indigenous Health and Associate Dean, Indigenous Health.
The Nest offers the QHS community a place for meetings, get-togethers or to study, as well as resources and EDIIA-related programming. It features a kitchen, student lounge and shared meeting and study areas. Also, QHS community members can book the boardroom to host any EDIIA-related meetings or use the private meeting space for Zoom calls, breast feeding, quiet meditation or other needs. Staff and student hosts work at the front desk to welcome visitors and ensure everyone can make best use of the facility. The office is open 9am to 5pm from Monday to Friday. Students, staff and faculty can also request after-hours access during evenings and weekends by contacting reception. Queen's alumni members toured the space during Homecoming weekend and Dr. Davison and her team are looking forward to more community members discovering the new office at their grand opening on Thursday, November 3 (see more details below).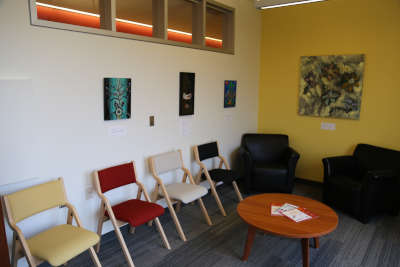 At the second Dean's Action Table for Equity, Diversity and Inclusion Forum held earlier this month, a comprehensive EDIIA Action Plan was launched outlining 25 overall EDIIA goals and 127 recommended actions spanning nine pillars ranging from admissions to outreach, recruitment and retention, to mentorship, curriculum, research, and culture. Having a place like The Nest for EDIIA-related activities is crucial to advancing this work and transforming culture within QHS to achieve the goals laid out in the plan. 
The Nest Open House – November 3
All are welcome to visit The Nest for an open house on Thursday, November 3 from 9 a.m. to 5 p.m., Suite 402 in the School of Medicine building (15 Arch St.). This is an opportunity to meet or reconnect with the team, have a tour of the new space, and enjoy some time with friends and colleagues. 
Related topics