DAT-EDI Working Groups building inclusive QHS community
From implementing a new inclusive curriculum model to developing a champion program, Queen's Health Sciences (QHS) will be guided by 25 goals in its new Equity, Diversity, Inclusion, Indigeneity, and Accessibility (EDIIA) Action Plan.
The plan – which includes 127 specific actions – is the product of two years of work by the Dean's Action Table on Equity, Diversity, & Inclusion (DAT-EDI) Working Groups. 
In her opening remarks at the 2nd DAT-EDI Forum on Oct. 6, QHS Dean Jane Philpott called the working groups "an incredible grassroots movement," made up entirely of volunteers – including faculty, staff, learners, and alumni. 
"It has been an enormous amount of work," she added, highlighting various success stories including establishing the Outreach and Summer Program, which is now recruiting for its second year, and a massive literature review conducted to inform best practices on admissions. "We have made a path for ourselves."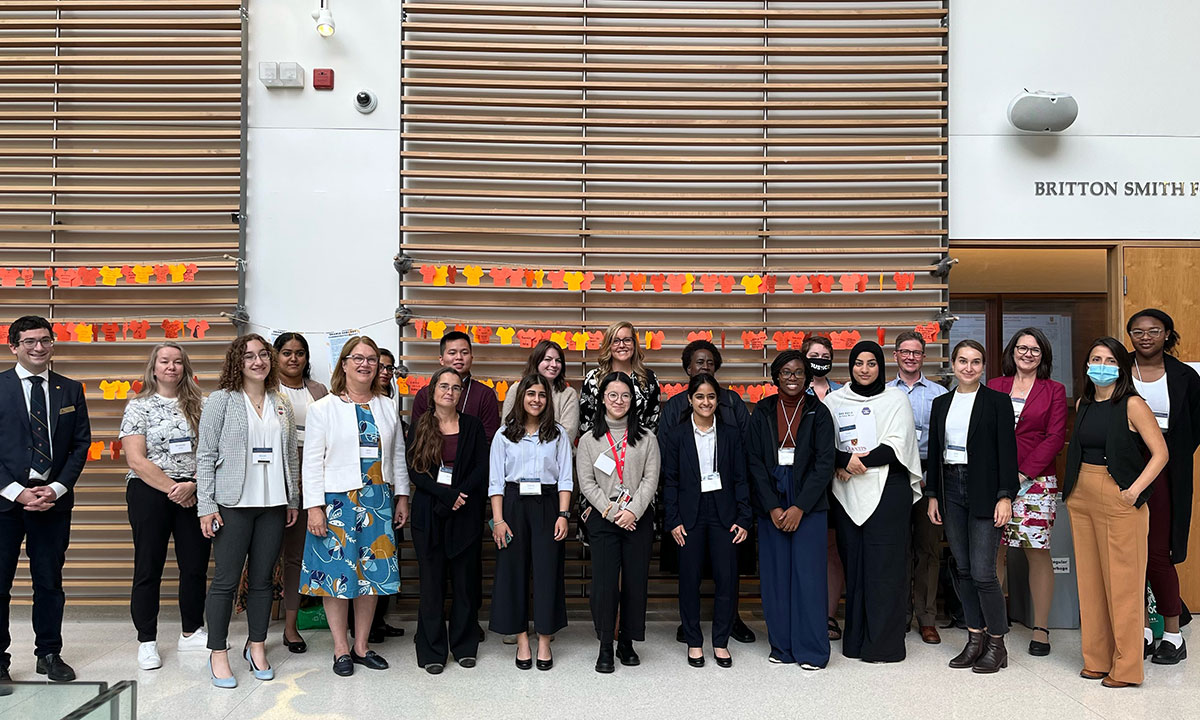 Unveiled at the forum, the (DAT-EDI) Working Groups' goals include, but are not limited to:   
Curriculum: Adapt and implement the QHS Inclusive Curriculum Model 
Admissions: Dismantle discrimination and biases faced by applicants through equitable and inclusive selection processes 
Retention: Implement equitable and inclusive policies and practices to increase staff, and faculty retention 
Research: Increase QHS research funding that values EDIIA-informed research 
Professional Development​: Build, integrate, and ensure the uptake of mandatory and evidence-based EDIIA training  
Recruitment: Enhance resources and opportunities afforded to prospective equity-deserving learners 
Culture and Community: ensure the collaborative implementation and sustainability of the QHS Champion Program. 
Mentorship: Formalize mentorship opportunities for QHS learners and create formal mentorship frameworks between learners and faculty 
Outreach and Summer Program: Commit to sustaining and developing  programming long term through partnerships that supports targeted recruitment. 
Dean Philpott commended the ongoing efforts to transform QHS into "a more welcoming and inclusive community."  
Additional faculty EDIIA milestones lie ahead, with November 3rd marking the grand opening of The Nest, QHS's physical home for EDIIA Initiatives on the fourth floor of the School of Medicine Building. The Nest will provide resources, programming, policy recommendations, guide faculty initiatives, and more. Plans are also well underway for the EDIIA Initiatives to also include an Office and Chair for Indigenous Health – one of the early action priorities in Radical Collaboration, QHS's new strategic plan.
Related topics