Dr. Martin W. ten Hove Reappointed as Head of the Department of Opthalmology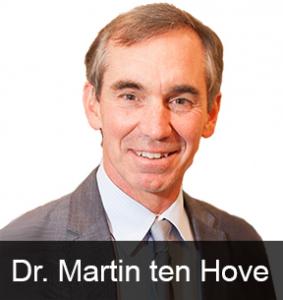 Acting Dean Chris Simpson is pleased to announce that Teri Shearer, Acting Provost and Vice-Principal (Academic) at Queen's University, has reappointed Dr. Martin ten Hove as Head of the Department of Ophthalmology. The reappointment will begin on July 1, 2018 and end on June 30, 2022.
Following the receipt of his MD from Queen's University in 1989 and the completion of his postgraduate training in neuroophthalmology as a McLaughlin Fellow at the University of Miami in 1995, Dr. ten Hove returned to Queen's as an Assistant Professor in the Department of Ophthalmology. He was promoted to Associate Professor and awarded tenure in 2001. Dr. ten Hove has served as the Head of the Department of Ophthalmology at Queen's University and Kingston Health Sciences Centre since 2013. In 2015, he was appointed as the inaugural holder of the Edna and Ernie Johnson Chair in Ophthalmology at Queen's University.
As an active researcher in the neural mechanisms underlying visual attention, Dr. ten Hove has often been invited to present his work at national and international meetings. He has served on the Examination Committee of the Royal College of Physicians and Surgeons of Canada, on the Royal College Specialty Committee for Ophthalmology, and on the editorial boards for the Canadian Journal of Ophthalmology and the Journal of Neuroophthalmology. He has worked with ORBIS, the CNIB and the University of West Indies to bring tertiary level ophthalmology to remote locations to help fulfill their educational and clinical needs. Dr. ten Hove served as the Department's Postgraduate Program Director from the time of his appointment until 2000. He also previously served as Acting Head from 2003 to 2004 and as Deputy Head from 2005 until 2012.
Please join Dr. Simpson in congratulating Dr. ten Hove on his reappointment.