Dale Best Appointed Director, Financial Services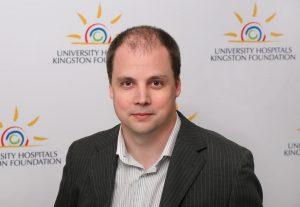 Denis Bourguignon, Chief Financial and Administrative Officer (CFAO), is pleased to announce that Dale Best has accepted the position of Director, Financial Services for the Faculty of Health Sciences. He will be starting in his new role on August 27th.
Dale will be coming to the Faculty of Health Sciences from the University Hospitals Kingston Foundation, where he has been the Chief Operating Officer since February 2016. This new position, however, will be a return to Queen's for Dale. From 2008 to 2016, Dale held several roles in the Office of Advancement at Queen's, including the Associate Director of Gift Services.  
Dale holds a CPA, CMA designations, and a Bachelor's Degree in Business Administration from St. Francis Xavier University. His credentials and experience will enable him to bring business expertise and extensive knowledge of both Queen's and the Kingston healthcare community to his work as the Director, Financial Services.
The CFAO and the rest of the Faculty of Health Sciences congratulate Dale on his new position and look forward to welcoming him to campus in August.