A new day for Indigenous health at Queen's
Under a glorious sky and with a calming breeze that filled the new outdoor Indigenous gathering space, members of the Queen's Health Sciences (QHS) and Queen's communities welcomed Dr. Sarah Funnell to campus on Tuesday, September 18, 2023. As the inaugural Associate Dean and Chair, Indigenous Health, Dr. Funnell's leadership and the creation of the faculty's Office of Indigenous Health signal an important step further towards reconciliation.
"Establishing this office and filling this important role are key priorities in our faculty's strategic plan and will help us further Indigenous health and cultural perspectives throughout all the health sciences," says Dr. Jane Philpott, Dean, QHS and Director, School of Medicine. "I have no doubt Dr. Funnell will help make QHS a national leader in Indigenous Health education and research and will be key collaborator with and leader to our faculty, staff, and learners."
Dr. Funnell will work closely alongside Dr. Colleen Davison, Associate Dean, Equity and Social Accountability and works remotely and at The Nest on the fourth floor of the School of Medicine Building. She also conducts clinical work at the Queen's Family Medical Team one day a week.
At the welcome reception, Dr. Funnell presented sweetgrass braids to Dr. Nancy Tatham and Donna Henderson, the donors who helped create the Chair position. Dr. Funnell harvested the sweetgrass from her own medicine garden and her daughters helped her make the braids. Dr. Funnell's Algonquin name is Minwanimad (pleasant breeze) and was given to her by her great Auntie who saw her gift of leadership. "I am to lead with truth and honesty and am supposed to listen before I lead and be caring and loving. My path has brought me here and my plan is to start by listening deeply," says Dr. Funnell. "I know if we work together we can ensure that all Indigenous learners, staff and faculty find Queen's to be a place that is safe, and where all Indigenous people feel that they belong. Thank you for such a warm welcome."
The creation of an Indigenous Health Chair and Office of Indigenous Health are key commitments in QHS's strategic plan, Radical Collaboration.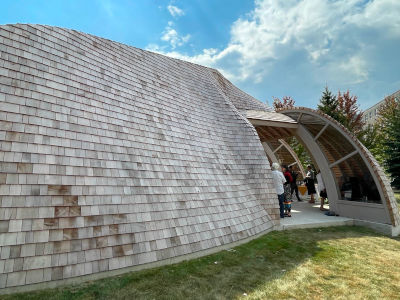 The new Indigenous outdoor gathering space is located at the south end of Tindall Field, behind Mac-Corry Hall. It serves as an important place for learning, ceremony and reflection. The opening ceremony of the new space was held earlier in the day prior to the event to welcome Dr. Funnell. The design of the wooden structure incorporates significant Indigenous symbology including the four directions and medicine wheel, and is an inspiring place to hold sacred fires and smudging ceremonies. The building was designed by Eladia Smoke of Smoke Architecture.
Watch Global TV's coverage of Dr. Funnell's welcome event as well as the opening ceremony of the new Indigenous space.
Related topics