Radical Collaboration in Action
Revolutions are about people – the people leading them, and the people transformed by them.  
A year ago, we introduced our new strategic plan as "a revolution in the academic health sciences." Fittingly, the plan's impact on real people and communities is already front and centre. 
To realize our vision of Radical Collaboration for a Healthier World, the faculty established "The Big 10" implementation teams to move forward on ten key initiatives.  
Team leads recently delivered inspiring updates on their projects. It was exciting to see what we have accomplished so far and get a clear view of what lies ahead.  
Revolutions, of course, are also about meaningful, systematic change. Transforming health sciences education and research requires bold action. And seeing our strategy come to life, I was reminded of our plan's impact on the ground – locally, provincially, and beyond. 
In terms of campus transformation, we are working to make Queen's Health Sciences' spaces and programs more accessible; and launching an action plan to develop a new health sciences complex. Take a look at an early concept drawing. 
Our classroom experience and demographics are also being transformed. A path is being charted to see 20% of curricula delivered in an interdisciplinary context by 2026, which will help learners better collaborate inside and outside the classroom to create new discoveries and improve patient care.  
Meanwhile, our equity, diversity, inclusion, Indigeneity, and accessibility (EDIIA) goals include seeing the QHS community profile – learners, staff, and faculty – match that of the Canadian population. That multi-faceted process includes building a more welcoming environment – which is supported by the opening of The Nest as new home for EDIIA in our faculty. While I recognize we have a long way to go in diversifying our faculty, including our leadership team, I am proud of the progress we are making on EDIIA. 
Another key area of focus is on our work in the community. We heard about our deepening partnership with the Weeneebayko Health Authority (WAHA) to develop health sciences education opportunities for Indigenous youth living along the western James Bay coast. (We will have more to share on this early in 2023.) Our partnership with Lakeridge Health is seeing us create a new campus for the MD Program, focused on training family physicians.  
In Kingston, we are partnering with others to develop a health home to serve as a new primary care facility for 10,000 local residents who currently lack a primary care provider. This will make a positive difference for our local hospital partners as well. 
Our ambitious plans also have a global reach. We are reimagining global and population health via the Queen's Kaleidoscope Institute (learn more in this video from their first symposium in December 2022).  
Of course, our research impact is also far and wide. That's why we are striving to increase our sponsored research to $200 million per year (a 50 per cent increase from 2020 levels) as well as creating research superclusters to better mobilize and coordinate our resources to answer some of the biggest questions in health sciences today. Improved coordination and interdisciplinary research will allow us to be at the forefront of discovery science.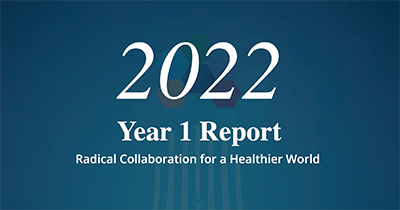 We put these ideas out into the world last year. To see them starting to take shape is amazing and makes me so proud. I believe these projects are transformative and a testament to the people at QHS who have the brainpower, creativity, passion, and grit to make them a reality.  
Our strategic plan year-in-review explores each of our goals in terms of objectives, progress, and next steps. Our Big 10 project pages include contact information for our team leads. I encourage you to reach out if you want to learn more or lend a helping hand. 
Again, the common thread through all this work is collaboration. To quote Dr. Brenda Brouwer, the 2022 lead on our new building project, "We need everyone working together—sharing their time, talent and treasure (to create a healthier world)."  
It's all about people power. I know our team has the talent and commitment to develop and implement our bold vision. Our collective efforts will empower students, colleagues, patients, and communities and help us reinvent the health sciences.  
Jane 
Continue the discussion on Twitter
Related topics