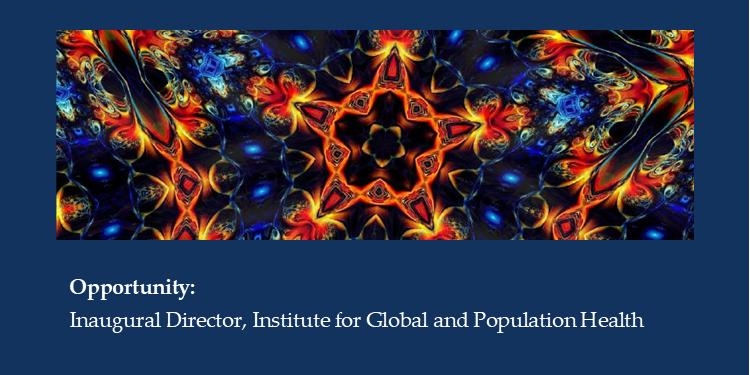 Opportunity: Inaugural Director, Institute for Global and Population Health
Queen's is launching a new Institute, animated by the metaphor of a kaleidoscope - where energy, movement and positionality of persons and systems can interact in dynamic and meaningful ways to engage with individual, structural, and social determinants of health and wellbeing. Embracing the principles of equity, diversity, inclusion, Indigeneity, and accessibility (EDIIA) and advancing the sustainable development goals (SDGs), the Institute will produce, share, and use impactful, actionable knowledge. The Institute will be housed within the Faculty of Health Sciences and have a network across all Queen's University faculties.
Queen's seeks a courageous, collaborative, and compassionate inaugural Director to lead the Institute.
The Director has the unique opportunity to grow a new Institute, providing visionary leadership, developing a plan to push the boundaries of knowledge through research, building community and contributing to capacity building at Queen's and beyond, building the Institute's reputation, overseeing the organizational and operational activities of the Institute, and representing the Institute within Queen's University.
Please visit this link for details about the position

Anesthesiology Researchers Awarded Funding from International Development, Aid and Collaboration Program
Congratulations to Dr. Joel Parlow, Dr. Gregory Klar and their co-applicants from the Dept. of Anesthesiology and Perioperative Medicine, Dept. of Public Health Sciences and partners at the University of Rwanda!  They were awarded the International Development, Aid and Collaboration (IDAC) grant from Royal College International for their project entitled, "Developing a Fellowship in Knowledge Translation in Anesthesiology and Pain in Low- and Middle-Income Countries (LMICs)".  The award is for $89,925 over three years.
The impact of the partnership is exposure to knowledge translation methods not readily available in LMICs, enabling trainees to develop the skillsets to conduct their own research and respond to local needs and barriers. This program is interdisciplinary, co-developed between partners, and will have direct benefit to local populations.  A primary goal of the program is that trainees will become trainers and mentors, resulting in a sustainable local program. Program development begins immediately in April 2022, with the first Fellowship program starting in September 2022. 
This new program contributes directly to United Nations Sustainable Development Goal 3: Good Health and Well-Being, Target 3c.  Moreover, it adds to the breadth and depth of capacity-building partnerships in which Queen's participates, to promote sustainable health workforce development across the globe.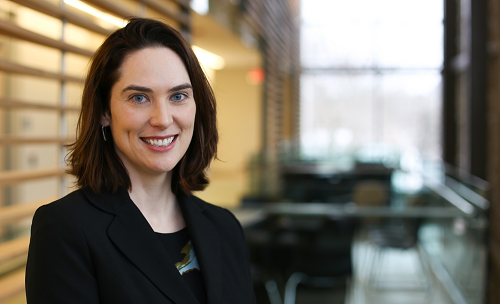 Dr. Heather Aldersey Appointed Interim Director, Institute for Global and Population Health
Dr. Jane Philpott, Dean, Faculty of Health Sciences at Queen's University, has appointed Dr. Heather Aldersey as Interim Director, Queen's Institute for Global and Population Health (IGPH). Dr. Aldersey's appointment is effective October 1, 2021. While in this role, Dr. Aldersey will continue as Scientific Director, International Centre for the Advancement of Community Based Rehabilitation (ICACBR). A formal search process for an appointment to the Director, Queen's IGPH role will be undertaken in the coming year.
The Queen's IGPH will bring together learners, academics and partners from a variety of backgrounds to work collaboratively in moving forward on issues related to global and population health in research and education. The establishment of the institute is one of the early actions that the Faculty of Health Sciences is undertaking as part of its new strategic vision for 2021-2026, Radical Collaboration. Bringing a wealth of experience in global health and partnership administration, Dr. Aldersey will take a leadership role in the formation of this institute.
Dr. Aldersey earned her BA in International Studies and French at the University of North Carolina at Chapel Hill as a Canadian Morehead-Cain Scholar. She earned her MSc in Education in 2010, and PhD in Education in 2013, at the University of Kansas. She completed post-doctoral research at the Douglas Mental Health University Institute at McGill University in 2014.
Dr. Aldersey was appointed as Assistant Professor and Queen's National Scholar in the School of Rehabilitation Therapy in 2014. She has served as Director of ICACBR from 2017-2019, and has served as Scientific Director since 2019. In 2018, Dr. Aldersey was awarded the Tier II Canada Research Chair in Disability-Inclusive Development, and was recognized with the Queen's University Faculty of Health Sciences Award for Teaching Excellence.
Dr. Aldersey's research program focuses on promoting the full inclusion of people with disabilities globally. The ultimate goal of Dr. Aldersey's scholarship is to draw upon local strengths and capabilities to improve the quality of life of people with disabilities and their families.
Dr. Aldersey has a strong background in leading collaborative partnerships and has championed a multitude of successful projects. Among them is a collaboration with the University of Gondar, as part of The Mastercard Foundation Scholars Program. With an investment of $24.2M USD, the program funds multiple research projects and scholarships that will create a new generation of researchers and leaders in Ethiopia.
Please join Dean Philpott in congratulating Dr. Aldersey on her appointment as Interim Director, Queen's Institute of Global and Population Health.