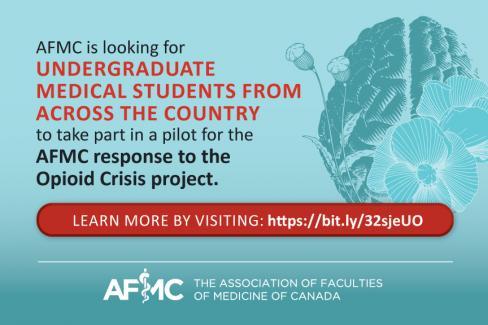 **Recruitment of pilot participants is currently closed**
AFMC is responding to the surge of overdoses and opioid-related deaths in Canada by leading the creation of a Canada-wide, competency– based curricula for future physicians in pain management and addiction medicine. With support from Health Canada through it's Substance Use and Addictions Program, AFMC will receive approximately $1.99 million over three years (November 2018 to February 2021) to develop a curriculum consisting of bilingual online courses that are based on established competencies for student physicians that address gaps in current educational offerings. The online courses will be integrated into existing Canadian undergraduate medical education and freely available to all 17 Canadian medical schools and any other interested group. The project will also see to the development of a bank of MCQs and OSCEs for use on the national licensing exam of the Medical Council of Canada.
AFMC is currently recruiting Canadian undergraduate medical students to participate in the program's pilot launch.   We are seeking students to review the online modules and provide feedback, and advise on the use of these modules with existing UGME curriculum.  Modules will be posted for review as they become available, between September 15th and October 15th.  Module reviews are self-paced and directed.  
Important dates:
Anticipated start date of pilot is September 15th 2020, with feedback and completion due by November 15th 2020.  Applicants must commit to complete their review and submit their results by this time. 
*The predicted overall time commitment is 10-15 hours.  There are a total of ten modules to review.  The modules do not involve testing or the reporting of marks.  All data collected will be used for program improvement purposes only.  If you are selected to participate, you will have the opportunity to read a letter of information, and consent or decline to participate.
___________________________________________________________________________________________
Nous vous remercions de l'intérêt que vous portez au programme d'études national de l'AFMC sur la gestion de la douleur et des dépendances.
 L'AFMC répond à l'augmentation des surdoses et des décès liés aux opioïdes au Canada en dirigeant la création d'un programme d'études pancanadien axé sur les compétences pour les futurs médecins dans le domaine de la gestion de la douleur et de la médecine spécialisée en toxicomanie. Avec l'appui du Programme sur l'usage et les dépendances aux substances de Santé Canada, l'AFMC recevra environ 1,99 million de dollars sur trois ans (de novembre 2018 à février 2021) pour élaborer un programme d'études composé de cours bilingues en ligne axés sur des compétences établies pour les étudiants en médecine, afin de combler les lacunes des offres éducatives actuelles. Les cours en ligne seront intégrés à l'enseignement médical prédoctoral canadien existant et les 17 facultés de médecine canadiennes et tout autre groupe intéressé pourront y accéder gratuitement. Le projet prévoit également la création d'une banque de QCM et d'ECOS à utiliser pour l'examen national du Conseil médical du Canada menant à l'obtention du permis d'exercice.
L'AFMC recrute actuellement des étudiants canadiens en médecine au niveau prédoctoral pour participer au lancement du projet pilote. Nous sommes à la recherche d'étudiants en médecine canadiens inscrits pour examiner les modules en ligne et donner leur avis sur l'utilisation de ceux-ci dans le cadre du programme d'études actuel de l'EMPr. 
Dates importantes :
Date prévue de début du projet pilote : 15 août, avec rétroaction et achèvement au plus tard le 15 octobre. Les candidats doivent s'engager à terminer leur examen et à soumettre leurs résultats avant cette date.
 *L'engagement global en temps est estimé à 10-15 heures.  Comme nous sommes en phase pilote, il n'est pas possible d'estimer parfaitement le temps réel consacré à chaque module.  Au total, il y a dix modules à examiner. Ni examen ni rapport de notes n'est prévu relativement aux modules. Toutes les données recueillies seront utilisées uniquement à des fins d'amélioration du programme.  Si vous êtes sélectionné(e) pour participer, vous aurez la possibilité de lire une lettre d'information, et de consentir ou de refuser de participer.