Dr. Leslie Flynn reappointed as Vice Dean, Education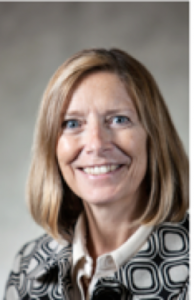 Acting Dean Chris Simpson is pleased to announce that Teri Shearer, Acting Provost and Vice-Principal (Academic) at Queen's University, has reappointed Dr. Leslie Flynn as Vice Dean, Education for the Faculty of Health Sciences. The appointment will begin on July 1, 2018 and end on June 30, 2023. Dr. Flynn will be entering her second term in the position as Vice-Dean, Education, which she has held since 2013.
During her time as Vice Dean, Education, Dr. Flynn has played an influential role in some of the largest educational initiatives in the Faculty of Health Sciences. For instance, she is the Co-Chair of the Competency-Based Medical Education (CBME) Executive Team, and, in this position, was instrumental in launching CBME at Queen's in 2017. She has also served as the Co-Chair of the Truth and Reconciliation Commission Task Force, through which she has helped FHS develop strategies to become more diverse and inclusive.
After earning her MD from Queen's in 1987, she became certified first as a Family Physician and then as a Psychiatrist. She then joined the faculty at Queen's, holding a cross appointment in Family Medicine and Psychiatry. Before assuming the role of Vice Dean, Education, Dr. Flynn took on a number of other leadership positions. For the Department of Psychiatry, she served as the Director of Continuing Medical Education, the Postgraduate Program Director, the Director of the Psychotherapy Program, the Director of Faculty Development, and the Deputy Chair, Academic. Dr. Flynn has also served as the Acting Director of the Office of Health Sciences Education, the Assistant Dean of Postgraduate Medical Education, and the Associate Dean of Postgraduate Medical Education.
Dedicated to learning new ideas, Dr. Flynn has also frequently pursued new educational opportunities throughout her career. Most recently, she has completed a Masters of Education at the Queen's Faculty of Education. She has received several Certificates for completing programs on healthcare education at both the Harvard Macy Institute at the Harvard Medical School and the University of Toronto. Dr. Flynn has also completed the Executive Development Program at the Queen's School of Business. Her commitment to constantly furthering her own education has helped her to provide the innovative leadership that she brings to education at FHS more broadly.
Throughout her career, Dr. Flynn has won a number of awards recognizing her accomplishments as an educator, leader, and investigator. In 2016, for instance, she was the lead author on a paper that won a Top 3 Paper Award at the First World Summit on Competency-Based Medical Education.  For her leadership, she received the Exemplary Service to the Department Award from the Department of Psychiatry at Queen's in both 2002 and 2012. In 2002, she won the Best Poster Presentation Award at the Annual Meeting of the Ontario Psychiatric Association.  
Dr. Flynn's research has been published widely in leading journals, such as Academic Psychiatry, Postgraduate Medical Journal, and Journal of Interprofessional Care and Education. Her work has been funded by grants from a variety of organizations, including the Royal College of Physicians and Surgeons of Canada, the Ontario Medical Association, the Association of Faculties of Medicine of Canada, and the Southeastern Ontario Academic Medical Organization.
Please join Dr. Simpson in congratulating Dr. Flynn on her reappointment.