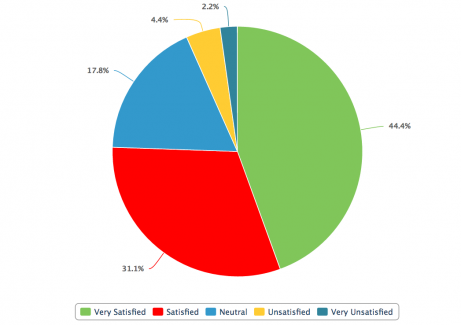 Respondees were asked to rate their satisfaction with the OHSE. The pie chart represents an overview of the 68 responses received and the chart below highlights identified strengths and areas for further consideration. 
Strengths Areas for Improvement 
Friendly, responsive and supportive team who are flexible and generous with time and assistance in furthering educational and academic projects
Provides practical help and assistance in supporting the scholarly work and educational research of busy clinicians 
Support for curriculum development, measurement and evaluation, literature reviews, data analysis and advice on research methodologies
Design and facilitate research projects
Effective in taking program improvement projects into academic projects to benefit others and assist educators with career advancement
An opportunity was identified to have greater involvement in educational scholarship within Undergraduate Medical Education (UGME). The OHSE looks forward to investigating opportunities and is dedicated to providing support for educational scholarship to all faculty and staff members across the schools of Nursing, Rehabilitation Therapy, and Medicine.
Note: In most instances, the neutral responses reflect those who have not yet engaged with the OHSE
Strengths
Areas for Improvement 

Friendly, responsive and supportive team who are flexible and generous with time and assistance in furthering educational and academic projects
Provides practical help and assistance in supporting the scholarly work and educational research of busy clinicians 
Support for curriculum development, measurement and evaluation, literature reviews, data analysis and advice on research methodologies
Design and facilitate research projects
Effective in taking program improvement projects into academic projects to benefit others and assist educators with career advancement

An opportunity was identified to have greater involvement in educational scholarship within Undergraduate Medical Education (UGME). The OHSE looks forward to investigating opportunities and is dedicated to providing support for educational scholarship to all faculty and staff members across the schools of Nursing, Rehabilitation Therapy, and Medicine.

Note: In most instances, the neutral responses reflect those who have not yet engaged with the OHSE