Alexandra Palmeri (NSc'18) receives Agnes Benidickson Tricolour Award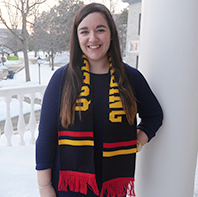 Six students – Hana Chaudhury (Com'18), Emilio Frometa (MIR'18), Max Garcia (Cmp'17), Asha Gordon (Artsci'18), Adam Grotsky (Artsci'16, Law'19), and Alexandra Palmeri (NSc'18) – have been named recipients of the Agnes Benidickson Tricolour Award, one of the highest honours a student can receive from the university.
"These are the best of the best that we have at Queen's," says Rector Cam Yung, Artsci'17, whose office is in charge of selecting which students are inducted into the Tricolour Society. "These are people who help others in need of support and have recognized gaps that have impacted students and the Kingston community. They have stepped up when others were at low points and worked their butts off to support and advocate for others."
Students are selected for their distinguished service to the university in non-athletic, extra-curricular activities, with the three tenets being service, leadership, character.
Alexandra Palmeri has had a positive impact on her faculty during her three years as Nursing Science Society president. Among her many accomplishments were supporting students through the academic appeals process, advocating for curriculum changes, revitalizing two workplaces for students, and co-founding of Threads of Inquiry – a clothing company that raises funds for undergraduate nursing student research.
The Tricolour Award has a long history at Queen's. It was first handed out in 1940, and one of those original recipients was John Matheson, BA'40, DSA'77, LLD'84, who went on to serve in Ottawa as a Member of Parliament. In 1967, he helped created Canada's highest civilian honour, the Order of Canada, which he said he based on the Tricolour Society. He is also considered the father of the Canadian flag for leading the committee that helped select the red maple leaf as our new flag in the 1960s.
Other notable past Tricolour Award past recipients include: Dragons' Den TV star Michele Romanow (Sc'07, MBA'08); author and Globe and Mail columnist Jeffrey Simpson (Arts'71, LLD'05); Emmy Award-winning filmmaker Peter Raymont (Arts'72); and former Bank of Canada Governor and Queen's Chancellor Emeritus David Dodge (Arts'65, LLD'02).
This year's recipients will be honoured at a ceremony on April 7 at Grant Hall.