Dr. Jennifer Robinson welcomed as Research Projects Advisor for the Faculty of Health Sciences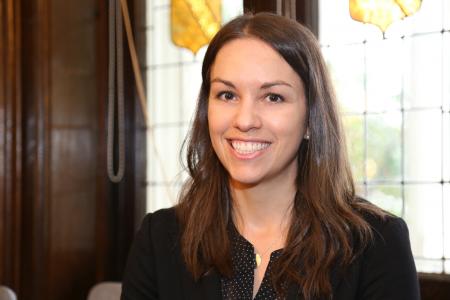 Dr. John Fisher, Vice-Principal (Research), Dr. Richard Reznick, Dean of the Faculty of Health Sciences, Dr. Roger Deeley, Vice-Dean Research of the Faculty of Health Sciences and Vice President Research at KGH, Karina McInnis, Executive Director of University Research Services (URS), and Mary Purcell, Director, Grants and Institutional Programs, URS, are pleased to introduce Dr. Jennifer Robinson as the new Research Projects Advisor for the Faculty of Health Sciences.
Jennifer earned both her BSc in Biology/Psychology and PhD in Neuroscience at Queen's University. She has over six years of experience in providing support to health researchers in the development of competitive funding applications and other strategic initiatives. Jennifer joins us from University of Ottawa, where she was a Senior Research Advisor in the Faculty of Medicine. In this role, she provided expert advice, editorial and strategic support to researchers in the development of individual, team, and institutional grants (e.g. CIHR, NSERC, CFI IF/JELF, ORF, CRC, and ERA). She also drafted institutional sections and letters of support for a number of research grants, awards, and prizes. Acting as a liaison between the VP Research Office, funding agencies, and researchers, Jennifer also provided assistance on the interpretation of policies and guidelines.
Additionally, Jennifer worked closely with key stakeholders in the Faculty and Hospital Research Institutes in Ottawa to develop and implement strategies to enhance research funding success, including the coordination of strategic grants, joint policies, and internal reviews.
This new faculty-based position is intended to assist in expanding the research capacity within the FHS and to support services currently provided by URS. Jennifer is located in Botterell Hall, Room 614. She can also be reached by email (j.robinson@queensu.ca) or phone (613.533.2944).