Queen's unveils plinth honouring Black medical students
This story was originally posted in The Queen's Gazette.
Members of the Queen's, Kingston, and Canadian medical communities gathered to mark the unveiling of a new Queen's Remembers plinth commemorating those impacted by a 1918 ban that prevented the admission of Black students to Queen's medical school up until 1965. In 2019, the university moved to confront its past actions, issuing a formal apology for the racist policy in an official ceremony and committing to ongoing efforts to support Black student access to, and success in, medical professions.  
"Today, we honor the Black medical students who were pressured to leave, and denied entry to Queen's medical school during this ban," says Principal and Vice-Chancellor Patrick Deane. "It was a great injustice that altered their futures and the course of their lives and careers. This plinth, like others on campus, enhances our understanding of the university's history for community members and visitors to campus."  
The ban's impacts stretched further still, serving to perpetuate racism and health inequities.  
"This ban robbed these students of their dreams and pursuits as healthcare professionals, and impacted an untold number of others who would have benefited from their example and service," says Jane Philpott, Dean, Queen's Health Sciences (QHS). "Furthermore, it helped cement a broad legacy of racism in the medical profession that has jeopardized health and hindered equitable healthcare. This is a past we must know and continually confront, to evolve this crucial vocation into one that is increasingly inclusive, diverse, and just."  
Moving toward greater representation  
The unveiling event was held in the Medical Quadrangle— an outdoor space adjacent to several buildings that once comprised the Faculty of Medicine's earliest facilities—where the permanent plinth is erected. Dr. Oyedeji Ayonrinde, Associate Professor of Psychiatry and Chair of the Commission on Black Medical Students, served as master of ceremonies. He discussed the legacy of the ban and the formal apology and highlighted the gathering as a moment to acknowledge the past, recognize the present, and look with hope toward the future.   
"With respect and dignity, this monumental reparative event honours the Black medical students egregiously excluded and banned by Queen's." says Dr. Ayonrinde. "We are enamoured by the Black community of Kingston and beyond for their family spirit of support, and look to the future with accountable hope."   
Since the public apology, QHS has initiated several changes to help increase Black medical student representation within the faculty. The Commission on Black Medical Students was established and has worked to support and mentor Black medical students, staff, and faculty, and curriculum is in place that aims to educate undergraduate MD students about the ban and its wider impacts. Currently, 14 Black medical students are studying at Queen's—the highest number of Black medical students enrolled at one time in more than a century.   
"As Black medical students, being able to commemorate our forefathers is a bittersweet reminder of what was, and what has now become," said Sabra Salim, Co-President of the School of Medicine Class of 2025. "By commemorating the difficulties our predecessors met, we are reminded that our existence as Black learners is joyful resistance."  
"I am hopeful that today marks the beginning of an era for Queen's – one marked by radical action towards making Queen's a nurturing environment for Black learners," said Grace Ayoo, MD student in the Class of 2026 and President, Aesculapian Society.   
Community, regional, and national support  
Members of Kingston's Black community presented Principal Deane with an original sculpture created in honour of the event by artist Chaka Chikodzi. The piece entitled "Honour. Dignity. Hope." will be installed in the School of Medicine (SOM) building.  
The Presidents of Black Physicians of Ontario and Black Physicians of Canada were also among the day's distinguished speakers and guests, and they presented Dean Philpott with a commemorative plaque listing the names of students enrolled at the time of the 1918 ban which will also be hung in the SOM building.  
"The past is behind us but not forgotten. It's our to fix the wrong for a better today and a best tomorrow." says Dr. Modupe Tunde-Byass, President, Black Physicians of Canada. "Black Physicians of Canada was founded in 2020, after the death of George Floyd. Our mission is to support, unite, and empower Canadian Black physicians and physicians in training like those in the audience today to amplify the Black voices and experiences within the Canadian health system."   
Dr. Lanval Daly (Meds'71), the second Black medical student admitted to Queen's following the ban was a keynote speaker.   
"My journey represents the indomitable spirit that has driven generations of Black students to overcome adversity and excel in their pursuits," said Dr. Daly. "This plinth does more than just recognize the past. It stands as a beacon of hope for future generations, reminding us that education should be a universal right, devoid of discrimination. It is a reminder that even in the face of adversity, perseverance and dedication can bring about monumental change. The steps we take today echo through time, offering a brighter path for those who follow."  
Students and community members underscored the significance of the day's events through several musical and dance performances between speakers and at the conclusion of the ceremony.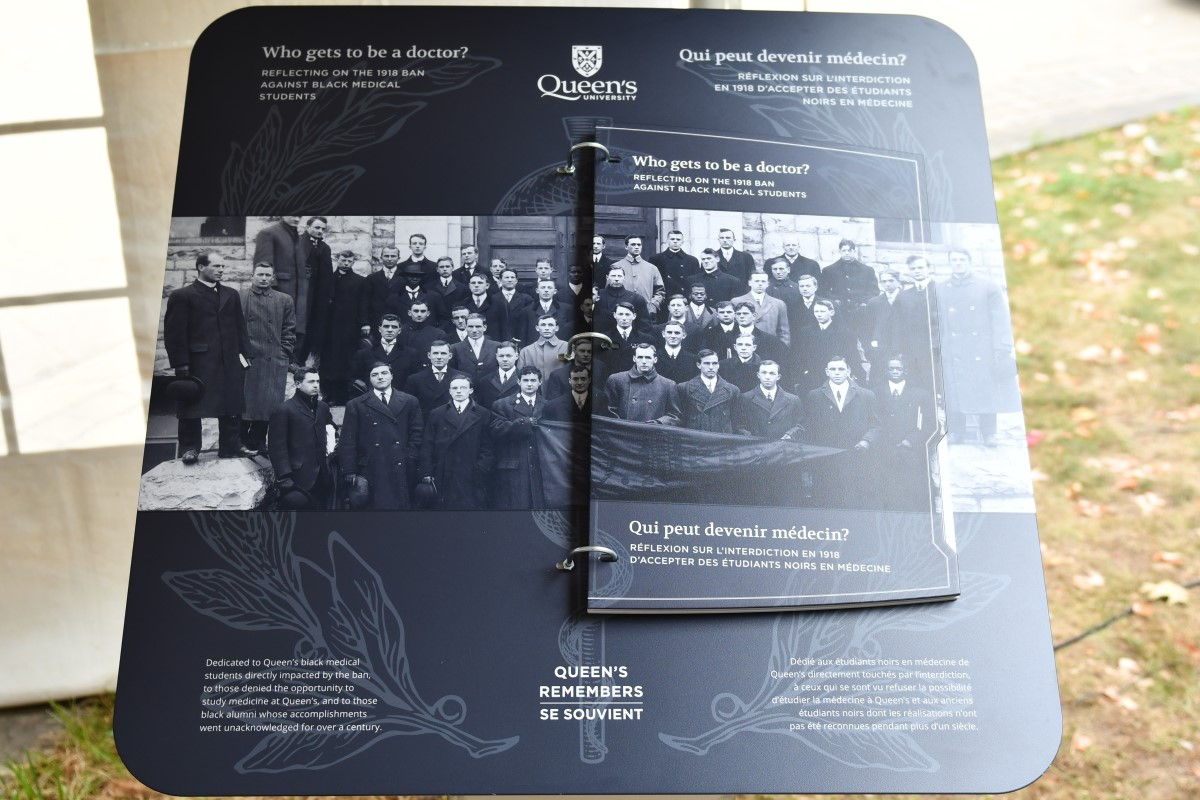 Related topics