A. William, Austin & Amos Friend Memorial Visiting Professorship Lecture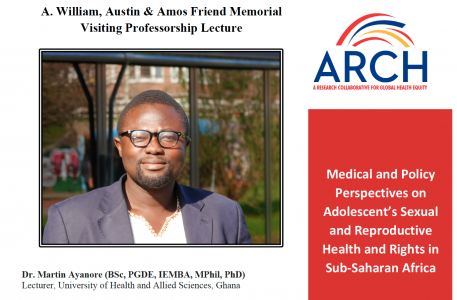 Medical and Policy Perspectives on Adolescent's Sexual and Reproductive Health and Rights in Sub-Saharan Africa.
Tuesday, May 8th: 12:30pm-1:30pm
New Medical Building Main Floor Lecture Hall
Dr. Martin Ayanore (BSc, PGDE, IEMBA, MPhil, PhD)
Lecturer, University of Health and Allied Sciences, Ghana
Dr. Martin Ayanore is Public Health Lecturer at the School of Public Health, University of Health and Allied Sciences in Ghana. His research interest spans health financing, reproductive health, Universal Health Coverage (UHC), health technology assessment (HTA) and public health nutrition.
The presentation will focus on elaborating medical and clinical syndromes related to sexual and reproductive health and rights (SRHR) in sub-Saharan Africa. These include for example, fistula, endometriosis, uterine fibroids, sexually transmitted infections, sexual violence, and HIV/AIDS.
Core issues that drive inequalities in SRHR health outcomes and access to safe medical care for women and girls will be discussed.