When
to
Where
Ramada Kingston Hotel and Conference Center
33 Benson St, Kingston, Ontario, K7K5W2, Canada
Fee: $210.00
(Base Price)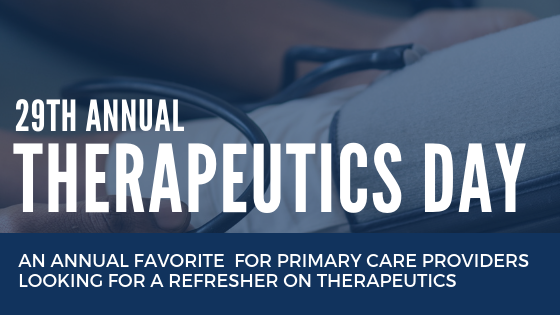 At the end of this program participants will be able to cite evidence-based therapies and explain appropriate management around prominent areas of primary care concern. Participants will be able to discern if their current knowledge contains myths that may have been surreptitiously living in the world of medicine.
Credits:
This Group Learning program meets the certification criteria of the College of Family Physicians of Canada and has been certified by Queen's University for up to 6 Mainpro+ credits. This event is an Accredited Group Learning Activity (Section 1) as defined by the Maintenance of Certification program of The Royal College of Physicians and Surgeons of Canada, and is approved by the Office of Continuing Professional Development, Queen's University. You may claim a maximum of 6 hours.
*In an effort to switch to a "less paper" program, the presentations will be available online under the program in your Program Centre account rather than being printed.
Registration and Continental Breakfast
Welcome
Phillip Wattam, MD, FRCPC Asst. Prof., Dept. of Medicine, Div. of General Internal Medicine; Asst. Dean, Distributed Medical Education, Queen's University
"The Wheeze on the Bus…" Pediatric asthma
Emily Kay, MD, FRCPC, Adjunct Professor, Department of Pediatrics, Queen's University; Allergist and Immunologist, Kingston Medical Centre, Kingston, On
"Infection Protection Direction: HIV & HTLV-1"
Jorge Martinez-Cajas, MD, FRCPC, Assistant Professor, Departments of Medicine (Div. of Infectious Diseases), and of Biomedical and Molecular Sciences, Queen's University
"Radiating Wellness" Mental health concerns in cancer patients
Claudio Soares, MD, PhD., FRCPC, MBA, Professor and Head of Department of Psychiatry, Queen's Univ.
"The Rank Kin File" Primary care therapeutic considerations for military families
Heidi Cramm, PhD, MSc OT Reg., MA, BScOT, BA (Hons) Occupational Therapist and Assistant Professor, School of Rehabilitation Therapy, Physical Therapy Program, and of the Department of Psychiatry, Queen's University
"Periods of Distress" Endometriosis
Ashley Waddington, MD, FRCSC, MPA, Assistant Professor, Department of Obstetrics and Gynaecology, Queen's University
"Not What You Were Expectorating" How best to manage patients with comorbid COPD and heart failure
Jose Alberto Neder,
"Jeopardy: Topics the Audience Selects"
G. Michael Allan, MD, Professor, Department of Family Medicine and Director of Evidence-Based Medicine, University of Alberta
"Rendering a Verdict" Saturated fats
Andrew Samis, MD, FRCSC, Assistant Professor, Department of Surgery, Queen's University
"Emergent-see" Top three urgent eye diagnoses
Mark Bona, MD, FRCSC Assistant Professor, Department of Ophthalmology, Queen's University
"Get a Grip" Hand injuries not to miss
David Pichora, President & CEO, Kingston Health Sciences Centre, Paul B. Helliwell Chair in Orthopaedic Research, Professor of Surgery, and Mechanical and Materials Engineering, Queen's University, Hand and Upper Extremity Surgery and Orthopaedic Trauma
"Disrupting Behaviours" Practice-changing studies
G. Michael Allan, MD, Professor, Department of Family Medicine and Director of Evidence-Based Medicine, University of Alberta
"Pharm-illogical Remedies " Managing recurrent UTI in women without antibiotics
Curtis Nickel, MD, FRCSC, Professor, Department of Urology, Queen's University
"Arterial Motives" Aneurysm repair
David T. Zelt, MSc, MD, FRCSC, Chair Division of Vascular Surgery, Kingston Health Sciences Centre and Queen's University,
Jeopardy #2
G. Michael Allan, MD, Professor, Department of Family Medicine and Director of Evidence-Based Medicine, University of Alberta