Baby Saul
Not long after I returned from my administrative leave (sabbatical), I was taken away from campus again for what must be the best possible reason: to meet my first grandchild, Saul Arthur Schwartz.
Saul was born on July 11 in Toronto, and Cheryl and I had the tremendous joy of being in the hospital when he arrived. As she was with our daughter in the delivery room, Cheryl even got to meet Saul the second he came into the world. I wasn't too far behind, though, as I got to see him just five minutes after that.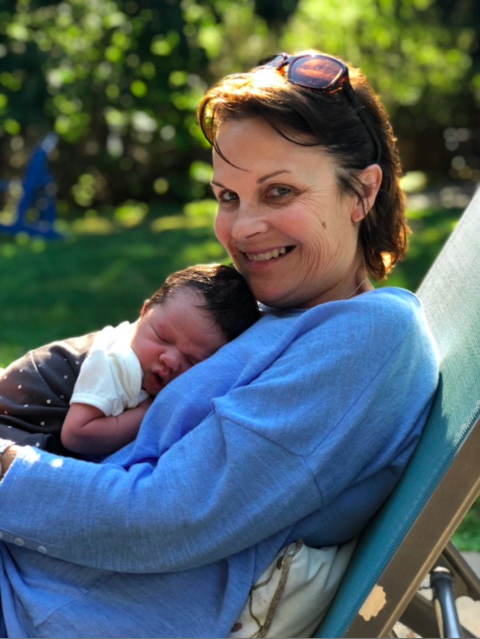 I suppose I might be biased, but I think that our little Saul has the greatest parents he could ask for. Cheryl and I are extremely proud of my daughter Joanna and her husband, Jordan. Joanna is a lawyer working in civil litigation at a law firm in Toronto, and Jordan has recently earned his PhD in Immunology from the University of Toronto. Clearly, Saul will have no shortage of professional role models in the house growing up! More importantly, though, Joanna and Jordan are compassionate people who will give him all the love he needs and then some.
I'm particularly touched by the fact that they chose to name Saul after my own father. In the Ashkenazi Jewish tradition, naming a child after a deceased relative is a highly meaningful display of love and respect. I cannot tell you how much it means to me that my daughter chose to honour her grandfather in this way. As I watched Joanna grow up, it gave me endless pleasure to see her develop a special bond with my father. Now that I am a grandfather myself, I hope that I can have as rich of a relationship with Saul as my father did with Joanna. As you can see from the picture above, I'm already working on it.
So far, being a grandfather has been a truly ineffable experience. It would be impossible to put all of the thoughts and feelings I have when I'm with Saul into words. But, if I had to try, I'd focus on the word legacy. From the second I met Saul, I became even surer of something I'd already known: that my family is my true legacy.
As I think about my father, my daughter, and my grandson, I can't help thinking about a different kind of legacy as well. My father was a Queen's student, Joanna received her Master of Public Administration at Queen's, and I have the privilege of working at their alma mater. Sometimes, when I walk around our beautiful campus, I think about how my father must have taken the same route past Summerhill or how Joanna must have seen the same view of Lake Ontario on her way to class. Now, I occasionally catch myself wondering if Saul will grow up to carry on my family's Queen's legacy and walk the same paths as a student.
Obviously, I'm getting a little ahead of myself. I should probably let Saul learn to crawl before I imagine him walking around Queen's. But whether or not he ever ends up studying here, he's on campus all the time right now in the form of hundreds of pictures on my phone. Next time you see me, stop me and ask to see one. I always have time to talk about my grandson.
-Richard