Dr. Madhuri Koti awarded 2019 Mihran and Mary Basmajian Award for Excellence in Health Research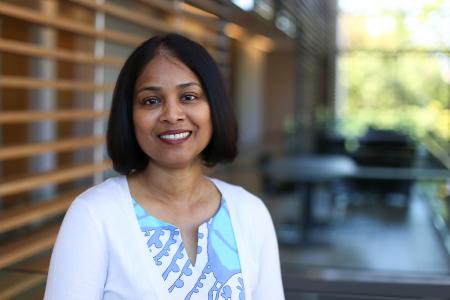 Dr. Madhuri Koti is this year's recipient of the Mihran and Mary Basmajian Award for Excellence in Health Research. Established by Dr. John V. Basmajian in memory of his parents, this award recognizes early career faculty members who have made the most outstanding contribution to health research over the past several years.
Dr. Koti is an Assistant Professor in the Departments of Biomedical and Molecular Sciences and Obstetrics and Gynecology, and is cross-appointed to the Department of Urology. She is also a member of the Cancer Biology and Genetics Division in the Queen's Cancer Research Institute. Dr. Koti received her Doctor of Veterinary Medicine in India, Master of Veterinary Sciences specializing in Veterinary Immunology and Virology at the Indian Veterinary Research Institute and earned her PhD in Immunogenetics at the University of Guelph. She completed a postdoctoral fellowship at Queen's University in the field of cancer chemotherapy resistance biomarkers, in 2012. She continued her research at Queen's as an independent investigator and became an Assistant Professor in 2017, where she has quickly established a highly successful and dynamic research program.
Dr. Koti's internationally recognized work applies knowledge of cancer immunology, immunotherapy and chemotherapy in ovarian, bladder and prostate cancers. Her research, which has been supported by the Canadian Institutes of Health Research, the Terry Fox Research Institute, Cancer Research Society, Canada Foundation for Innovation, Prostate Cancer Canada and pharmaceutical industries, examines anti-tumour immunity with a goal of predicting responses to treatment in order to develop new immune modulating therapeutic options and personalized treatment strategies for patients.
Dr. Koti has established national and international collaborations with experts in the field of cancer research. Dr. Koti's findings on cancer immunology have appeared in peer-reviewed journals such as the British Journal of Cancer, the Journal of Pathology: Clinical Research, and Journal of Immunotherapy for Cancer, and she has shared her research as an invited speaker at the 9th Canadian Conference on Ovarian Cancer Research and the 2019 Canadian Uro-Oncology Summit. In recognition of her research successes and potential Dr. Koti received an Early Researcher Award from the Ontario Ministry of Research Innovation and Science in 2018.
As a mentor and educator, Dr. Koti has supervised undergraduate, graduate, and postdoctoral trainees who have earned highly competitive scholarships and successfully published papers in peer-reviewed journals. Since starting her lab, she has established herself as a role model for the next generation of researchers.
Dr. Koti's work while at Queen's has demonstrated that she is an emerging national and international authority in cancer research and tumour immunology, and she is highly deserving of this recognition. An award presentation and reception for Dr. Koti will be held in the Fall; in the meantime, please join us in congratulating Dr. Koti on this achievement.