Dr. Heather Aldersey earns Canada Research Chair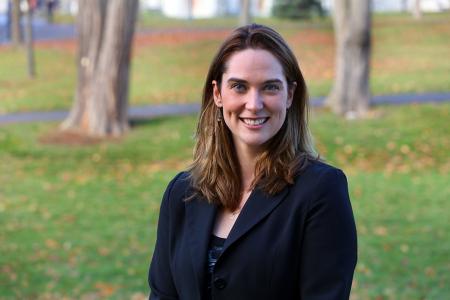 Queen's University welcomed three new and eight renewed Canada Research Chairs as part of the Government of Canada's recent announcement of a diverse group of Canada Research Chairs.
Announced by the Honourable Kirsty Duncan, Minister of Science and Sports, the investment of $275 million for 346 Canada Research Chairs across Canada builds on the minister's vision for an equitable, diverse, and inclusive research community. The most recent competition results are 47 per cent women, 22 per cent visible minorities, five per cent persons with disabilities, and four per cent Indigenous peoples.
The new chairs include Heather Aldersey (Rehabilitation Therapy), Canada Research Chair in Disability-Inclusive Development (Tier 2). Anna Panchenko (Pathology and Molecular Medicine), Canada Research Chair in Computational Biology and Biophysics (Tier 1), will join Queen's as of July 1.
Tier 1 Chairs are recognized by their peers as world leaders in their respective fields, while Tier 2 Chairs are recognized as emerging leaders in their research areas. Queen's will receive $200,000 per year over seven years for each Tier 1 Chair and $100,000 per year over five years for each Tier 2 Chair.
"Canada's advancement as a world leader in discovery and innovation has been greatly influenced by the CRC program, which supports talented researchers while fostering an inclusive research community," Dr. Kimberly Woodhouse, Interim Vice-Principal (Research). "Our success in garnering three new chairs and a number of renewals is demonstrative of Queen's leading research, addressing complex issues both domestically and internationally."
The new Canada Research Chairs at Queen's will focus on topics critical to Canadians and global citizens, including families affected by disability, the causes of cancer, and Indigenous education.
Dr. Aldersey's research identifies needs of families affected by disability, then develops and evaluates supports available to meet those needs, with a focus on populations in low- and middle-income countries.
"I am so excited for the opportunities that this Canada Research Chair will provide," says Dr. Aldersey. "This chair will enable me to expand my research with people with disabilities, their families, and their communities to promote disability-inclusive community development globally. I will also be able to support more research trainees who are passionate about inclusion in their own communities, and engage with key stakeholders to identify strengths-based, culturally relevant, and solutions-driven action for human rights and inclusion."