Dr. Duncan Hunter Appointed Interim Head of the Department of Public Health Sciences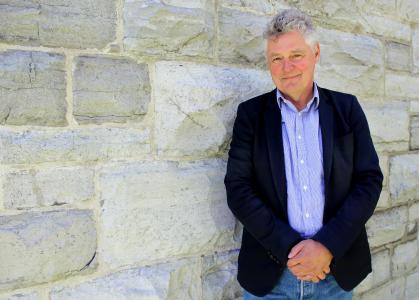 Acting Dean Chris Simpson is pleased to announce that Teri Shearer, Acting Provost and Vice-Principal (Academic) at Queen's University has appointed Dr. Duncan Hunter as Interim Head of the Department of Public Health Sciences for the Faculty of Health Sciences. The appointment will begin on July 1, 2018 and end on June 30, 2019.
Dr. Hunter earned his PhD in Health Services Research from the London School of Hygiene and Tropical Medicine at the University of London in 1995. Following a research fellowship at the Autonomous University of Madrid, he came to Kingston to serve as Director of the provincially funded Health Information Partnership. Dr. Hunter then joined the Department of Public Health Sciences at Queen's in 1999.
Since joining the department, Dr. Hunter has served in a number of leadership roles, including Acting Director of the Centre for Health Services & Policy Research and Chair of the Faculty of Health Sciences Graduate Council. He has been highly active in graduate education within the department, serving in roles such as Graduate Education Coordinator and Director of the Master of Public Health Program. Beyond these administrative roles, he has contributed to graduate education by supervising 20 MSc students and teaching a range of different graduate courses. In recognition of his capabilities as an educator, he has won three teaching awards from the Department of Public Health Sciences
Over the course of his career, Dr. Hunter has published over 45 peer-reviewed publications, and his work has been funded by over 4 million dollars in grants. His research has appeared in journals such as the British Medical Journal, The Journal of Urology, Healthcare Policy, and BMC Family Medicine. Among other sources, Dr. Hunter has received research funding from the Ontario Ministry of Health and Long-Term Care, the Department of National Defence, and the Public Health Agency of Canada.
In addition to his work at Queen's, Dr. Hunter has taken on a number of leadership positions in national and provincial organizations. For instance, he has served as the Vice-President of the Canadian Society of Epidemiology and Biostatistics and as Special Advisor to the Office of Public Health Practice, Public Health Agency of Canada. He has also been a member of both the Public Health Network for the Association of Faculties of Medicine of Canada and the National Advisory Committee for Skills Enhancement for Health Surveillance, which was a part of Health Canada.
Please join Dr. Simpson in congratulating Dr. Hunter on his appointment.