The 3W's of Simulation
By Heather Braund, BSc (Hons), BEd, MEd, OCT, PhD Candidate
What is it? 
Simulation: The process of practicing a procedure, skills, or approach in a simulated learning environment. 
Can be used for:
To learn and develop skills (CPR, suturing)
To learn and practice procedures (IV insertion)
To develop crisis resource management skills, leadership, and communication (resuscitation teams)
To improve health systems and for quality improvement (identifying and mitigating safety threats)
High versus Low Fidelity 
Fidelity refers to the degree to which the simulator represents reality 

Low fidelity could entail role playing
High fidelity provides the most realistic learning experience and might include computer-based mannequins 

High and low fidelity can both be useful for learning
Think about your learners and pick the appropriate fidelity to match their needs and your educational objective 
Novice learners tend to need to focus on skill development
More experienced learners can focus on task refinement1
Barriers to Learning in Simulated Environments 
Intimidating (especially if learners didn't use simulation in their training)
Fear of performing poorly
Time and resource intensive
Can be expensive  
Who is doing it and how?
Most frequently used for postgraduate medical education, nursing, and undergraduate medicine2
Simulation can be designed for independent or group learning
Provides opportunity for experiential learning
Can encourage reflective thinking through debriefing following the simulated learning event3
Why does it matter?
Provides learners with a safe way to practice their skills without using real patients
Opportunity to practice rare procedures or skills
Can also improve health systems including reducing medical errors4
Tip: Simulation is a tool to help facilitate learning. Using simulation does not guarantee good learning. Thus, you have to carefully plan the learning experiences including prebriefing and debriefing.
References
Aggarwal, R...Reznick, R. (2010). Training and simulation for patient safety. Qual Saf Health Care (19). 34-43. 
Qayumi, K. Pachev...Cheng, A. (2014). Status of simulation in health care education: an international survey.  Advances in Medical Education and Practice. 5. 457-467. 
Rutherford-Hemming, T. (2012). Simulation methodology in nursing education and adult learning theory. Adult Learning, 23(3), 129-137. 
Vincent C,Moorthy K, Sarker SK,et al. (2004). Systems approaches to surgical quality and safety: from concept to measurement. Ann Surg 239:475e82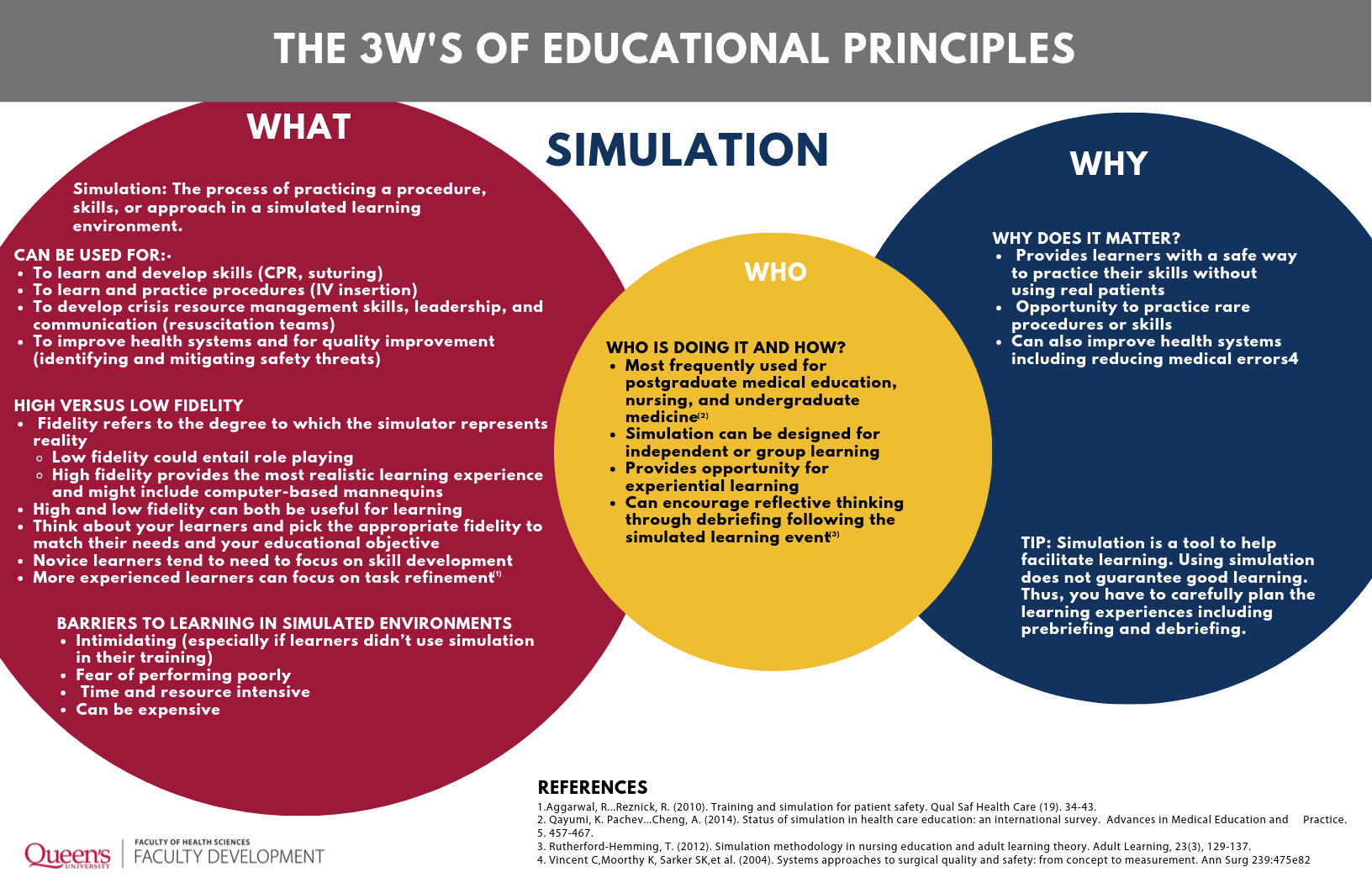 The 3W's of Effective Coaching
By Jessica Trier, MD, FRCPC, CSCN Diplomate (EMG)
What is it? 
Coaching in Health Professions Education: A goal-oriented, relational process involving mutual engagement between a learner and a coach, focused on learner growth and development, with bidirectional conversation, facilitated reflection, and specific actionable feedback to optimize learning and performance.1,2 "While teaching and mentoring are more instructional and directive, coaching is facilitative and guides the recipient in identifying their own needs and goals and in developing a realistic plan."3
 Can be used for nearly any clinical or non-clinical task:
Procedural skills
Communication and collaboration skills 
Leadership roles
Professional identity formation
And more
 Coaching in the Moment vs. Coaching over Time
Coaching in the Moment can be done daily between a teacher and learner
A useful framework for Coaching in the Moment is RX-OCR4:

Developing Rapport and setting clear eXpectations
Observation of a learner is essential to providing credible feedback
Engaging in a Coaching conversation and Recording a summary

Coaching over Time can be done by a regular preceptor, academic advisor, or program director, for example

Frameworks such as the R2C2 model5 can help guide longitudinal coaching
Build rapport and relationship (R), explore reactions to feedback data (R), explore understanding of content (C), and coach for performance change (C)

The relationship between coach and learner is important in both settings
Barriers to Coaching in the Learning Environment 
Time
Competing responsibilities 
Lack of shared expectations or goals
Fear of vulnerability, admitting challenges/failures
Power differential between teacher and learner
 Who is doing it and how?
Learners and teachers should clarify the purpose of the encounter

Make explicit whether the encounter is for assessment, coaching, or both

As a teacher, get to know your learners and understand their goals and expectations. 
A teacher who demonstrates vulnerability and embraces a growth mindset6 helps to narrow the power differential between teacher and learner
 Why does it matter?
The overarching goal of health professions education is to educate and train not only competent but exceptional healthcare professionals
Coaching recognizes the developmental progression of a learner by embracing a growth mindset6
An effective coaching relationship lays the groundwork for a safe learning environment, and ultimately, improved patient safety
Tip: Coaching employs a lot of the same strategies we already use to develop relationships. Knowing your learner as a person goes a long way in establishing a trusting, respectful, bidirectional coaching relationship.
References
Watling CJ and LaDonna KA. Where philosophy meets culture: exploring how coaches conceptualise their roles. Med Educ. 2019 May;53(5):467-476.

Janes WC, Silvey D, Dubrowski A. 

Are educators actually coaches? The implication of teaching and learning via simulation in education in healthcare professions

. 

Cureus

. 2016;

8

(

8

):e734. 

Sargent J, Bruce D, Campbell C. 

Practicing physicians needs for assessment and feedback as part of professional development

. 

J Continuing Edu Health Professions

. 2013;

33

(

1

):S54–S62.

Dweck, Carol S. Mindset: The New Psychology of Success. New York: Ballantine Books, 2008.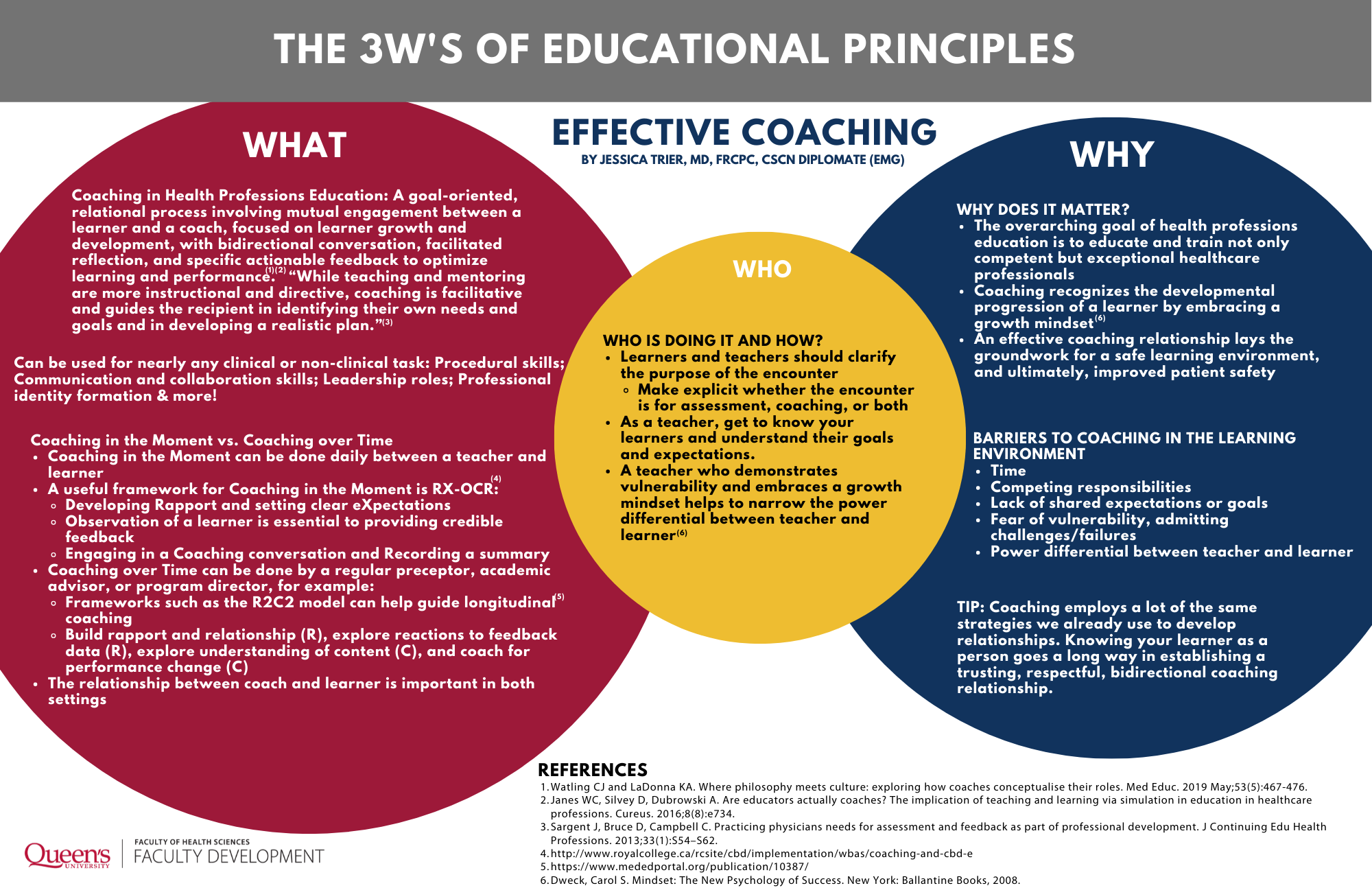 The 3W's of Outcome Harvesting
By Jen Railer
What is it?
Outcome Harvesting (OH) (Wilson-Grau, 2019) is designed to evaluate and monitor changes associated with educational initiatives or interventions in organizations. Outcome harvesting applies a reverse-approach wherein it does not evaluate the effectiveness of the implementation and execution of pre-determined goals, but rather, works backwards to collect evidence of how the intervention contributed to the change. Outcomes as defined under the tenants of OH can be described as, "An observable change in behavior (relationships, actions, activities, practices or policies) of an individual, group, community, organization in civil society, corporation, government, media, or member of public. These changes are then categorized as intended, unintended, positive or negative (Wilson-Grau, 2019). For instance, an educator may use this approach when investigating what learners are doing differently after being taught a new skill, or to evaluate an organizational policy or change in practice since a new intervention was implemented.
When to use it?
Using Outcome Harvesting is best under the following conditions: (Wilson-Grau, 2019).
When the educator would like to determine what has changed, why it changed and what social actors were involved in the change, for the purpose of understanding the change process. It should not be used in instances to evaluate if the intervention was executed according to plan. The focus of the evaluation lies with outcomes, rather than activities and outputs.

OH is best in situations of uncertainty, when the results of an intervention are unknown and the path to achieve the desired outcome is constant flux, or, even unknown.
OH can be used in higher education when we are interested in identifying outcomes (behaviours, actions, relationships and policies) that can be mapped back to learn about the change, what the outcomes can be attributed to, and apply lessons learned.
Benefits of Outcome Harvesting
Participatory approach: social actors, or, stakeholders, must substantiate significance of outcomes. This substantiation helps validate findings, involves all relevant stakeholders and provides a wide lens of introspection.
Evaluating uncertainty: the traditional approach to evaluation is aimed at assessing the efficacy of interventions with predetermined outcomes and expectations, to which outcomes are weighed against. This method assists in providing a framework to evaluate what has worked, what did not work, and what additional unintended consequences the intervention has had on the organization as a whole.
Substation and documentation: To establish a plausible cause and effect, documentation, or artifacts, can be used as evidence to support the claim. In instances where document analysis has been robust, additional outcomes often merge (Railer et. al., 2020)
Why does it matter?
In the ever-changing realm of health education, OH can be applied to numerous educational interventions to help support innovation and inform future practice.
Tip:
If you have a burning question, you can start a Harvest without necessarily having articulated a formal framework, or theory of change!
References
Railer, J et. al. (In-Press) Using Outcome Harveting: Assessing the Efficacy of CBME Implementation. Journal of Clinical Evaluation.

Wilson-Grau, R. Outcome Harvesting: Principles, Steps, and Evaluation Applications. Charlotte, NC: Information Age Publishing; 2019

Wilson-Grau, R. Outcome Harvesting. Better Evaluation. 2015. Retrieved from http://betterevaluation.org/plan/approach/outcome_harvesting