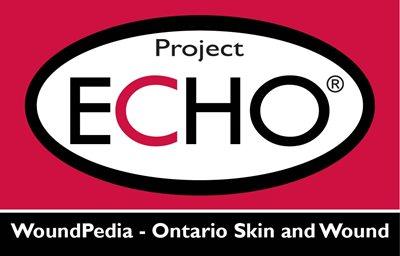 Welcome to Project Echo Ontario Skin and Wound!
Prior to beginning the program or as soon as you are able, please fill out the following two documents:
Letter of Consent and Information
Each week after the first session (please see below),  you will be asked to fill out a quick 3 minute post-session survey, as outlined in your statement of collaboration agreement.  Survey links will be provide below each week.
After completion, you will have the option to fill out your name to be entered into a weekly draw for a gift card.
Your feedback is essential to the success of the program and we thank you in advance for your assistance.
Cohort B, Cycle 1
Post Session Surveys:
Session 1:   January 8th, 2020
Session 2:   January 15th, 2020
Session 3:   January 22nd, 2020
Session 4:   January 29th, 2020
Session 5:   February 5th, 2020
Session 6:   February 12th, 2020
Session 7:  February 18th, 2020
Session 8:  February 25th, 2020
Cohort B, Cycle 2
If you have not done so already, please fill out the Pre-program Survey
Session 1:  Wednesday, June 3rd, 2020
Session 2: Wednesday, June 10th, 2020
Session 3: Wednesday, June 17th, 2020
Session 4:  Wednesday, June 24th, 2020